How do you create a beautiful table? Wedding planners Robert Bardin and Robert Palomo share their secrets.
By: Susan Schneider
Bardin Palomo tell how a bride can express her style and make an unforgettable personal statement.
How do you create a "look" for a reception table?
Consider the linen, the lighting and the flowers, in that order. Think of the linen as a backdrop; it should be first-use and beautiful. Lighting creates color, ambience and drama. It creates a sense of depth in the room. Use lighting to pin-spot the flowers; if you aren't pin-spotting, your other option is to use lots of candles.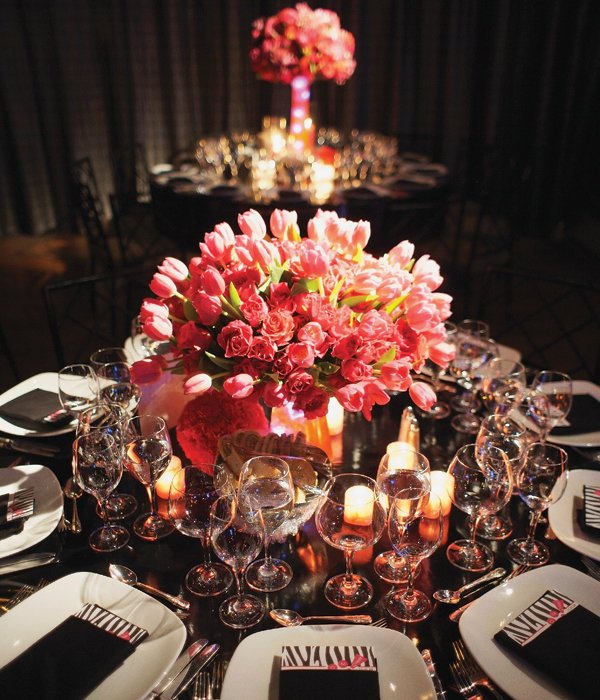 Pin-spotting centerpieces not only creates drama but brings color to life and depth to space.
What about the tableware?
That comes next. Think of tableware as accessories to the look, as you might accent a dress with jewelry to make a more personal statement. There are many nice things you can do with chargers or tinted water glasses or etched glasses—all of these elements add layers and visual interest to the table and the overall environment.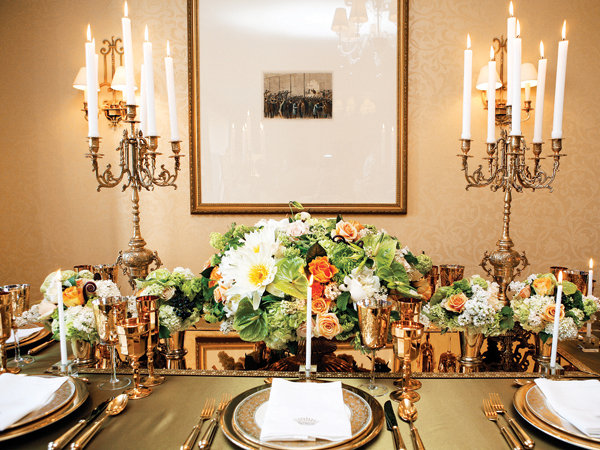 Stately candelabra, gold-hued dinnerware and lush blooms work together to create this luxe look.
How do you help a bride define her personal style?
When we first meet a bride, we ask her, are you traditional, edgy or contemporary? We might ask what her apartment looks like or her favorite colors. We try to stay with what a bride wants: One bride wanted rocks and moss on her tables, but we convinced her to add calla lilies to soften the look—and it worked.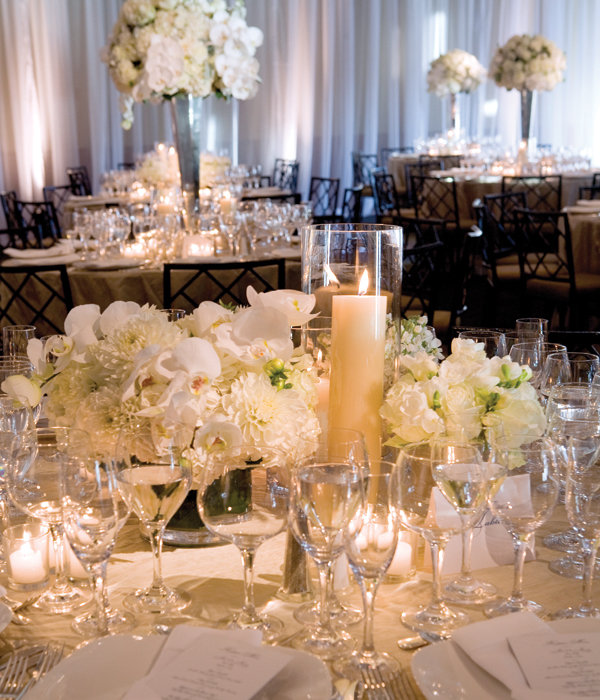 A romantic palette of soft pinks, pale gold and spring green combined with lush, symmetrical flowers
      make a country wedding formal and sophisticated.
What if a bride's idea really doesn't work?
We had a bride who wanted sunflowers at her formal wedding. The look and texture of such a casual summer flower were all wrong for her silk dupioni tablecloths and hem-stitched napkins. We substituted peonies for the sunflowers, and she loved it. It turned out that what she'd wanted all along was a loose, organic look, not tightly arranged blooms.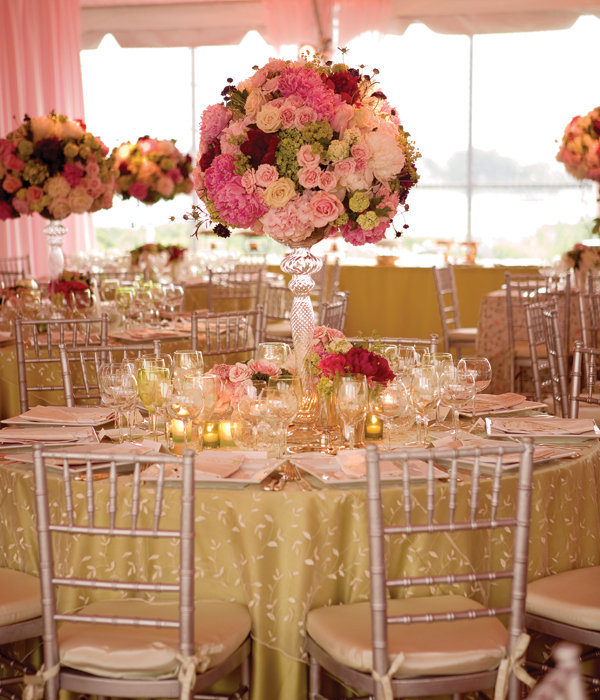 Well-chosen and placed crystal and silver elements, together with white florals, create a modern chic
      ambience.
What role does the season of the year play in the decor?
We steer brides away from using deep purples and reds in the summer and we wouldn't use flowering branches in the fall. We try to use local, seasonal blooms, not only because they're beautiful, but they're also cost-effective.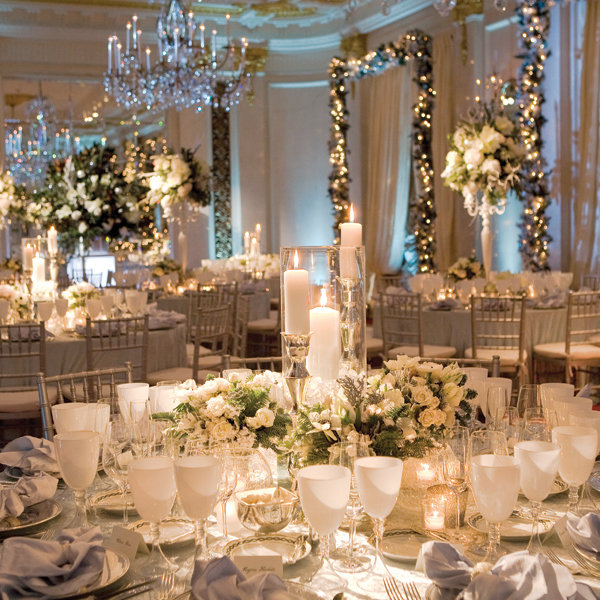 Using layers of white-on-white elements, textures and florals creates a wintry holiday feel.
What's a big no-no?
Brides are very cost-conscious these days, but don't forgo flowers! You don't have to do giant centerpieces; instead, place tall centerpieces on one-third of your tables and on the rest use pillar candles with small satellite arrangements with the same type of flowers. In this way you create visual interest— that unique wow factor when guests walk into a room.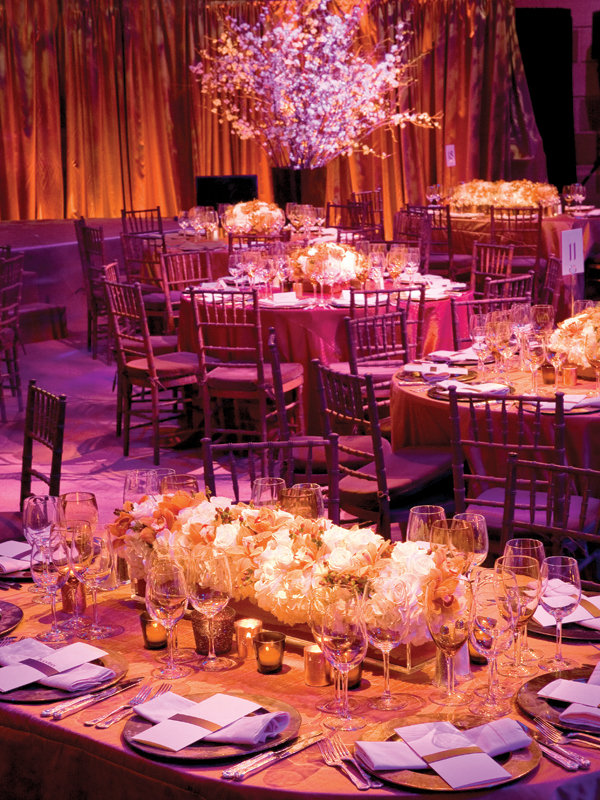 Rich, saturated color, metallic accents, and tailored florals create visual interest in a monumental space.
Photo Credit: Javier Gomez Studios