Being charitable is easy while you're on the road to wedded bliss. Here are a few simple, affordable ideas.
By: Elena Donovan Mauer
Here's the good news: You don't have to turn into a self-obsessed Bridezilla while planning your wedding. With these simple, affordable ideas, you can contribute to some very worthy charitable causes and nonprofit organizations but still leave plenty of time, energy and sanity to prepare for the big day.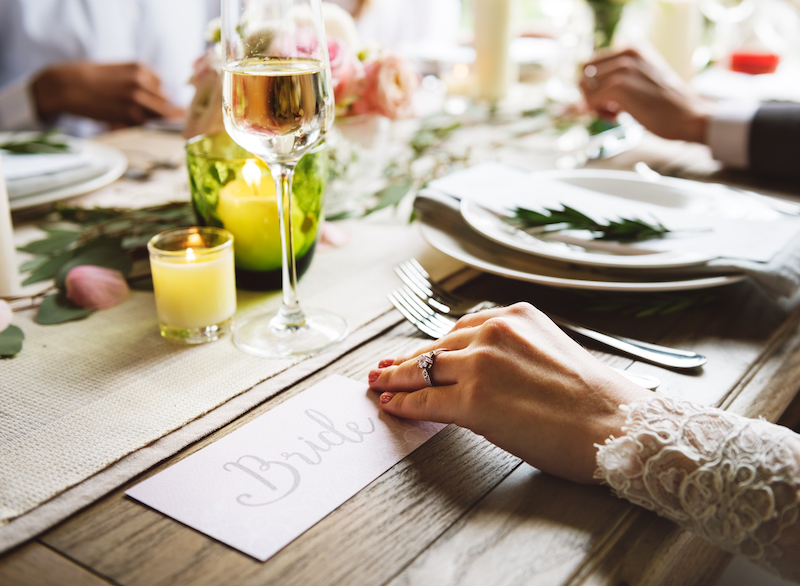 Photo credit: Pexels
1. Incorporate a charity into your shower.
Your bridesmaids can ask each guest to bring canned goods to donate to a nearby food bank. Find one at Feeding America, and call for information on what's needed and where to drop off the goods.
2. Rent a nonprofit's space.
Think of how unique and beautiful your reception would be if it took place at a museum, historical site or botanical garden. Even better—you'll know your site fee is supporting a favorite cause.
3. Register for charitable gifts.
First, create a universal registry at a site like HoneyFund, Amazon, or ZankYou. Then, go to your favorite charity's website and find its donation page--from there, you can easily add it to your registry page. JustGive.org and FirstGiving.com also make it easy to arrange for guests to give in your honor. Additionally, charity registries, like Give: Tendr let couples select a charity and choose the percentage of gifts to donate to it so your guests can help a cause that means the most to you. 
4. Reuse your flowers.
Call a local nursing home or hospital and ask if you can donate your reception blooms after the big day. Appoint a trusted friend or family member to transport the buds—and spread some cheer!
Photo credit: Pexels
5. Involve the wedding party.
Instead of having a bridesmaids' tea, ask your bridal party to spend a day on something worthwhile. Together you can help your state park by leading visitors on a group hike (nps.gov), or you can pitch in to build a home for a needy family (habitat.org). (You can still provide lunch or dinner afterward.) For more group ideas, go to VolunteerMatch.org.

6. Shop and share online.
Check out GoodShops.com list of retailers (including airlines, jewelers, and department stores) that will donate a percentage of your purchase to a good cause. Choose what you like—and click to start shopping.
7. Forget the favors.
Give the money you'd spend on trinkets to a beloved charity. If you make the donation through JustGive.org, you can order place cards for your guests that explain the gift you've made.
8. Or select favors with a purpose.
Still want to give guests a sweet treat? Order tins of cookies from Feed Your Soul and for each order, they donate a cookie to The Coalition for the Homeless.
9. Don't waste the leftovers.
Arrange to have any extra food from your reception "rescued" to feed hungry people in your area. Find out more from Second Harvest.
10. Set up some QT.
Make a date with your fiancé to spend some quality time as volunteers. See Volunteer Match for ideas.
11. Charm your bridesmaids.
As a thank-you, consider buying pretty charm bracelets or necklaces from Charity Charms. Have your 'maids choose their favorite charity's jewelry and Charity Charms will provide that charity with 100% of the profits.
12. Save a bundle.
Got your wedding party's gifts on sale? Give them the amount you saved in the form of donation certificates from Charity Checks. Then, your groomsmen and bridesmaids can choose the organization where they'd like to have it go.
13. Consider posterity.
Record your grandparents' life stories—including their own wedding day. StoryCorps can help. Not only is the recording a gift to your grandparents, but it's also a keepsake for future generations.
14. Be honeymoon helpers.
You can join an effort to build a much-needed school or clean up a beautiful valley—experiences you'll always remember with pride. To explore these trip ideas and more, check out i-to-i, American Hiking Society, and VolunteerMatch.
15. Click your cause.
On some websites, all it takes is a click. (Sponsors contribute each time someone clicks on a specific button.) We like The Breast Cancer Site and The Hunger Site. Make one of these your homepage, so you're reminded of it each time you go online to research flower arrangements or limo services.
16. Charge it.
With the Working Assets credit card, every purchase you make—your shoes, your dress, your catering bill—benefits a charity of your choosing. 
17. Create care packages.
Gift baskets are a nice touch for out-of-town guests. But consider making up some extras for troops overseas—they need snacks, aspirin and soap, too. Go to Adopt a Platoon for more information.
19. Spread the word on your wedding website.
Create a "badge" at Six Degrees and post it on your site; it's like an ad, telling visitors what cause you endorse and why—a little extra exposure never hurts. If your guests feel inclined to make a monetary contribution, they can simply click on the badge to begin.
19. Hire non-profit entertainers.
Many cultural dance troupes and community performers practice their art to promote diversity and music or dance education. Know one you like? Hire them to do a number at your reception.
20. Teach good values.
Your littlest guests will love this project: making colorful pictures of the wedding day to give to loved ones who couldn't be present.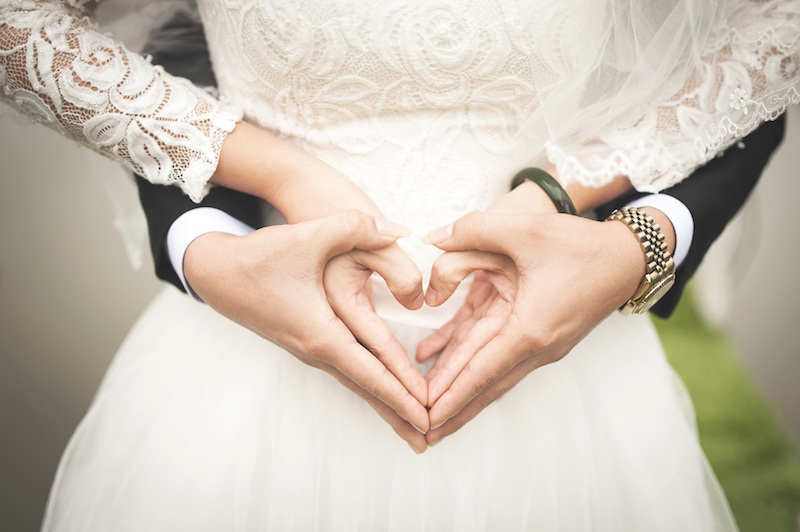 Photo credit: Pexels
21. Donate your dress.
You'll never wear it again, right? After the big day, hand it—and other accessories—to Brides Against Breast Cancer. The organization will resell them and use the proceeds to help a woman with cancer. 
22. Ask your bridesmaids to do the same.
The gals can give their gowns to an organization that provides prom dresses for disadvantaged high school girls; The Glass Slipper Project offers a drop-off location in Chicago or you can ship directly to their location.
23. Go the extra mile.
After the honeymoon, give your frequent flier miles to the family of an injured soldier through Hero Miles. Or call your airline's customer service to find out what charitable groups they've partnered with.
24. Make a sale.
Unwanted wedding gifts that aren't returnable are definitely resalable. Do it through eBay for Charity, and a percentage of sales will go to your favorite organization—and you still profit.