OK, things might go wrong. Here are common big-day glitches and how to avoid them.
By: Jennifer Lazarus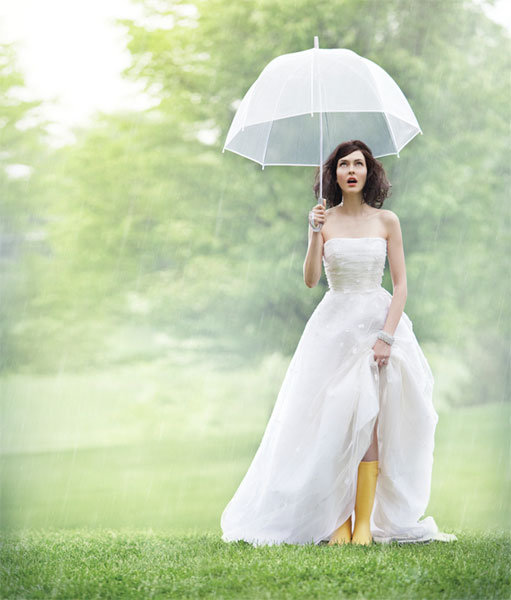 Photo Credit: Engaged & Inspired via Lover.ly
1. The schedule goes awry
"Perfect, on-time weddings only happen in movies and soap operas," says Terrica R. Skaggs, a wedding and event designer in Jekyll Island, Georgia. "Pastors are late, tents break, people have tantrums, limos get lost." The solution: Be prepared by building in enough cushion time to ensure that your day flows flawlessly, and making sure all your pros get a detailed schedule of times and places.
2. Guests assume they'll be having a full meal because you're holding a cocktail reception at dinnertime
"Many guests do complain about weddings they've attended where cocktails and light finger foods were served at the dinner hour," says Skaggs. "If you're planning a cocktail reception, be sure to hold it between the hours of five and seven, and indicate on your invitation that you will be serving drinks and hors d'oeuvres. Otherwise, you won't be able to tell which is louder: your DJ's sound system or the grumbling of your guests and their stomachs."
3. Bugs eat your guests alive
"Use torches to keep insects at bay if you plan to be outdoors," suggests Sasha V. Souza, a California-based event planner.
4. The neighbors become annoyed by the noise from your at-home reception
"If you are getting married at a private residence, notify neighbors," says Julie Pryor, owner of Pryor Events in West Los Angeles. "Send little gifts or even invite them to stop by for a drink. There's nothing worse than having the police show up to shut down your party!"
5. You blow a fuse at the reception hall
"Before hiring the hall, make sure that there will be sufficient power for your needs," says Pryor. "Surprisingly, coffeemakers use a lot. You don't want the lights and music to suddenly go off."
Next: Equipment Failure, Weather-Related Disasters, No-Show Vendors, and More ►
Pages