What do you do when a storm destroys your reception site before the wedding or your florist goes out of business? Use our calamity-proofing guide.
By: Sherri Eisenberg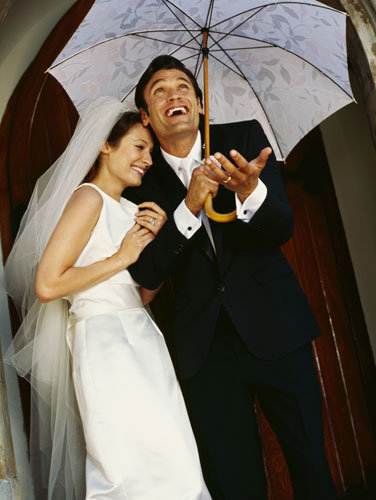 Three weeks before our wedding, my fiancé, Chris, and I visited our wedding site to meet with our band leader and show him around. As we approached the turn-of-the-century mansion, a pleasant smoky scent came wafting toward us. Sure, it was March and we should have realized that it wasn't really cold enough for a fire, but we were too deep in prenuptial bliss to be skeptical of anything.
So imagine our surprise when we opened the heavy wooden doors to find enormous dehumidifiers drying the foyer. Upstairs, yellow emergency tape was stretched across the entrance to the library, the room in which we were to marry, and piles of wet books were strewn about the floor. The site manager wrung her hands as she told us there had been a fire, then became curt when we asked if the repairs would be completed in time for our wedding. "We have to fly in a woodworker to repair the damage," she spat. "I have no idea how long this will take."
Ah, the best laid plans...The reality is, no matter how organized you are, a last-minute mishap can threaten to ruin your celebration. While Chris and I were lucky that the damage to the mansion was repaired by our wedding day and our party went off without a hitch, or even a hint of smoke, there are measures you can take to protect yourselves from even the worst unforeseen events. Here's how to guarantee some peace of mind for your big day.
Disaster Scenario #1: A Vendor Doesn't Deliver
Summer Facchini found a fabulous vineyard site for her July 2004 wedding in Portland, Oregon. Several months after she booked it, however, the catering manager informed her that the only alcohol she could serve would be the vineyard's own wines. Frustrated that she wouldn't be able to offer cocktails or even beer at the rocking party she was hoping to have, Summer decided to cancel her contract. Since the site manager had failed to inform her of the alcohol policy at the time she booked, her deposit was returned.
But now Summer had a larger problem: She had to find a new venue for her reception, and she knew she would have trouble because July and August are the most popular months for weddings in Portland. After many calls, the anxious bride lucked out: A lovely manor had an opening. "Those were a rough few months," says Summer. "But, in the end, it all fell into place, and it was wonderful."
Summer's story has a happy ending, but there's no denying that putting your faith in a wedding vendor always carries a risk, as Bridal Guide's creative director, Robin Zachary, learned while planning her wedding several years ago. She made a $400 deposit for a gown at a boutique that had been around for decades—but about a month before her big day, the store suddenly went out of business.
"I tried calling the shop to see if the dress was ready, and the phone kept ringing and ringing," says Robin. "I finally drove over there and saw that the store had been totally cleared out. After the shock wore off, I found a new dress at a wonderful bridal salon that rushed the alterations for me. The weird thing is that the original boutique owner called me three days before my wedding, saying she had my dress and explaining that a family emergency had necessitated the closing of the store. When I told her about how I'd gone ahead and bought a new gown, she apologized and offered to dye the original dress for me, so I could wear it to another fancy occasion in the future. She didn't even ask me to pay the balance. I was still upset, but I accepted because it was a great dress."
The fact is, you can't totally prevent these kinds of mishaps from happening, but you can limit the chance that something will go wrong. First, it's important to pick a reliable venue and vendors. "Don't go through the phone book. Instead, get recommendations from friends, family members and coworkers," advises David Borgenicht, coauthor of The Worst Case Scenario Survival Handbook: Weddings (Chronicle Books). Consider asking local businesspeople, whose own businesses depend on using reputable service people, what pros they use.
It's also crucial to get signed contracts from all of your vendors and to keep receipts for down payments and other expenses. You'll need these things so that you can prove a contract was broken in the event that you have to go to court to get your deposit back. And make sure certain important details are written into your contract, says Thomas Danziger, a New York City attorney who works with restaurant and special-event clients.
For instance, specify exactly who will be providing the service promised. After all, you want the owner of the business with whom you initially spoke, and who came highly recommended by a recently married friend, to personally do the work, not one of his less-experienced underlings. Also, you should include a clause that allows you to terminate without cause (possibly for a small fee) if, as the wedding approaches, you lose confidence in the vendor.
Finally, consider purchasing wedding insurance, which will reimburse your expenses in case a vendor should default. This insurance is fairly inexpensive. For example, at WedSafe, a wedding insurance company, a policy for a $35,000 wedding costs approximately $305.
Pages