Make your reception shine as bright as the heavens with these unique ideas from wedding planners Cheryl Beitler and Michelle Rago
By: Kristen Finello
The planners: Cheryl Beitler and Dale Flam of the Zanadu Group in Hollywood, Florida, and Michelle Rago, founder of Michelle Rago, Ltd., a New York City-based event-planning and design firm, and author of Signature Weddings: Creating a Day Uniquely Your Own (Gotham, 2006).
"This wedding was a winter wonderland blanketed in white fabric, feathers and orchids and bathed in the glow of flickering candlelight," says Flam. "The look was very ethereal," adds Rago. "We draped the perimeter of the room in white fabric to soften the lines and give a more intimate feel. We also used lots of candles and mirrors to create reflected light that added a sense of movement to the space."
Idyllic I do's
"The dramatic chuppah was elevated on an all-white platform and ringed with white rose petals," says Rago. "We chose to seat guests in the round to symbolize a continuous and unbreakable circle of love," says Flam. "To add to the romance, the bride and groom wrote their own vows. In homage to the groom's heritage, a guitarist played a romantic Latin song as the groom entered and walked to the chuppah."

Bundles of weeping willow branches, dripping with white orchids and lit by a multitude of candles, created the drama of an enchanted forest in the middle of winter.
Heavenly Love
"To create the illusion that guests were enjoying a magical evening beneath the stars, there was a "starlit" ceiling of hundreds and hundreds of hanging glass-enclosed candles. The result was breathtaking," says Flam. "On some tables, the centerpieces were a collection of glass cylinders of varying heights wrapped in beautiful textured papers," says Rago. "They were complemented by a collection of smaller vases holding phalaenopsis orchids. Some of the vases were adorned with feathers, others with crystals. Still others were wrapped in white angora yarn or trussed with white satin ribbon. Every place setting included a white organdy napkin and a mirrored charger—as well as mirrored mats in the center of the tables—which reflected the candlelight and the shimmer of the crystals. A final bit of elegance: The couple's monogram graced the all-white dance floor."

The bridal bouquet of satiny white roses, glittering crystals and soft white feathers.

Mood Food
"At each place setting there was a white menu card bordered by clear crystal drops. It announced the evening's fabulous offerings, including poached Maine lobster, arugula salad with aged balsamic vinaigrette, artichoke soufflé- encrusted filet mignon and miso- glazed sea bass. A passion-fruit intermezzo was the perfect complement to the meal. To drink, the bride and groom selected signature cocktails, which we deemed Love Potions, and we had the wait staff pass them on elegant silver trays."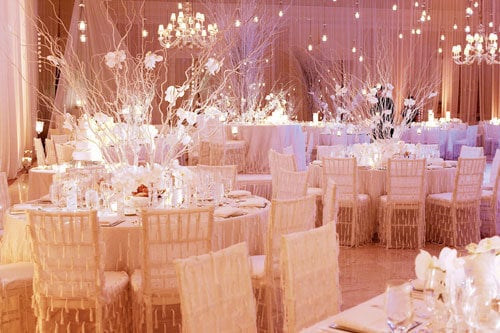 For a truly ethereal meal, some tables were set with white birch branches adorned with feathers, white orchids and crystals. Candlelight reflected off the mirrored chargers at each setting.
Take Your Pix
"The romance of our youth was resurrected through an old-time photo booth where guests posed for four-picture strips of photos," says Flam. "We assisted each guest as they selected a photo to attach to a page in the sign-in book. They added a message to the bride and groom to create a keepsake the couple can enjoy for years. Another fun touch: When the evening heated up, we gave each of the women on the dance floor a white boa." Adds Rago, "We also created glamorous lounges in the corners of the ballroom by draping white fabric from the ceiling to create a teepee effect."
Tiers of Joy
"The all-white wedding cake was topped by an oversize bow with twelve loops and four streamers cascading down its sides. Next to it, we placed a statue of a bride and groom embracing. Guests were also treated to hot fudge sundaes served in martini glasses."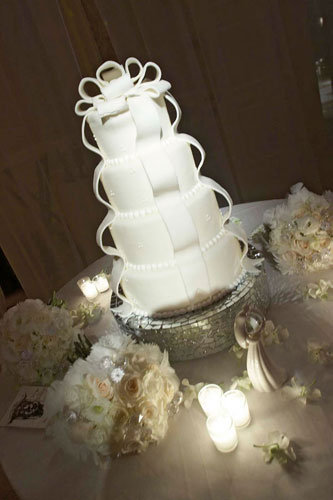 The cake, bedecked in streamers, was filled with peanut butter mousse.
A Sentimental Send-Off
"Guests were given baskets containing wine, bath crystals, massage lotion and a CD of love songs," says Flam. "The couple enclosed notes thanking them for sharing in the enchantment and asking them to always celebrate the romance in their own lives."
Photography: Dasha Wright Photography; (cake) Patty Daniels Town & Country Studio.