Put together a playlist that everyone will love. Here's how to choose reception music that'll keep your party jumpin' all night long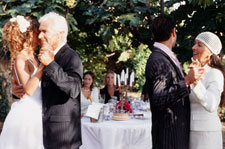 Boogie Nights
We polled top bandleaders, DJs and wedding coordinators for today's most popular wedding tunes:
First Dance
Often heard: "From This Moment On," by Shania Twain; "The Way You Look Tonight," by Frank Sinatra; "At Last," by Etta James.
Fresh takes: "At Last," by Christina Aguilera; "Fly Me to the Moon," by Frank Sinatra; "Shining Star," by The Manhattans.
Father/Daughter Dance
Often heard: "My Girl," by the Temptations; "What a Wonderful World," by Louis Armstrong; "Isn't She Lovely," by Stevie Wonder.
Fresh takes: "Winter," by Tori Amos; "Daddy," by Beyoncé; "I'll Remember," by Madonna.
Mother/Son Dance
Often heard: "Through the Years," by Kenny Rogers; "Lean on Me," by Bill Withers; "The Rose," by Bette Midler.
Fresh takes: "Landslide," by Fleetwood Mac; "When a Boy Falls in Love," by Sam Cooke; "Beautiful Boy (Darling Boy)," by John Lennon.
Last Dance
Often heard: "Last Dance," by Donna Summer; "Piano Man," by Billy Joel; "With a Little Help from My Friends," by The Beatles.
Fresh takes: "Believe," by Cher; "Elephant Love Medley," from the Moulin Rouge soundtrack; "Paradise City," by Guns N' Roses.
—reporting by Valerie Berrios
There's no better measure of a wedding's "fun factor" than a packed dance floor. That's why it's so important to arrange for first-rate music, whether you go "live" with a band or have a DJ (75% of you are going the latter route, according to a recent Bridal Guide survey). Here's all you need to know, from choosing an act to making sure your favorite tunes get played.
1. Dollars and Sense
Will you hire a band, or a DJ? Your budget will probably be the deciding factor. DJs usually start at $100 per hour, while a band may cost upwards of $2,000 to $6,000 for a four-hour affair (a six- or seven-piece band, with, say, two lead singers and five instrumentalists, standard for weddings of 100 guests or more). However, you may save money by negotiating the number of musicians (do you really need two lead singers?), or opting for a smaller ensemble, like a jazz quartet.
2. Talent Search
To track down a great band or DJ, start by asking your reception site manager, friends and family for referrals. You can also consult the manager of your favorite bar or club. To conduct a more general search, check out listings in local wedding magazines, or try an online booking agency like gigmasters.com, an especially good resource if you want unconventional music performed at your wedding—say, bagpipe reels, a cappella tunes or bluegrass—but don't know where to find such musicians in your area.
3. Live Auditions
Next step: Meet with potential bands and DJs (or the agencies that represent them). Ask these key questions: How many breaks do you take, and how long do they last? Will you provide recorded music to be played during these interludes? What are your overtime policies and rates? What sort of backup plan will you implement in the event of a problem?
Do you have "backup" equipment or instruments if this occurs? Make sure all of the specifics are documented in your contract.
4. Now, See Hear
Don't sign anything without first watching a live performance on video or in person (many reception sites will let you peek in on a wedding in progress). Pay attention to the sound quality, but also take note of performance style and appearance. If you don't like what you see—common complaints include tacky outfits, corny jokes and too much talking—you should definitely keep looking.
5. Song and Dance
Once you've booked your band or DJ, pick songs to play during those key moments: from your grand entrance to the last dance. Give your band or DJ a list that makes clear precisely which songs you want played, and when. Or, if you're not too picky, provide a "don't play" list so that you're not stuck having to hear any songs you dislike.