Make it a dream day! We invited top wedding planners to share their biggest, brightest ideas for your flowers, cake, decor and more.
By: Rachel Griffiths
Photography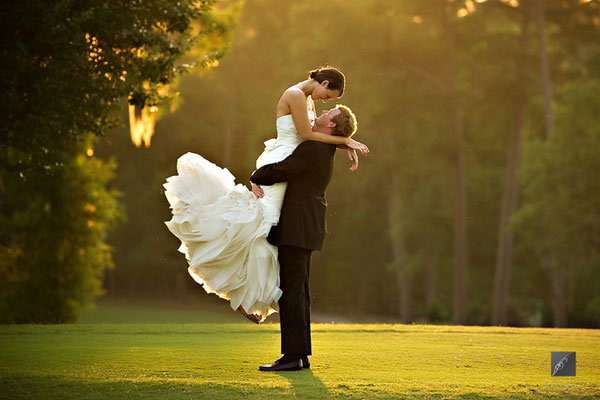 Photo Credit: Browne Photography
41. Arrange to have your formal photos taken before the wedding. That's when the bride looks her best — her hair, dress and makeup will all be fresh.
42. If certain guests — college friends, book-club members — are needed for a group photo at the reception, a clever way to get them all together with minimal fuss is to make a note on their place cards about the time and location.
43. Have your photographer tail you during the cocktail hour so you can point out your VIPs. No bride wants to end up with a bunch of photographs of the groom's high-school girlfriend!
44. Opt for both color and black-and-white photography. Have traditional pictures taken in color, which will show, in full glory, all the gorgeous wedding details you so carefully planned. Black-and-white can be used for those dramatic, artistic photos and candid shots that tell the story of your day.
45. While it's great to have a lot of folks out on the dance floor, this also means your photographer may only have views of people's backs, and the backs of their heads. Solve this problem by asking your shutterbug to bring a step stool so he or she can get a good view of what's going on.
46. Photographers know that some shots shouldn't be missed, like the bride and groom's entrance into dinner, the father-daughter dance, the cake cutting and so on. But there's always something extra that you'll want, like maybe a photo of you and your groom that mimics the pose of your first photo together or a shot of you reacting to the best man's toast. So, be sure to give your photographer a detailed shot list of those must-have pictures in advance. Otherwise, a golden opportunity could slip by.
47. Ask your photographer about digitally designed albums, which are designed on a computer and look like gorgeous coffee-table books. They're an exciting option in the world of wedding photography because they have a whole different feeling than those traditional albums with matte framed photos.
Budget Smarts
48. Can't afford a top photographer? Hire that person's assistant. You'll be getting a skilled amateur lensperson on his or her way up — for a gentler fee.
49. Save money by cutting down on personnel: Ask your photographer not to bring along an assistant.
50. Negotiate with your photographer to leave the wedding album out of your package. By purchasing a store-bought album and assembling it yourself, you could save several hundred dollars.
—Andy Marcus, owner, Fred Marcus Photography & Videography, New York City
Pages