Garden, ballroom, beach? It's a tough choice. These enchanting weddings make the most of their settings-take a peek and get inspired.
By: Rachel Griffiths
Garden Glory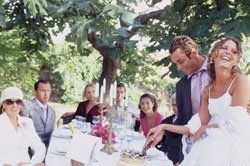 A garden wedding might be an intimate afternoon lunch in a relative's backyard, a picnic in a park or a tented gala in formal botanical gardens. This kind of celebration comes in all varieties, just like the blooms that give them their cachet. So, will it be English roses or a field of wildflowers? San Francisco event designer Sasha Souza has suggestions for whatever suits your style.
Décor
Souza likes to use a pink color scheme for garden weddings, but she'll make it modern by using a full range, from rose to powder pink to punchy watermelon. Table linens might have stripes to evoke garden awnings and lawn chairs. Or go for glamour by mixing summery mango calla lilies with terra-cotta dancing lady orchids, and accent the blooms with a baroque wallpaper pattern.
Another idea: For a fresh spring-meadow feeling, try a color scheme of butter and pistachio. Pack your centerpieces with yellow and green roses, and even herbs and succulents. Souza's pick for table linens? A subtle paisley pattern in yellow and green shades.
Tents are a must for garden weddings. Not only do they keep guests shaded and protected from sudden showers, but they also help define the reception space. Choose a sailcloth canopy tent (no sides) to take advantage of your garden setting, but resist the temptation of a clear-top tent in very warm weather. "You'll get the greenhouse effect, meaning your guests will bake!" Souza says. For a striking look, drape tent poles in fabric swags, or use panels as the backdrop for your cake table.
Flowers
Use them everywhere—naturally! Souza suggests bedecking gates, tent poles, the bar and extra tables with garlands of blooms and shiny magnolia leaves. You can also hang feathery astilbe or chic balls of roses from trees or poles, or dangle leaf cones filled with gerbera daisies around the party. Finally, play up the garden theme with your centerpiece vases. For a rustic look, try wrought-iron containers. Moss-covered urns bring to mind the English countryside, and fluted porcelain vases in mustard, olive and cream evoke the elegance of a formal Italian garden.
Menu
Keep the food light (think lemon gelato, not chocolate ice cream) and natural (go for local produce). For a casual picnic feeling, Souza likes to fill oversized pickling jars with refreshing drinks to pour into glasses, or pack claw-foot tubs with ice and water bottles.
Keep the hors d'oeuvres relatively simple: Try wheatgrass-lined trays holding skewers of shrimp or crisp snowpeas stuffed with Dungeness crab. With local produce, simple preparation brings out the fresh flavors. For the northern-California wedding pictured here, the couple served Sonoma-raised lamb chops, paired with asparagus and parmesan. Have fun with desserts. The bed of a vintage pickup truck makes a great pie stand, says Souza. Her favorites: fresh summer peach, mixed berry and tart cherry. For a cornucopia effect, add stacks of flower-topped cupcakes.
Tips from the Pros
Be aware of possible hidden costs. You may have to rent restrooms, extra generators and portable kitchens for your caterer, or organize a shuttle service if you don't have adequate parking.
Stiletto heel alert! Turn off all sprinklers a day or more in advance to let the lawn dry out and the ground harden.
Avoid foods that melt in the sun. For example, skip buttercream frosting in favor of sturdier fondant for your cake.
Remember, you're going to be outdoors, so make sure your escort cards are tied or weighted down, and skip the veil.
If your venue has extensive grounds, have signs to guide your guests. Rustic wooden arrows or calligraphy placards, framed with blooming clematis or sweet pea, make even parking signs look stylishly sweet.—Sasha Souza
Pages