Show them a really good time with these brilliant reception ideas for food, drinks and just plain fun.
By: Elena Donovan Mauer
16. Have a photo of yourself and your groom blown up and made into a jigsaw puzzle, suggests Williams. Display the pieces on a table and let guests assemble a work of art, piece by piece, by the end of the evening's festivities.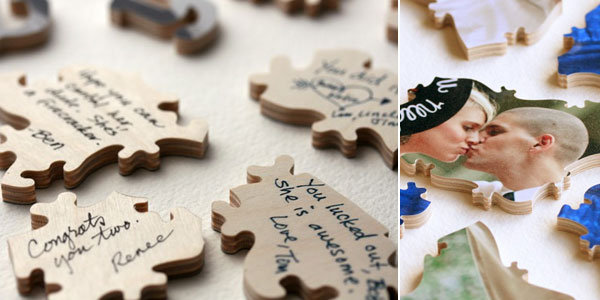 Photo Credit: Bella Puzzles Too
17. Rent a photo booth, so guests can make funny faces for the camera — photos are the ultimate personalized favor. Guests will enjoy taking them home for their own scrapbooks.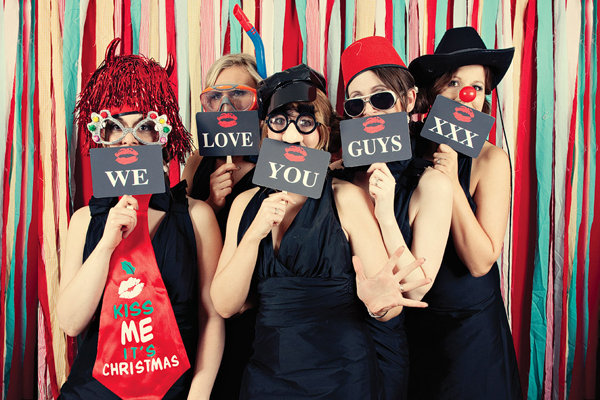 Photo Credit: Dottie Photography on Bridal Musings via Lover.ly
18. Love dress-up? Have a waiter place a trunk full of costumes and silly props on the dance floor. Guests can try on hats, boas and oversize sunglasses, and "play" faux guitars.
19. Create a cozy corner for conversation by setting up a few sofas, chairs and coffee tables in a separate area, away from the dance floor. Enhance the mood with dim lighting, soft pillows and light jazz — either from live musicians or a recording.

Photo Credit: David Schwartz Photography
20. Surprise the crowd with a special pick-me-up. While guests are grooving, have waiters fan out across the dance floor with trays of lemonade, mini ice-cream cones or Popsicles.
Next: Nostalgic touches, an incredible reception ending, and after-party plans ►
Pages