Show them a really good time with these brilliant reception ideas for food, drinks and just plain fun.
By: Elena Donovan Mauer
If you want your guests to rave about your wedding — and what bride doesn't? — the options are practically endless. Get inspired by these inventive tips.
1. Make the cocktail hour interactive by setting up a wine, champagne or liquor tasting. A beverage expert or a sommelier can offer guests a sampling of libations and a little lesson on flavors.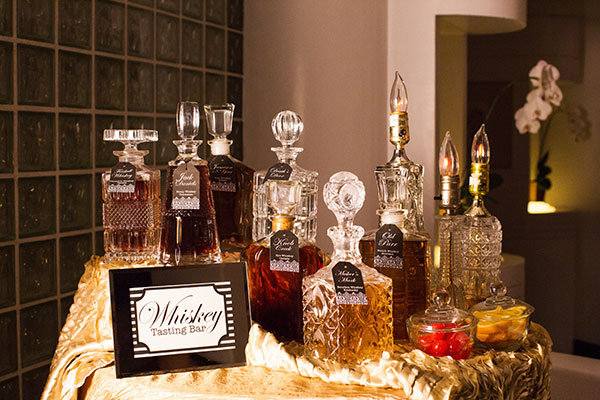 Photo Credit: D. Park Photography
2. Hire dance instructors to teach guests how to swing, merengue, boot-scoot or polka. There's no better way to get everybody on the dance floor!
3. Have a favorite celebrity? Hire an impersonator to liven up the cocktail hour by performing, mingling with guests and posing for photos with them, suggests Sherri Williams, of Williams-Sossen Events, in New York City and Philadelphia.
4. Let your wedding's season inspire you. In the fall, have guests bob for apples. During winter, they can paint holiday ornaments to take home. For spring, create a maypole with colorful streamers. In the summer, they can help themselves to an ice-cream sundae bar.

Photo Credit: He and She Photography on Inspired By This via Lover.ly
5. While guests are enjoying their meal, bring in some entertainment. You can arrange for a dance performance that reflects your heritage — Irish step, salsa or belly dancers, for example.
Next: Fun guest books, ways to entertain kids, and a surprise for the gents ►
Pages