Recent brides reflect back on their big day — and what they would have done differently.
By: Debra Witt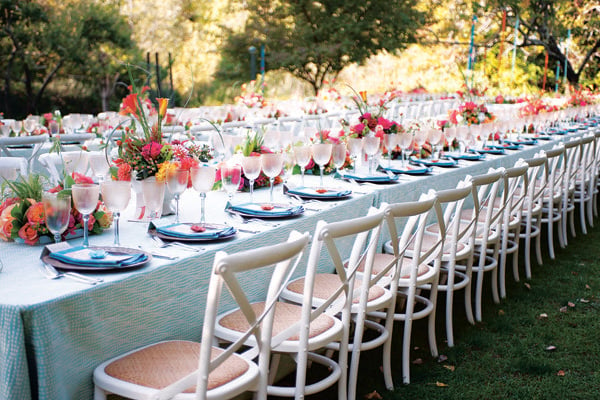 Photo Credit: Shawna Yarbrough
Brides are planners. They craft color schemes, decode guest lists, crunch numbers, and plot for weeks to pull off the ceremony and party of a lifetime. And almost universally they succeed. Still, no matter how many times a bride crossed her T's and dotted her I's, inevitably, there are details she wishes she'd handled differently: missed photo opportunities, vendor mix-ups, decorating delays. To help you avoid these snafus, recent brides have shared their big-day regrets. We then asked wedding pros to examine what went wrong so you don't wind up repeating their mistakes.
I'd lock in a venue before the other details — like my dress!
"You'd think in the city of New York finding a venue would be easy," says Danielle Fernandez, "But we didn't nail down the space until September and our wedding was in December. Meantime, I'd found my dress in June, and had moved ahead with many other details. I'm just lucky the dress I picked worked for a wedding in a modern space: the Trump SoHo Hotel."
While brides no longer have to adhere to strict dress rules (who says a sequined ball gown won't work for a backyard affair?), finding and securing the right location should be a top priority, says Alison Laesser-Keck, owner of Viva La Diva Events in Detroit. Because the recep- tion dominates most couples' budgets, it's smart to get started pronto. "There's a domino effect to wedding planning decisions," explains Laesser-Keck. "Each choice is tied to the next one — and if one decision is off in some way it can really throw things out of kilter in a major way." 
I'd hire a videographer
Having endured too many viewings of hours-long wedding videos, Christine Fennessy didn't once consider hiring a videographer to capture her lakeside nuptials. But a year later, she confesses, she'd love to be able to hit play and revisit the day she was married on the shores of Owasco Lake in Auburn, NY. "I never thought I would say that, but I know I would cry every time I watched it."
Christine's not alone in this regard — it was the most repeated "regret" among brides we interviewed. Michelle Engvall, owner of Married + More, A Wedding Planning Boutique in Seattle, says having a videographer "is money well spent, and it doesn't have to break the bank." She suggests looking for a professional who offers a "highlights" video package. "These are typically 5 to 10 minutes long, and tell the story of the day from start to finish in a condensed version." Expect to pay in the neighborhood of $1,500 for a short, edited video with sound.
I'd enlist someone to field my calls the entire day
On the morning of her August wedding in Annville, PA, Lauren Strafford-Shiner woke up excited and relaxed. That soon changed when her phone started to ring. "At first it was family members calling with good wishes," she recalls. "But then some of the vendors started calling with minor questions or updates." Lauren wasn't fazed until her florist phoned to say she was having trouble getting into the church. "That one did get me flustered." Then it was Lauren's turn to pick up the phone — to find out why the limo hadn't arrived to take her to the church. "Someone did finally suggest that I ask one of my bridesmaids to field the calls, but I wish I'd asked someone to do this sooner," she says.
Engvall says she encourages her brides to keep cell phones out of sight the entire day. For brides who haven't opted for a wedding coordinator, she suggests giving a family member or member of the wedding party a list of all the vendors, with phone numbers and e-mail addresses, as well as a timeline for the day. Inform all of your vendors whom you've designated as your point person for the day, she adds.

Photo Credit: Dana Grant
I'd get personal recommendations before hiring a vendor
Diann Giannosa took her time before making even one call to prospective vendors. "I read articles and web reviews, and really did my homework," says the New Yorker who planned an intimate wedding in a lush SoHo courtyard. When it came time to choose a non-denominational minister to officiate, she found someone whose sample texts were impressive. "We met in person and really seemed to click," she says. About two months before the wedding, however, the officiant bristled after receiving an e-mail from Giannosa outlining a few details. "He called me in attack mode and I knew I couldn't have him marry us." She scrambled and found a replacement, but wishes she'd had personal recommendations from friends.
"Definitely check references," says Engvall, "but it's nice to also seek referrals from your friends, your planner or other vendors so you have some first-hand accounts of their reputation and service." It's also a good idea to ask everyone their preferred method of communication.  
Next: DIY disasters, makeup mishaps, photography blunders, and more ►
Pages