A wedding cake means more than you may think. The cake designer extraordinaire shares a slice of her wisdom.
By: Susan Schneider
Q: Tell us exactly what is so special about wedding cake.
A: I see the wedding cake as a beautiful celebration of life. In my new book, Sensational Cakes, I talk about how it's a way of sharing joy with your loved ones. It's the ultimate symbol of two families coming together to start a third.
Q: What should a bride keep in mind when she first envisions her wedding cake?
A: She should remember that a wedding cake is a wonderful, sensuous creation. When I first started out, wedding cakes were either pretty to look at but inedible, or they tasted all right but they were ugly! Nowadays you want the whole package. Of course, a bride has to realize that she may have to compromise on her original vision.
Q: What are some examples of compromises?
A: A bride can easily forget that it's a cake she's dealing with—it can't be suspended from the ceiling! It needs structure, and it's meant to be eaten. For instance, a lot of brides don't stop to think you can't have a buttercream-frosted cake in 100-degree temperatures on the beach. It'll melt—and so will the guests!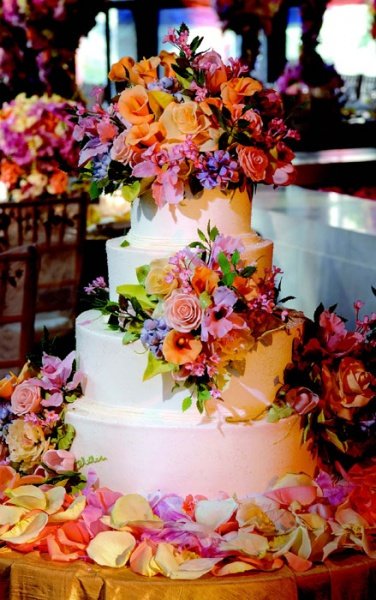 From left: Square tiers are softened with a garland of sugarpaste blooms. The flowers for this cake took 20 people 300 hours to make. A white-on-white design has posies of sugar blooms poised on its tiers.
Q: Have you some basic advice for choosing a wedding cake?
A: Before signing a contract with a baker, decide on the colors and the sugar decorations. Don't use real flowers on or in the wedding cake because often they have been sprayed with pesticide. As for design, assemble photos of wedding cakes you like to show to your cake baker. But remember that you may actually prefer one that's quite different from what you think you want.
Q: That's interesting. What do you mean exactly?
A: A bride who thinks she's traditional might really yearn for something a little wilder, or vice versa. I always want to know who exactly is this bride. What does she like? What are her experiences? I'll ask about her favorite flower: It could end up being the perfect floral detail on the cake.
Q: Where should the wedding cake be placed, and when should it be served?
A: Near the dance floor or where the wedding party sits—just make sure it's prominent so guests can view it and ooh and aah. The wedding cake cutting itself should be done early in the evening. The couple cuts the cake together, and it is then wheeled into the kitchen and plated while guests are eating their meal. It's served as dessert, after the main course, with coffee.
Q: I've heard you send cakes all over the world... Turkey, Ireland, Morocco...
A: My wedding cakes are made to travel. I just sent one off to Greece, and I'm going to be there myself to greet it when it arrives!
Photography courtesy of John Labbe