Celebrity florist and author Michael Gaffney shares insider cost-cutting tips.
By: Mary Clarke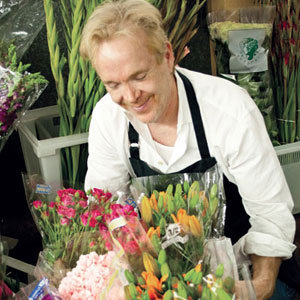 Bridal Guide: You're not only a designer, you're a teacher. What are some of the ground rules for keeping wedding flower budgets in check?
Michael Gaffney: Tell your florist that you would like to hear his or her ideas on how to get the most for your money—be honest! A great designer can do a stylish look for less. For example, for your reception, try tall glass vases with a few stems of orchids and bear grass underwater. Orchids sound expensive, but there are some inexpensive varieties such as dendrobium orchids. Or, consider small mint julep cups with Casablanca lilies. Both looks are affordable and chic as can be. And always select in-season blooms. Exotic flowers cost more due to the amount of time and effort that it takes to obtain them.

BG: Your book, "Design Star, Lessons from the New York School of Flower Design" (Half Full Press), includes a list of classic wedding flowers. Of these, which are the least and most expensive?        
MG: Most expensive: stephanotis, gardenias, Casablanca lilies, hydrangeas, lily of the valley, and peonies. Most affordable: stock roses and freesias. For example, a rose bouquet can run between $100 and $150, compared to a mixed peony bouquet that can run up to $250.
BG: Are there any flowers you would avoid using? Why? and why?
MG: I don't like to use stephanotis because it doesn't photograph well and seems to brown easily. I would suggest using a dendrobium orchid, which is one-third the price. Gardenias also tend to brown easily, and peonies can be unpredictable. Larger flowers tend to always be more expensive, so use two or three smaller flowers that cost less to create a similar look.


BG: What are some of the less-expensive options when it comes to bouquets and wedding décor? 
MG: Greenery allows you to use fewer flowers and can be really beautiful when used correctly. I love arrangements with lots of greenery; there are so many great varieties to choose from. Foliage is much less expensive than flowers. And branches are great because they add tall, graceful lines that occupy airspace.
BG: Are there non-floral options that can help extend the budget?
MG: Definitely. Dogwood, forsythia, pussy willow or curly willow all make wonderful vertical elements. They're a gorgeous look for weddings if the bride wants to go up in the air, but doesn't have the budget for tall vessel rentals. But some items such as manzanita branches are very expensive, so you have to be cautious. Those materials are usually treated and painted, which adds to the cost.
BG: What other elements can help offset costs?
MG: There are lovely, inexpensive ribbons that can really make your flowers stand out. And containers can be a big saver if you choose wisely. They can vary from silver plastic to silver plated. Plastic vessels can look terrific when filled with flowers. You're much better off putting the extra $50 into your flowers than paying for a silver-plated container.
BG: Any other tricks?
MG: Put your blooms on double duty. Ceremony flowers (at the altar or decorating the aisle) can be used at your reception as well. And treat your flowers with extra TLC. If it's hot, they will bloom, prosper and die quickly, so be sure to keep flowers in a cool location for at least three hours before the wedding. They will stay fresh and look fabulous.

Photo Credit: Keith Lewis and Matthew Bushey