Divine desserts (including your cake!) for less.
By: Sharon Naylor
Supporting Players: Cupcakes, Pies and More
20. Ask your site manager if you can eliminate the number of toppings or customizable options at your dessert station. You might be able to save 10 percent by offering three choices of classic pastries instead of six premium versions.
21. Pies are on the upswing, especially at rustic weddings. Make them more affordable by choosing in-season fruit (cherry in spring and summer, apple in fall and winter) for a 15 percent savings.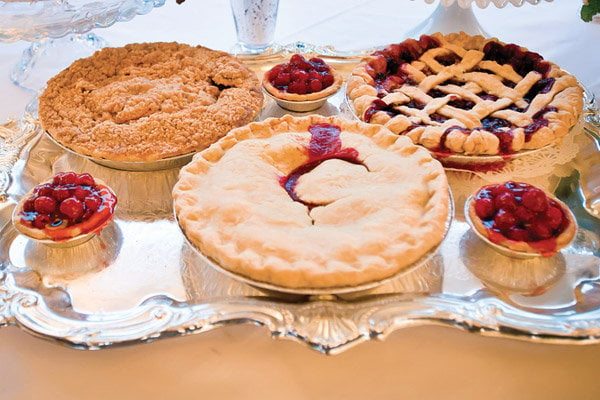 Photo Credit: CappyHotchkiss.com
22. Avoid custard pies — they can be among the priciest, nearly twice the cost of a basic fruit pie. Other pricey flavors include peanut butter and pecan.
23. Choose a basic crust for low-effort/low-cost, rather than an intricate lattice-work top that can cost 25 percent more to make.
24. Serve full-sized cupcakes, rather than minis. A cupcake, says Zamora, is like a cake serving. Guests will usually eat one, whereas mini cupcakes can be popped two or three per guest, requiring a larger number.
25. Halve the frosting on each cupcake. Some bakeries pile on three inches of frosting, which can be too messy for some guests.
26. Rising high on the foodie trend-o-meter, doughnuts are the new cupcakes, often found at $5 for a dozen at bakeries. A top cultural choice is malasadas, a doughnut topped with cinnamon and sugar, often priced at 75 cents apiece, compared to a $3 cupcake.
27. "If you want to present an elegant cookie without pushing your budget, remember the cost is in the details. Try a simple monogram cookie over something with lots of detailing. You can save 30 percent on the overall budget and still have a beautiful cookie to represent your special day," says Michelle Hawkins of Sugar Cookie Creations.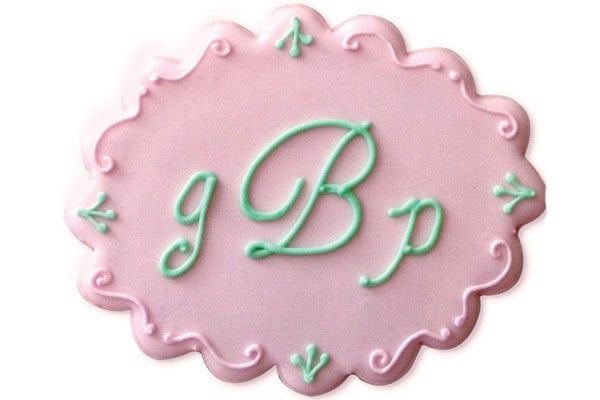 Photo Credit: SugarCookieCreations.com
28. Shop bulk candy sites like Economycandy.com for colorful jelly beans and other candies, and display them in inexpensive glass vessels from a party-supply store.
29. Make your own chocolate-dipped fruit. One container of microwavable chocolate sauce displayed by the strawberries will make dozens of chocolate-covered berries for 75 percent less than store-bought berries.
30. Buy basic brownie platters at the supermarket for $7 to $10, and then DIY your own frosting and toppings to create brownies that bakeries might charge triple for.
31. Register for or borrow a macaron-making kit, like the fun one from Mastrad with easy piping bag and recipe book, to create sweet, colorful macarons that cost 60 percent less than bakeshop-bought.

Photo Credit: Mary Clarke
32. Have friends and family bake for you! Invite your craftiest friends and family to bring a pie, cookies or a platter of brownies for the party, as their gift to you.
33. Pound cakes are another guest-pleasing option. Consider flavors like lemon or orange pound cake, each frosted loaf cut into single-serve squares or slices to get 8 to 12 servings per cake.
34. For your dessert buffet, order ready-made platters of truffles or chocolates rather than individual pieces, says Anthony Cirone, owner of Li-Lac Chocolates. Ready-to-serve platters will run about 10 percent less.

Photo Credit: OmahaSteaks.com
35. Turn your dessert-hour candy or cookie bar into a double-duty favors station, where guests can select their own take-home treats for a savings of $200 often spent on separate favor bars.
Pages