You don't have to slash and burn your wedding budget to get costs under control. Here's how to tame your expenses without going overboard.
By: Sharon Naylor
Nowadays, couples are rightfully concerned about wedding expenses, and many brides and grooms are shaving large amounts from their budgets. But our advice is: Look before you trim. Don't shortchange your dream by sacrificing too much in the most important areas of your big-day celebration. Here, we take a peek at each wedding category and list clever—not to mention painless—ways to keep costs down.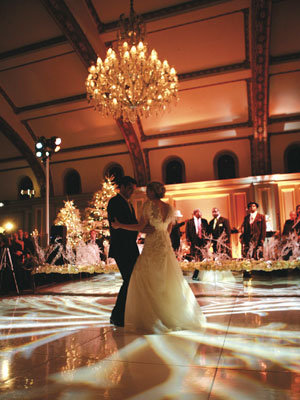 The Location
Your site, or venue, should have special meaning to you and be beautiful to behold, whether it's by the sea or on a mountaintop, in a garden, a ballroom or on a yacht. Many couples are choosing historic homes with gardens or a friend or relative's backyard. Go for a nature museum, a Napa Valley winery, a botanical garden or a New England inn. Rates may vary, according to the day of the week and the season, so prepare to negotiate for a good price. Parks can be perfect—and they can be had at low cost. Anything outdoors requires a tent or a backup indoor space. If you have to rent a tent, tables, chairs, a dance floor and other essentials, spend more for better rental items. You don't want guests sitting on rickety chairs or dining at wobbly tables. Ask the rental agent for a discount for renting more than 50 of each of these items: chairs, tables, china and glasses. You may be able to negotiate for a 10- to 20-percent break on the price.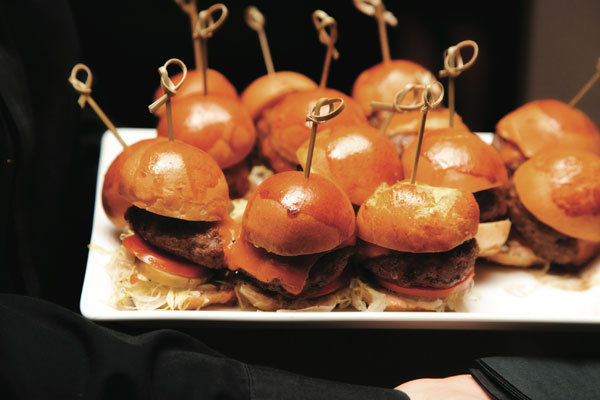 The Menu
Couples quickly discover that catering can eat up the lion's share of the wedding budget. Some ways not to shortchange hungry friends and families: At the cocktail party, treat them to hand-passed hors d'oeuvres—but keep these to five or six selections—and unique gourmet stations. For example, consider having an Asian station with lots of noodles, veggies and spicy sauces, with the food served up from giant woks with lots of style by the chef. (It's much less expensive than it looks!) Ask your caterer about mixing some pricier, exotic foods into your menu, such as chunks of lobster added to budget-friendly creamy risotto, served in individual porcelain spoons. Also have him create savory presentations of food, such as mini kebabs of meats and veggies, as well as gazpacho served in shot glasses. The better the food looks, the more guests will appreciate it. If you think you can't afford a sit-down dinner, think again. By offering a combination platter, with three or four pieces of grilled shrimp or crab cakes, plus several marinated beef medallions and an artistic arrangement of colorful steamed vegetables, you can save more than 40 percent. And don't forget that a special sauce can punch up a budget-friendly chicken or pasta entrée and give the impression that you spent much, much more than you did.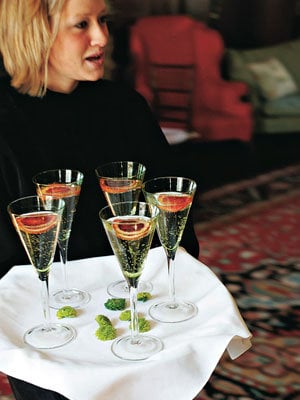 The Drinks
Beware of stinting too much here! Most people can distinguish a fine wine from a cheap one, so take a smarter approach: Schedule a wine tasting with your site manager and bar manager, and ask to test well-rated wines. You might decide that the mid-list vintages are the perfect choices for your bar for less money. Ask about any so-called dead stock: for example, a leftover case of New Zealand pinot grigio or two cases of a Napa cabernet that they happen to have in stock. You can also save money stylishly by offering unique microbrew beers over imported brands.
The Flowers
Since nothing says wedding more than beautiful blooms, don't prune your petals too much. At the same time, instead of breaking the bank on large ornate table arrangements, think small, in season and locally grown. Surround centerpieces with votives; choose inexpensive glass vases and use lots of greenery—green is chic. Have your florist create one centerpiece and then gather your bridal party to copy it—you'll save on costs and have a ball, to boot.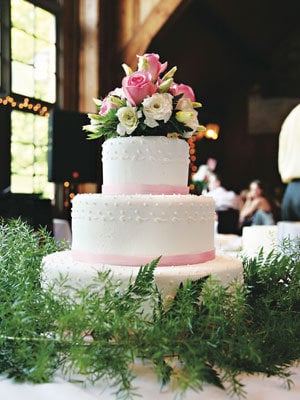 The Cake
Schedule a tasting with the baker and ask to taste the no-extra-charge flavors and fillings. A lemon cake with lemon buttercream filling and coconut shavings is a real treat, and it will look more expensive than it is. And don't forget that a lovely two-tier wedding cake is just as impressive as a five-tier creation that costs four times as much.
 
Pages