From across the U.S.A., we discovered an array of creative cost-cutting ideas. Prepare to be inspired!
By: Kristen Finello
If you think an upscale look has to cost big bucks, think again. With a dose of imagination and attention to detail, you can dream up a perfectly posh party without wrecking your budget. Try these impressive upgrade suggestions from wedding planners and recent brides.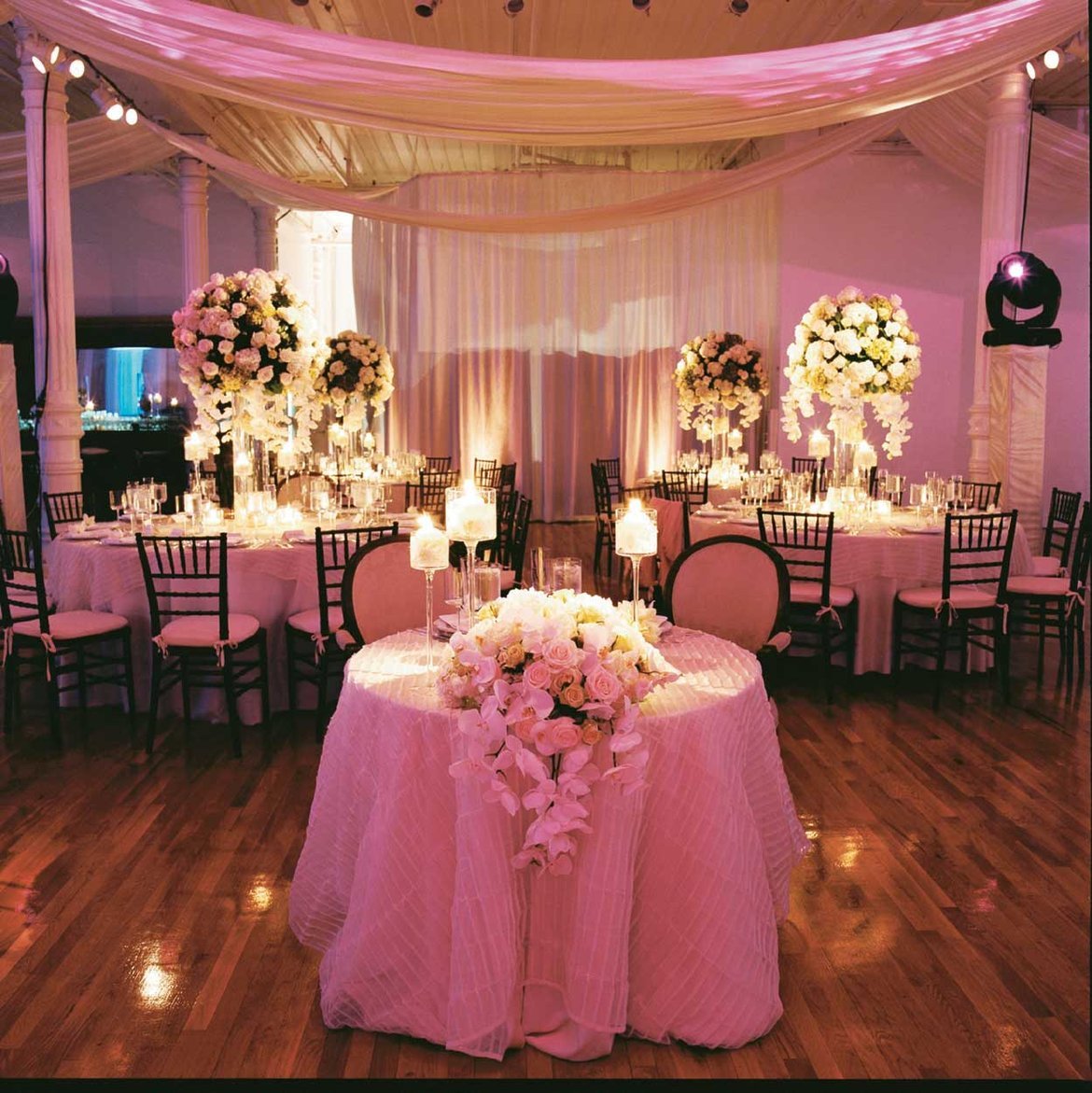 Seats of Honor: Something as simple as varying the shape and fabric of chairs—here, the bride and groom's are covered with white suede— add a subtly special impression. Photography: Fred Marcus Photography.
Holding your wedding in a public space can be a great option. "Some spaces are available for just a few dollars," says Jennifer Brisman, president of Jennifer Brisman Weddings New York. A library furnished with striking antiques, a corner of a beautifully landscaped park or the town green of a quaint village can be great choices.
Privately owned mansions and estates are often available for rental; in many cases you can get them for a fee that's less than half that for a hall rental. And you can't beat a lush spring or summer garden as a wedding backdrop.
Some cities sponsor exciting seasonal celebrations; for example, St. Augustine, Florida, is blanketed in millions of white lights for its Nights of Lights celebration, held every November to January. Hold your wedding in a park or backyard, and enjoy an ultraromantic atmosphere without spending an extra dime.
If you skip the sit-down dinner, "you can still get a luxurious look with a cocktail party featuring hors d'oeuvres and food stations, and you could save up to 20 to 25 percent," says wedding planner Harriette Rose Katz of Harriette Rose Katz Events/Gourmet Advisory Services in New York. The key is to keep the hors d'oeuvres to no more than five or six choices only, but make them sumptuous.
Create a visual impact through a sophisticated use of color. "I carried my pink, white and green color scheme through my whole wedding—from save-the-date cards to table linens," says Danielle Norcross of Florida, who tied the knot in March 2007. "Sticking to specific colors didn't cost more, but it gave the impression of a very well-designed, high-end event."
Ferry your guests from ceremony to reception aboard a charming trolley, recommends wedding planner Karen Erwin of St. Augustine Weddings and Special Events in Florida. Trolleys can be surprisingly inexpensive to hire, she says. In her city, for example, the going rate is about $165 an hour.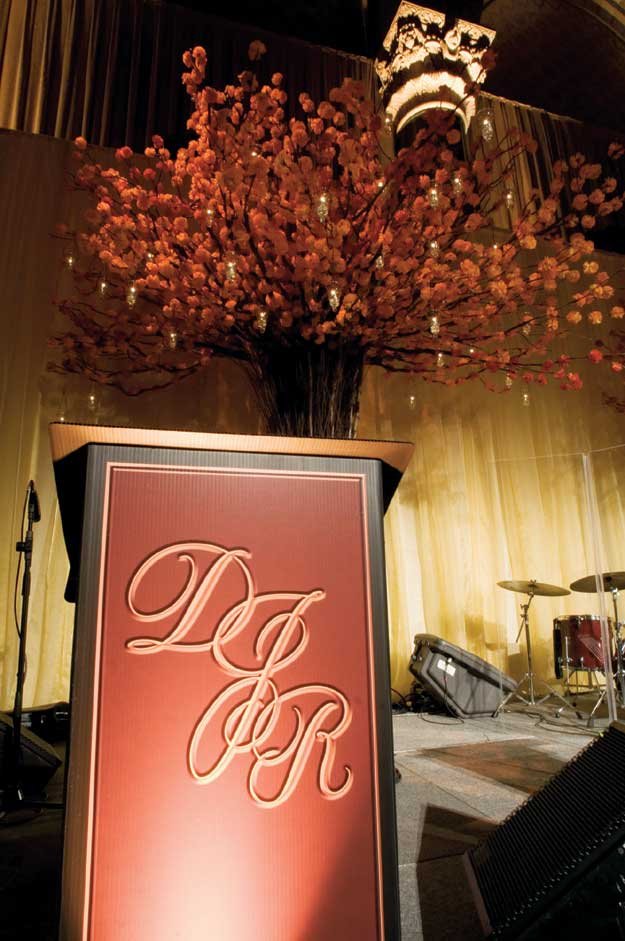 Magical Monogram: It's elegant and inexpensive. Customize your bandstand with your initials in your wedding colors. Photography: Fred Marcus Photography.
Ask one of the musicians from your band (a violinist, a pianist or an acoustic guitarist) to entertain your guests as they arrive at your reception venue for the cocktail hour, suggests Brisman. Tasteful music always makes a chic impression.
Serve ethnic fare, such as Greek, Mexican or Indian, any of which is not only trendy, but also more affordable.
Dress up plain white tablecloths by layering pretty fabric on top, purchased for just a few dollars a yard. Now you have a custom look!
Or forget the linens altogether, and cover your tables with mirrors or frosted glass, says celebrity wedding producer Randie Pellegrini of Cordially Invited, Inc., in Beverly Hills, California. The look is glitzy, the cost modest.
Rent colored or textured chargers (consider bamboo or rattan) at $1 to $1.50 each to add a simple but distinctive detail to every place setting.
Disguising so-so seats with fabric covers is easy if you rent chair covers directly from a supplier (instead of your reception venue); expect to pay just $2 to $3 per chair, says Erwin.
For about 75 cents apiece, you can accessorize every chair cover with a chic sash in your wedding hue.
Create seasonal centerpieces by filling a glass vessel with colorful fruit (less costly than flowers!), suggests Andrea Correale, president of Elegant Affairs in New York. Lemons and limes evoke the scents and sights of spring or summer, while apples, pears and pomegranates create a fall ambience.
"Mixing table shapes, like round, square and rectangular, is hot now, and the look is more upscale and sophisticated than all one shape," says Correale.
Vary your chairs, adds Pellegrini. For one wedding, she used posh white suede chairs at the lead table and regular white chairs for the rest of the guests.
Adorn the backs of the bride and groom's chairs with small perfect bouquets or lush garlands of flowers that you and your friends can create yourselves.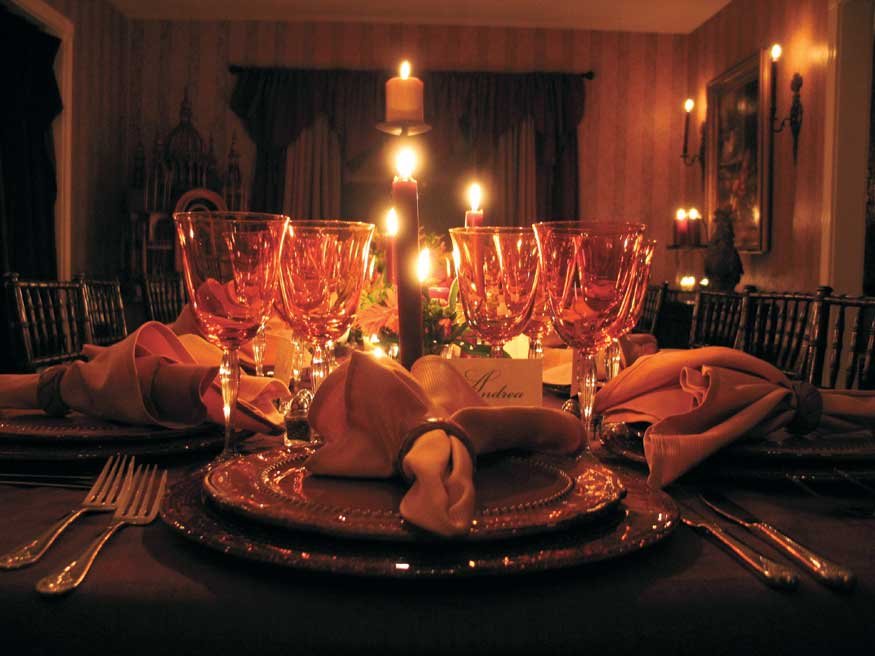 Go for a Glow: For an evening wedding, a variety of inexpensive candles in different sizes throw a soft, ambient light on and around your tables. Photography: Courtesy of Elegant Affairs.
Arrange a selection of inexpensive candles in various sizes, purchased from a crafts store, in the center of your tables. "The glowing ambience of candlelight gives the party a luxe feel," says Correale.
A simply elegant touch: Have the wait staff don white gloves. You can rent them for a dollar or less per pair from a uniform supply shop. Have a beautiful linen napkin wrapped around the bottle when the waiter is serving wine.
Some venues will do menus for free, but you can choose a more custom look. Dara Shlifka of Chicago added this classy detail to her January 2007 wedding. "I designed the menus on my computer and had them printed on high-quality paper at Kinko's," she says. For a bit of extra luxe, attach ribbon, faux pearls, feathers or shells.
Tents create an upscale atmosphere, but can cost a pretty penny. The solution? Share the cost with another bride! "Find out what dates are already booked at your venue and speak to the other couple," says Brisman. "The tent usually goes up for a few days, so one of you could do Saturday afternoon and the other Saturday evening or Saturday evening and Sunday."
Into the Fold: An origami-like presentation of napkins, accented with tiny rosebuds, makes a sweet impression at no extra cost. Photography: Michael Scarpelli from Gerber & Scarpelli, Chicago.
Take your napkins up a notch by tying them with beautiful ribbon or topping with a sprig of green. Katz suggests attaching a rhinestone barrette or pin to each napkin to add some twinkle to your table. (Shop for these in a flea market for something really unique!)
For her May 2007 wedding, Courtney Regan of West Palm Beach, Florida, used beautiful silk calla lilies to create a stunning—and inexpensive—centerpiece. Rent real or faux ficus trees at $30 to $45 to use as lush fillers in a room's vacant spaces.
Incorporate white or colored LED lights into your decor (the ones used in centerpieces and at place settings go for $3 to $5 each). Pellegrini used them to illuminate arrangements of coral and crushed glass for an underwater-inspired event.
Think you're stuck with a boring black bandstand emblazoned with your musicians' logo? For just $60 to $80 apiece, Brisman creates a unique look by using custom bandstand fabric in her clients' wedding colors.
Concentrate your bud budget on just one or two stunning arrangements, says entertaining expert Kimberly Schlegel Whitman, author of The Wedding Workbook: A Time-Saving Guide for the Busy Bride (Gibbs-Smith, 2007). Place them near the entrance to your reception for the most impact. Or position them in front of a mirror to make them look twice as bountiful.
Include special objects or mementos in your table decor, suggests Whitman. For example, if you met in London, set miniature London Bridges on your tables with a card explaining the significance. For an elegant step up from the typical tented card or the table-number holders supplied by the venue, use pretty frames or small inexpensive white easels (check availability at your local crafts store).
If the bride or groom is an artist (or if there's an artist in the family), have him or her create colorful mini canvases that display the table number; feature these unique works of art on small easels in the center of the tables.
If you or anyone in your family has a collection of beautiful pottery, china or even teapots, consider making some of the prettiest pieces part of the table dècor.
Have paper cocktail napkins monogrammed with your married name or initials (100 napkins for $26, americanstationery.com).
Out on a Limb: A forest of branches lit with votive candles makes a striking departure from floral arrangements—and helps keep expenses down. Photography: Michael Scarpelli from Gerber & Scarpelli, Chicago.
Branch out from the usual floral arrangements. Dara Shlifka used branches studded with votive candles and orchids as her centerpieces. "No one expected trees," she says. "They looked amazing, and I saved hundreds of dollars!"
Create a dramatic fire wall, says Pellegrini. Line shelves or a wrought-iron rack with a mass of votives and/or pillar candles.
Have fun with escort cards. For her waterfront wedding, Danielle Norcross used "starfish" to direct guests to their seats (at imagebridal.com for $1.25 each). "Everyone brought their starfish to the table so they became table decor as well," she says.
Instead of large single centerpieces for each table, opt for smaller, less costly "satellite" arrangements with candles interspersed among them, recommends Pellegrini. For each table, recent bride Jennifer Avrhami of Phoenix filled three inexpensive square vases (check your local crafts or dollar store) with bunches of blooms in pink and white; you can use tulips, miniature roses and stock.
Use seasonal flowers and accents for affordable elegance: For fall, bunches of berries, twigs and pinecones can heighten a lush centerpiece of multicolored dahlias or gardenias. For summer, skip the formal arrangements, and go for a naturally beautiful look with sunflowers, geraniums and potted herbs or greenery.
Chic Details: Place settings look ultra sophisticated with stylish chargers. Photography: Fred Marcus Photography.
If you want a particular flower, but it's too pricey, look for gorgeous substitutes. Peonies (a spring flower) tend to be expensive anyway, and the closer they get to being out of season, the likelier it is that the price will go up (even to double the cost). If you want orchids in the winter months, your florist may have to order them from Thailand—that can be prohibitive. Instead, choose hydrangea or hybrid lilies for spring and roses, stock or dahlias for winter for an exceptional look. (Dendrobium orchids are very expensive during the winter months; cymbidium, a small flower, is more affordable.)
Decorate the ceiling! Two affordable options with a festive, over-the-top look are Chinese paper lanterns or tiny white lights strung in a pattern.
Save on floral arrangements by serving your sit-down meal family-style on long tables; that way, large platters of colorful, delicious food take the spotlight. (They're great as conversation starters too, as guests pass the platters along the table.)
Punch up passed hors d'oeuvres by serving them on eye-catching serving trays. For a modern affair, a neon tray is fun, says Pellegrini. For an outdoor fete, cover the tray with a bed of grass. Another option: Rent brightly colored chargers to use in place of plain serving trays.
Use food as subtle elements of dècor, suggests Correale. (You'll be serving a first course anyway, and there's no extra expense in making it look elegant!) For example, you might pre-set your first course on each table. Lay out a simple assortment of flatbreads and antipasto that will look pretty and taste delicious
Incorporate sophisticated wine pairings into your meal. "You'll make a special impression when you choose wines that complement each course," says Correale. For some good, inexpensive choices, visit gourmetsleuth.com and winetasting.com.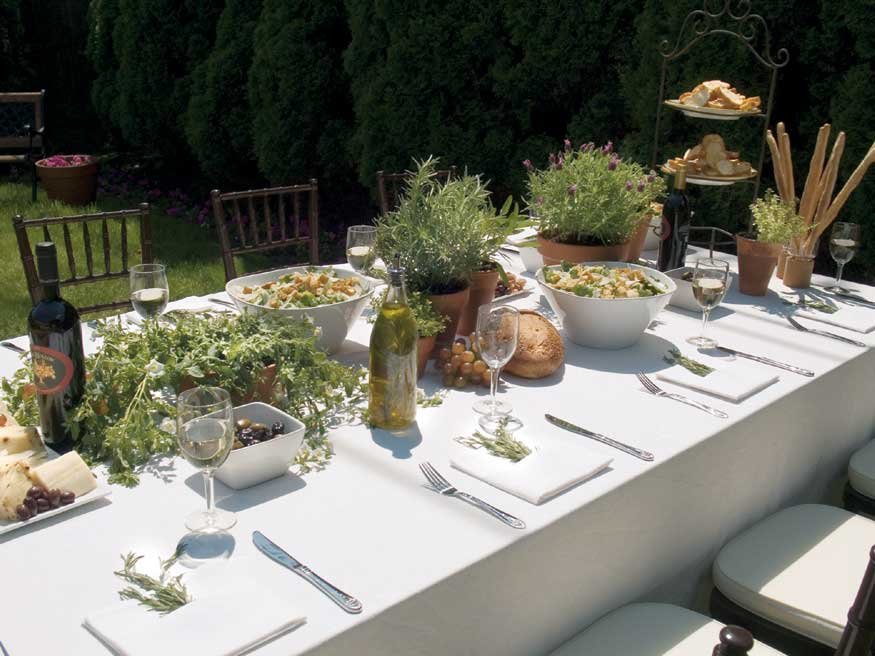 Summer Glory: Instead of large floral arrangements, decorate a warm-weather table with colorful foods and lush greenery in pots. Photography: Courtesy of Elegant Affairs.
For a warm-weather outdoor wedding, have glasses of sparkling water on hand; in each, float a slice of lemon, orange, lime or strawberry.
Brisman suggests buying your libations from a local vineyard or microbrewery. "It's special because they're local and it's cheaper to do it that way," she says.
Keep liquor costs down by indulging your guests with the best brands of liquor, but limiting the bar menu to just a few choices and closing the bar an hour before the party's end. After that, offer just wine and beer.
Serve a tasty white fish such as Tilapia or orange roughy, suggests Correale. It's more impressive than overused salmon but without the hefty price tag of Chilean sea bass or halibut.
"For a touch of elegance that won't add to your catering bill, have waiters hand- serve some aspect of the meal," says Brisman. For the soup course, they can ladle the soup into bowls right at the table.
For a top-quality restaurant touch, ask your caterer to draw a design on the perimeter of the plate with the salad dressing. At dessert, have him drizzle a design on each plate with raspberry or chocolate sauce.
Nothing says upscale like caviar, but a self-serve station is a surefire budget-buster. Instead, Katz recommends passing demitasse spoons of the delicacy.
Save money on alcohol by serving a signature cocktail. "Give your drink a cute name and it will seem like a wonderful indulgence," says Whitman.
Serve Prosecco, an Italian wine, with raspberry or peach puree. "Not only does it look festive, but it's less expensive than good champagne," notes Katz.
Ask your caterer to patronize local farms for top-quality fresh produce; it's very cost-effective. (Nothing makes a better impression on guests than delicious food!)
"Instead of wasting money on petit fours, which very few people eat, serve decadent chocolate-dipped strawberries made by you and your bridal party," says Brisman. Give them a pretty finishing touch with a dusting of orange or lemon.
Bake almond or butter cookies. Serve them with dessert or package them in pretty bags, tied up with ribbon, for guests to take home.
"Set out iced cupcakes on a tiered stand surrounded by toppings such as sprinkles and chocolate chips," says Schlegel. "It's fun for guests to decorate their treat and it's less expensive than a cake."

"To make our guests feel special, Ben and I hand-beaded wineglass charms with each person's first initial," says Jessica Chapman Newell of Dallas, who exchanged vows in May 2007. "I purchased wire rings and beads at the crafts store and found initial charms online.†The total cost for these personalized favors was just sixty dollars."
Get the upscale feel of a live band for less expense by hiring a group that combines a DJ and musicians who perform along with the recorded music. "You get the impact of a live band without incurring the same kind of cost," says Brisman.
"People love a chocolate fountain, and the look is over the top," says Pellegrini. Serve fruit and pralines for dipping. Other apres-dinner treats are exotic fruits, dessert cheeses and cordials.
Place a pretty favor box filled with tasty truffles at each guest's place. Hit
your local crafts store for the latest in high-quality, do-it-yourself favor box kits.
Up the glitz factor by passing out inexpensive sparklers for a memorable first or last dance or for a high-octane send-off.
End the evening on a high note by asking one of your musicians to serenade guests as they wait for the valet to retrieve their cars, suggests Pellegrini.