For travel buffs and lovers of vintage, create this luggage "guest book" using a faux vintage suitcase, vintage postcards, a pen and a simple sign to direct your guests. See more DIY ideas!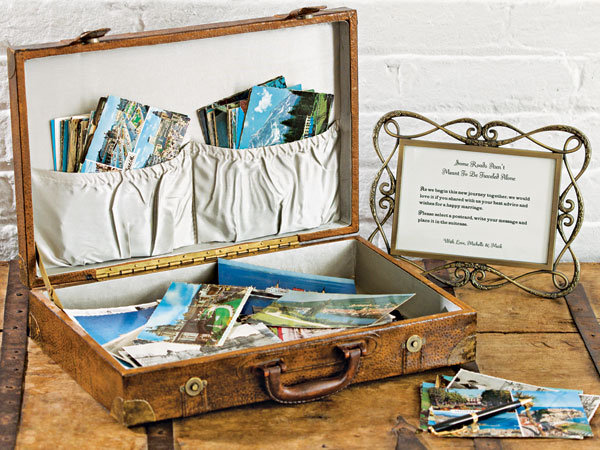 Photo Credit: Jack Deutsch, © 2012 The Stonesong Press, LLC.
Crafty Commitment
30 minutes. Putting this project together by yourself is a cinch. Set aside a morning, grab some coffee, and enjoy your alone time!
Supplies
• Computer with Microsoft Word
• Printer
• 1 piece of cardstock, cut to 5 in. by 7 in.
• Picture frame, 5 in. by 7 in.
• Vintage postcards
• Vintage or reproduction suitcase
•  A lovely pen
Directions
1. The first step is to create a sign that tells your guests the purpose of the postcards and suitcase. Open up Microsoft Word and create a new document.
2. From the Page Setup menu, select "Custom Page Size" from the "Settings" options. Set the custom page size for "7" wide by "5." Click "OK." Set the margin spacing to "0.25" for the left and right margins. For the top and bottom, set the margin spacing to "0.50." Now, type in your message to your guests. Save. Print onto the cardstock.
3. Open the back of the photo frame and insert your printed direction sheet. This will sit near the signing area.
4. The next step is to go through your postcards and do a quality check. Remove any damaged or unusable ones. If you're using postcards that have already been written on, now is the time to use a bit of bleach on a cotton swab to remove any writing from the back of the cards.
5. The last step is to assemble all of your pieces—suitcase, sign, postcards, and pen—and display them. How easy is that?
Fit Your Style
Instead of postcards and luggage, garden-wedding couples could adapt this by using reproductions of vintage seed abels and galvanized pails.
Tips & Hints
► Go beyond suitcases and look for steamer trunks, satchels, or old post office bags for something out of the ordinary.
► Check Grandma's attic for fun luggage.
► The best place to find vintage suitcases and postcards is eBay. It does take some patience to find the right combination of materials in affordable price ranges, so start early and keep your eye out for deals. They do pop up!
► Check out local pawnshops, secondhand stores, and flea markets for vintage items.
Price Breakdown
Your Cost: $74.30
• Cardstock, 1 sheet, $.30
• Picture frame, $12
• 100 postcards, $12
• Vintage suitcase, $50
Store Cost: We haven't seen any vendors offer this kind of product for sale.
Adapted from The DIY Bride—An Affair to Remember, Khris Cochran (The Taunton Press, 2012)