This pretty arrangement has a definite seaside feel but is still subtle enough to use with nearly any outdoor theme. See more DIY ideas!

Photo Credit: Jack Deutsch, © 2012 The Stonesong Press, LLC.
Crafty Commitment
10 to 15 minutes for the vase; 20 minutes more for the arrangement. On the big day, hand off the floral arranging to a trusted friend or two while you're off being a beautiful bride.
Supplies
• Glass cylinder vase, 12 in. tall by 5 in. in diameter
• Glass cleaner and paper towels
• Glue gun and glue sticks
• 3/8-in.-diameter sisal rope, one 50-ft. roll (enough for 1 centerpiece with 3 vases),  available at most hardware stores
• Floral shears
• 5 heads of blue and white hydrangea
• 1 dozen godetia flowers
Directions
1. Begin this super-easy project by cleaning the outside of the vase with glass cleaner. Dry the vase with paper towels or let air-dry.
2. While your vase is drying, plug in your glue gun so that the glue can start liquefying.
3. Place a dollop of glue on the vase, near the bottom edge. Immediately place the end of the rope into the glue, parallel to the bottom. Be very careful! Hot glue is indeed very hot and can cause severe burning. Hold the rope in place for a few seconds to ensure that it adheres to the glass.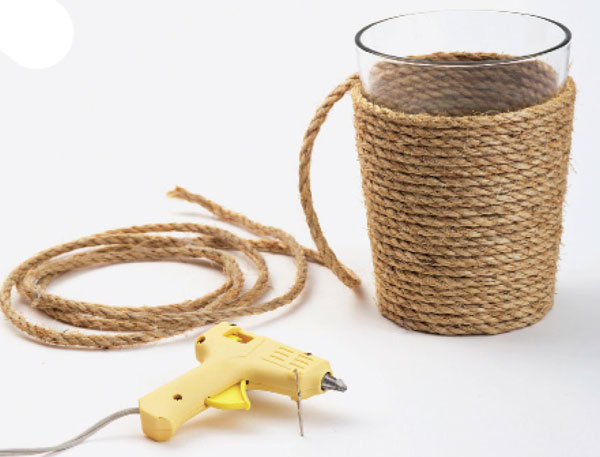 4. Finish wrapping the rope tightly around the vase, adding a dollop of glue every 1 to 2 turns around the glass.
5. Cut the rope with your floral shears when the vase is completely wrapped and secure the end with one last dollop of glue. The glue should hold the end in place and prevent the cut rope from fraying.
6. Let the vase cool completely (the glass will retain heat from the hot glue for a while) before filling it with water.
7. Trim the stems of your flowers to fit the height of the vase.
8. To finish off the centerpieces, simply add water to the vase and insert your flowers.
Fit Your Style
Transform this summer-themed centerpiece into a winter one by using garlands of faux crystals, found at big-box craft stores, in place of rope. Having a modern wedding? Try metallic cording from fabric shops for a sleeker feel.
Tips & Hints
► Plain, smooth-surfaced vases are easily found in most craft stores and are often on sale.
►  Check out dollar discount stores for incredibly inexpensive vases to save some cash.
►  If you're looking for something a bit quirky, mismatched vases can be found at secondhand stores for next to nothing.
►  Who says you need a glass vase? Tin cans, old pottery, two-liter plastic bottles, and clay pots can also be roped up.
► Sisal rope can be dyed to nearly any color you want.
Price Breakdown
Your Costs: $52.20
•  Vase, $5
•  Rope, $8.50
•  Godetia, $25
•  Hydrangea, $10
•  Hot glue, $4
Store Costs: Florists will charge anywhere from $60 to $80 for a similar centerpiece.
Adapted from The DIY Bride—An Affair to Remember, Khris Cochran (The Taunton Press, 2012)