On hot days when an indoor ceremony isn't possible, have your guests reach for this simple but stylish solution: A hand fan. See more DIY ideas!

Photo Credit: Jack Deutsch, © 2012 The Stonesong Press, LLC.
Crafty Commitment
10 minutes per fan. Make quick work of a big project with the helping hands of your friends and family. For maximum efficiency, put someone on cutting duty and the rest on wrapping and embellishing. Treat everyone to light snacks and tropical beverages to get them in the mood.
Supplies
• ¾-in.-wide silk dupioni ribbon
• Scissors
• Hot glue gun and glue
• 10-in.-wide raffia fans
• Silk orchids, removed from the stems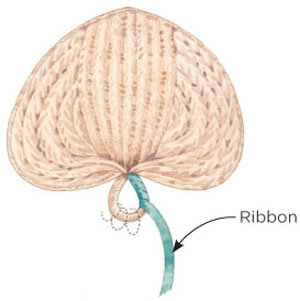 Directions
1. Cut the ribbon into 18-in. lengths. Place a small dollop of hot glue on the front of the fan, just above the loop of the fan handle. Carefully press the end of one of the lengths of ribbon into the hot glue.
2. Wrap the ribbon around the handle of the fan and secure the other end with hot glue when it's covered. It's worth noting that because the fans are handmade, each one may be slightly different. You may not need all 18 in. of ribbon to cover the handle.
3. Once the ends are glued down, add another dollop of glue to the front of the fan, over where you began the ribbon wrap, and secure one of the silk orchids. That's all there is to it!
Tips & Hints
► The silk dupioni used here is an indulgence. Any other type of ribbon can be used to bring the costs down by half or more.
►  Raffia fans are often handmade and created from natural fibers. They're not consistent in size or color, though they are generally pretty close from fan to fan. Don't be surprised if there's some variation in your fans.
►  Use any type of silk flower if orchids aren't to your liking. The best flowers will lie flat, such as a rose in full bloom as opposed to a rosebud.
►  Make sure your guests know the fans are available by placing one on each guest's chair along with the ceremony program.
►  Fans can sell out during the warm summer months, so place your order early.
Price Breakdown
Your Cost: $180 for 80 fans, or $2.25 each
• Ribbon (per 40-yd. bolt) $42
• Hot glue $4
• Raffia fans (80) $70
• Silk orchids $64
Store Cost: Embellished fans can be found at specialty wedding vendors for $3 or more each.
Adapted from The DIY Bride—An Affair to Remember, Khris Cochran (The Taunton Press, 2012)