With a few smart strategies and lots of creativity, these three couples shows us how they planned beautifully personalized and truly unforgettable weddings—without breaking the bank.
By: Valerie Berrios

A Retro Party (Total Cost: $9,215) 
The Couple: Faye and Morgan Hurley
Wedding Date: September 10, 2010
Location: Uxbridge, Massachusetts
Number of Guests: 200
When Faye Guanipa, 23, and Morgan Hurley, 25, an insurance claims adjuster, got engaged, "I was just out of college," says Faye. "The reality was that we couldn't afford an extravagant wedding, but as the planning began to unfold, I saw what an opportunity we had to make this wedding really special." The celebration took on a playful, artsy style that was influenced by the bride's love of '50s retro art and fashion.

How They Saved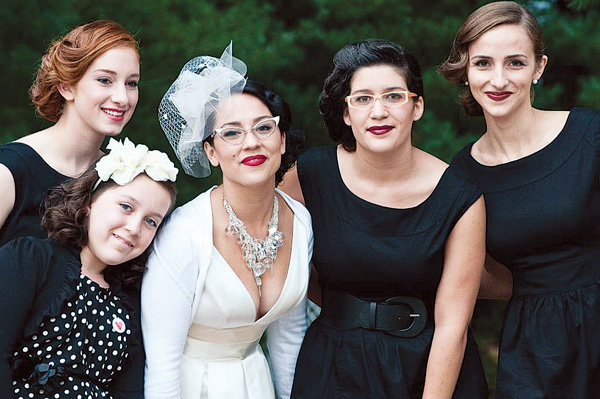 "The first thing we tackled was the venue. I knew that I did not want a traditional venue, so we found a local Christmas tree farm, Arrowhead Acres, that had an outdoor chapel among the pines as well as a large building where we could hold the reception. The place was like a blank canvas—exactly what we were hoping for—and the price was right."

"The fee for wedding photography was a bit daunting, until a friend suggested I contact local photography colleges and submit a request for alumni or student photographers to shoot our wedding. This way, I was able to find a fabulous photography team that had a wonderful sense of style and a passion for their craft. They were generous enough to offer us a huge discount, and the results were more than we could have hoped for."  
Catering presented another challenge. On a whim, Morgan's mother suggested a local Italian eatery as an option. "One of the caterers came to our home and blew us away with their presentation. But when we learned the cost, we were disappointed. My parents wrote to the caterers, thanking them for the proposal and offering some alternatives. For example, we found that we could source out the rentals (linens, cocktail tables, silverware) ourselves for a lower price. We also offered a large cash down payment. Happily, the caterer agreed to work with us, and we ended up with a fantastic menu with items like gourmet sliders, root-beer-fl oat shots, and matchstick fries to go along with the fi fties theme."
The family's artistic flair shone when it came to the decor: They found vintage glass flower vases and spray-painted them yellow to match the color scheme. They also bought table mats from Paper Source that featured beautifully illustrated table settings. One of their favorite finds: a retro yellow bar they salvaged from the side of the road and restored; it was used to showcase their menu items. The dessert table featured cupcakes and a coordinating wedding cake, all displayed on mismatched vintage glass cake platters.
On the wall behind the table were large letters from Michaels, which had been spray painted red and spelled out L-O-V-E. The guestbook table showcased an old typewriter and scrabble letters that read "Write to us." Instead of signing a book, guests wrote loving notes on cards that were each stamped with a red heart. The entertainment was provided by the couple's musician friends. "The variety in talent was so diverse and amazing."
"We were also inspired to have a photo booth, stocked with props like mustaches, hats and wigs." Faye says. As for her dress, Faye bought the floor sample at a discounted price. "My shoes were by Paris Hilton from Marshalls—and I'm not ashamed to say it!" she says. "They cost me $50 and everyone kept asking if they were Louboutins because they mistook the hot pink on the sole as red!"
Small Indulgences

One of the things the couple had to splurge on was the bartender. "Our vendor's licensing policy dictated that we had to use their bartender," Faye says. "It was pricey but the service was great." An even greater expense was Morgan's suit. "But it was a good investment because he will get a lot of future wear out of it."
Faye's Words of Advice
• Re-evaluate your priorities as you plan. Your guests will probably never notice some of the details you take great pains to carry out. Instead, focus on the big picture.
• Be creative! If that's tough, get inspired by what other people have done. I was constantly on Ruffledblog.com, a site that's dedicated to vintage-style brides.
• Scour through DIY books for inspiration, but don't get bogged down trying to
make everything, either. Sometimes it's just better to pay someone if you can
get it done at the right price.
• Say no to yourself sometimes. You can't do it all—or have it all!
 
Budget Breakdown:

• Stationery: $100
• Bridal gown/accessories: $230
• Groom's suit: $300
• Hair/makeup: $150
• Officiant: $200
• Reception venue: $1,900
• Catering: $3,500
• Rentals (tables and linens): $600
• Room decor: $200
• Flowers: $200
• Photography (a discounted cost): $500
• Cake and cupcakes: $250
• Bartender: $475
• DJ: $400
• Favors (personalized CDs and CD covers): $100
• Gifts for bridesmaids (clutches Faye's mom made, filled with beauty essentials): $40
• Gifts for groomsmen (unique items from Etsy.com): $70

Total: $9,215
Photo Credit: LMStudios/LaurenMPhotography.com
Pages