In honor of the traditions of Jewish weddings, we've compiled a list of some of our favorite traditional structures from real weddings.
By: Emily Goldman
1. White Light
White blooms border the lines of this classic chuppah.
Photo Credit: Harriette Rose Katz
2. Sunset Views
Take a cue from the setting sun, by adding vibrant colors to a minimalist structure. 
Photo: Palace Resorts 
3. Castle-Esque
This regal scene gives a beautiful update to the traditional four-legged ceremonial shape. 
Photo: Fred Marcus Studio
4. Beach-Scene
Light florals adorn a breezy structure, perfect for ocean-front nuptials.
Photo: Paradise Photography
5. Wrapped in Vine
An ordinary chuppah gets a rustic upgrade with vines.
 Photo: Samantha Ong Photo
6. Pretty in Pink
For a vineyard-type of wedding, opt for pink and purple flowers.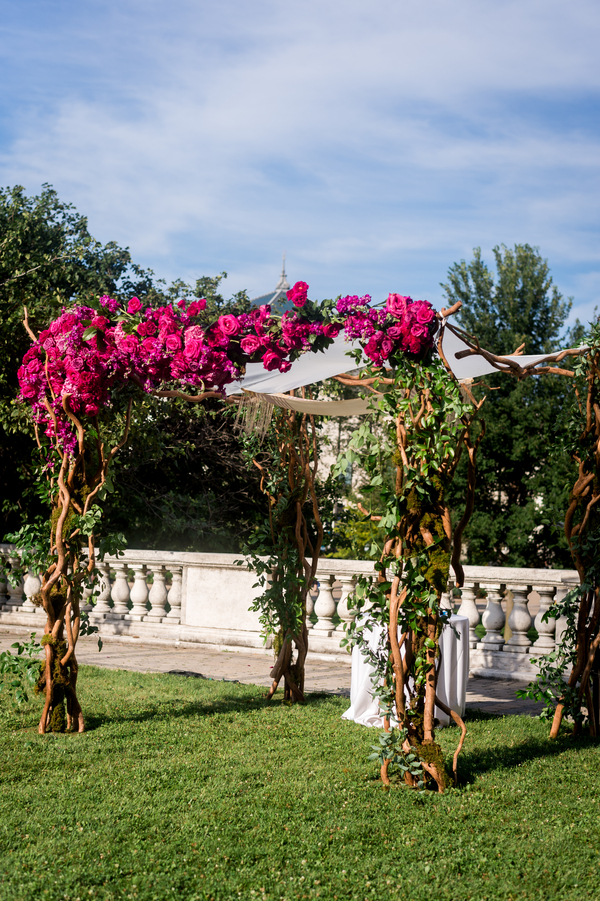 Photo: Julia Franzosa Photography
7. Indoor Vines
Simple greenery is minimal, yet hits just the right amount of beauty for an elegant chuppah.
Photo: Rob McCormick
8. Let There Be Light
Want to ensure that guests can see every aspect of the ceremony,? Opt for a chuppah with a chandelier – perfect for indoor festivities.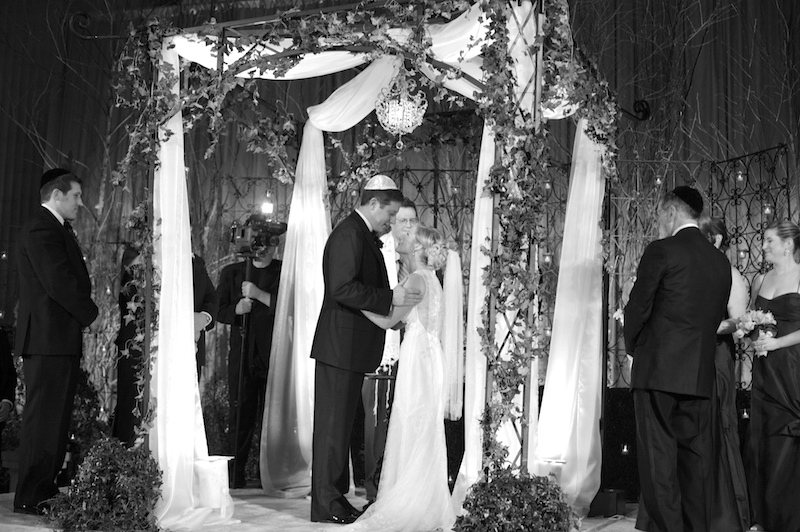 Photo: Alan Turkus
9. Entwined Canopy
For some extra oomf, add cascading white flowers to a woodsy-inspired structure. 
Photo: Brett Matthews Photography
10. Bare Bones
For an ethereal look, choose painted wood and branches to create a gorgeous, washed wood effect.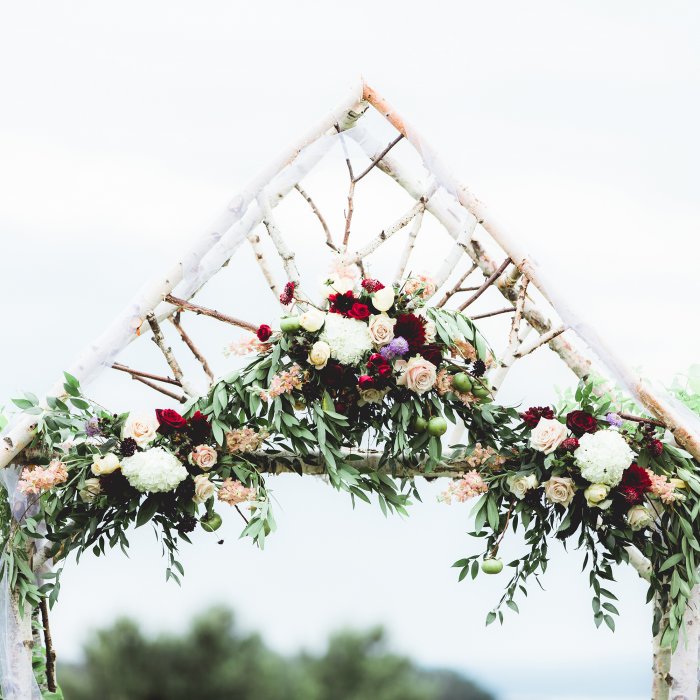 Photo: Dan and Melissa Photography
11. Rose Petals
Have a garden party with your guests under this natural creation.
Photo: Gertrude & Mabel Photography
12. Tulle of the Town
Wrap your chuppah in green tulle to mirror the outdoors, and adorn with gorgeous blooms.
Photo: Sherman Chu Photography
13. Wood Work
Bring the outdoors inside with a foresty, raw bark-infused chuppah made from tree trunks.
Photo Credit: Andres Valenzuela
14. Chill Out Chic
Equal parts art and Jewish tradition, all eyes will be on this avant-garde creation.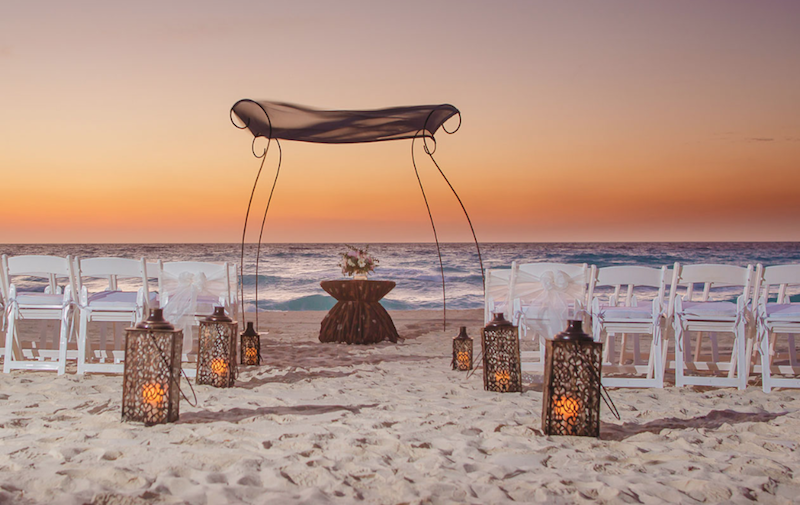 Photo: Paradisus by Melia
15. Scattered Flowers
Brighten up an indoor chuppah with luminous flowers popping in and out of woven, thin branches.
Photo Credit: Casey Fatchett Photography
16. Washed Wood
Potted plants at the base of each of the four posts adds a gorgeously green touch.
Photo Credit: Abby Rose Photo
17. Flower Covered
Dripping in flowers is one way to ensure all-eyes will remain on the exchanging of vows, and traditional aspects of the wedding.
Photo: Kelly Sweet Photography

18. Beach Breeze
Keep things simple and let your chuppah emulate the ocean breeze with lightweight, billowing fabric.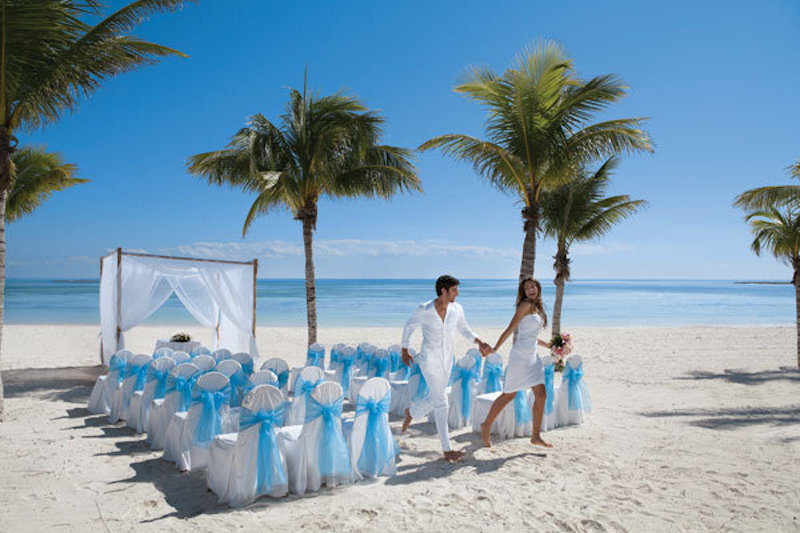 Photo: Barcelo Resorts
For more wedding ceremony inspiration, visit 100 Beautiful Outdoor Wedding Ceremonies.