Beaches are inviting, and nothing says glam like a ballroom bash, but for a truly personal celebration, home settings are hard to beat. Cozy up to three backyard weddings that took romance to new heights last year.
By: Debra Witt
Boho-Chic Soiree

A year ago, this Southern California couple gave new meaning to the word "pivot." With the COVID-19 pandemic showing no signs of retreating, the duo told wedding designer Jen Bergmark, of First Pick Planning, that their show must go on. Bye-bye plans to have 250 guests gather in Lake Tahoe over Labor Day. Hello plot-twist to host just 12 of their truly nearest and dearest in their cozy backyard on the outskirts of San Diego. "They didn't want to wait," says Bergmark.
Bergmark asked the florist to create a hedge wall in the backyard, and then adorned it with a large, circular sign engraved with the couple's last name. String lights crisscrossed above to give the entire space a romantic air after sunset.
Guests sipped cocktails while they waited for the bride and groom to take their turns walking down the aisle to the tune of a ukulele strumming "Somewhere Over the Rainbow." Vows were exchanged beneath a sleek triangle arch decked in pampas grass, and the first kiss was punctuated by the approving yelps of the couple's two pups — wearing matching leis, just like the groom's.
After cheering the big moment, guests mingled on the patio nibbling on passed appetizers.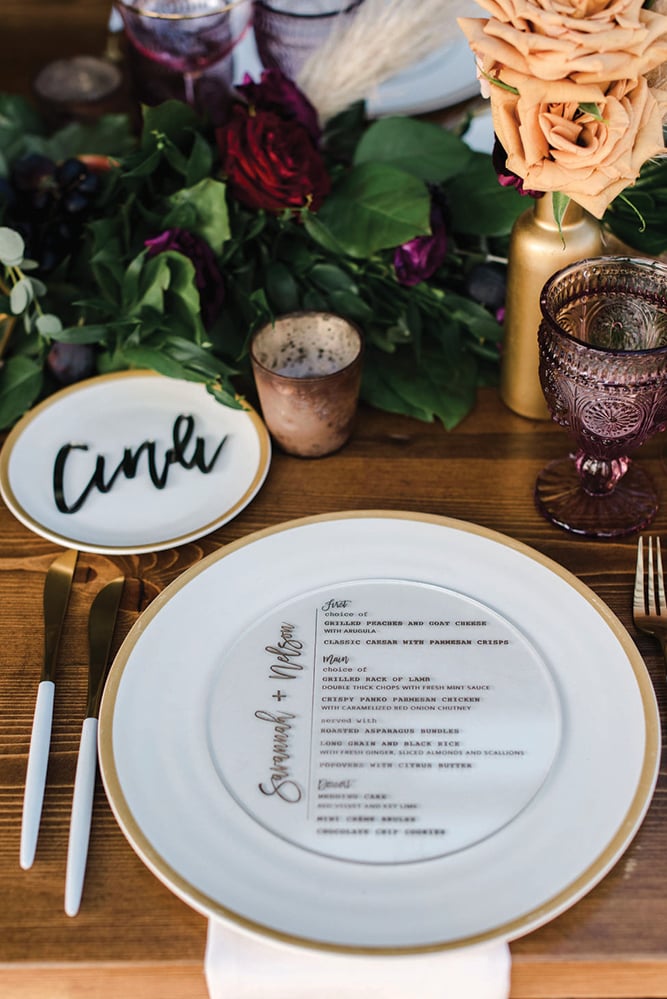 The seated dinner ended on a sweet note — a choice of red velvet or coconut cake, plus cookies and crème brulée.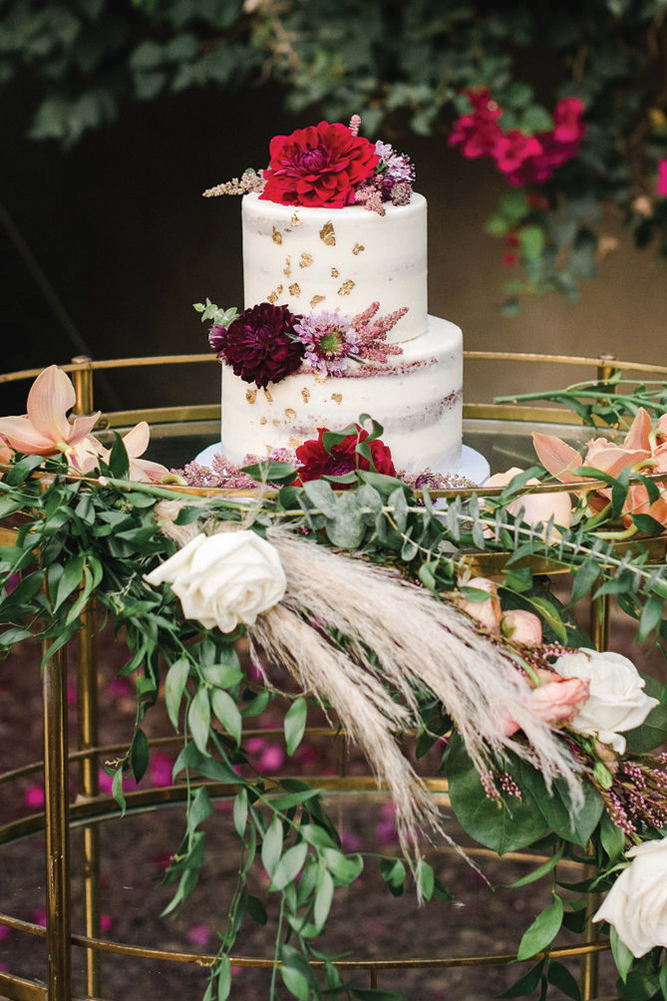 The pandemic meant no dancing other than the couple's first spin, but Bergmark says there's plenty of time for the couple to take the party back to Tahoe with a larger assortment of friends and family this coming Labor Day weekend. "They really did make the most of a trying situation," says Bergmark. "To see how happy they were — everyone was — you would have never guessed this was their Plan B!"

 Photo: Jillian Rose Photography
Welcome Home 
Not every wedding that took place after March 2020 was a Plan B. Case in point: This dreamy backyard bash that took place in August. "Once engaged, the couple realized that planning a wedding in the midst of a pandemic would look different than 'normal,' and they just rolled with it," says wedding designer Michelle Cousins, owner of Michelle Leo Events. First up, the venue. The home of the bride's parents was a no-brainer.
Sitting high above Provo, Utah, the house offered spectacular views of both the city and the mountainside. Next, the guest count. The couple didn't want a huge wedding, but they also didn't want a micro wedding. COVID-19 restrictions meant they'd need to be creative. The solution? A small number of close friends and family arrived early in the evening for the ceremony. Afterward, larger groups arrived in two sets for an open-house style reception. Guests were given an allotted time to arrive and depart based on their last names. Finally, the fun stuff. The focal point of the day was the circular ceremony arch festooned in flowers and pampas grass.
Twinkling lights dotted trees as well as the climbing ivy that defined the patio. Instead of long, family-style tables that Cousins is known for, there were large round tables carefully spaced apart. "Lush centerpieces and lots of candles helped make the tables feel more intimate," she says. "When the guest list gets trimmed, that usually leaves more budget for florals, special linens and other décor."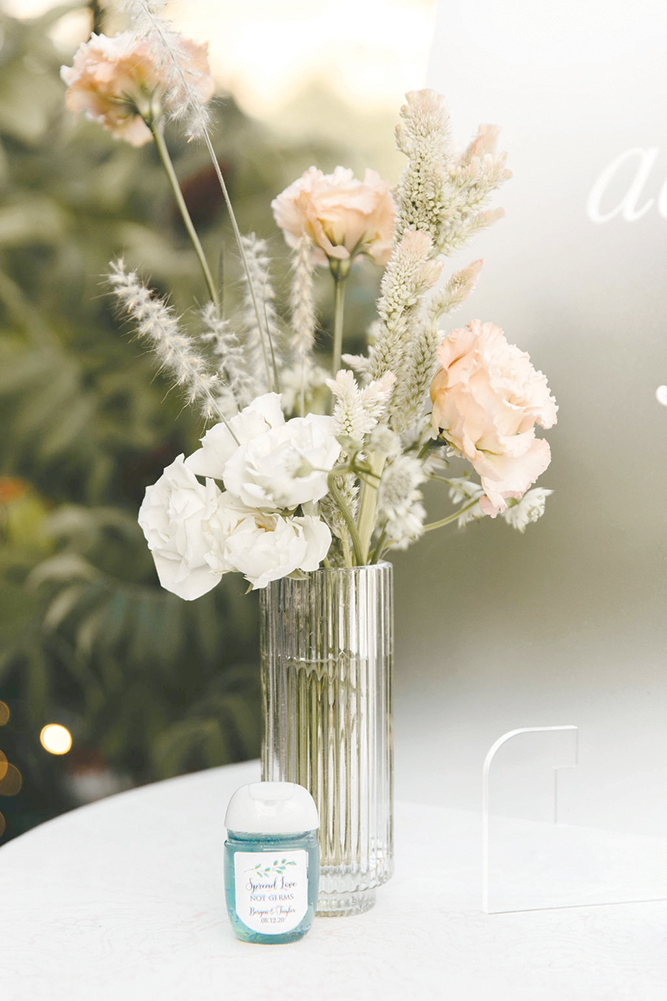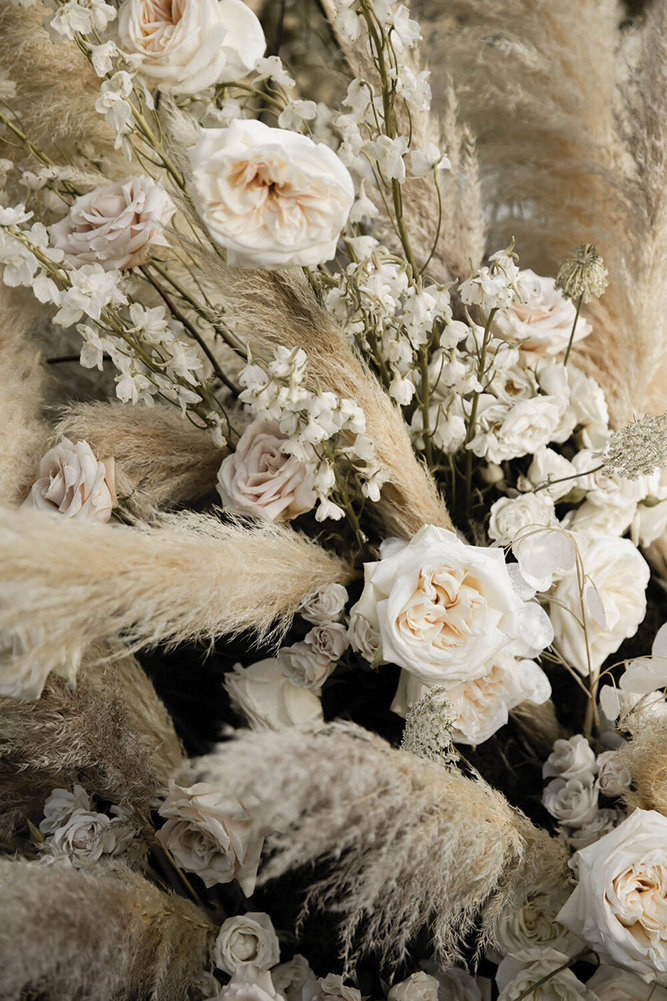 Even though guests had to adhere to a strict time frame, the celebration was anything but rushed. "The beauty of a home wedding is that they're more relaxed because the couple feels comfortable," she says. "Yes, there was a pandemic, but this was the couple's dream wedding. Everything about it was personal and perfect."

Photo: Steph Kirk
Garden Party
This New England bride didn't have to look far to find the perfect backdrop for her dream garden wedding: it was her childhood backyard. Growing up in a town outside of Boston, the bride loved the peonies that bloomed along the side of her house. When the planning began pre-pandemic, she asked her wedding designer, Sarah Crowell of Mavinhouse Events, to use the distinctive blooms as inspiration. And as luck would have it, the peonies would be at their prime during the May nuptials. But then COVID-19 came along, and the couple had to push their plans to August. Peonies were now out of the picture. "So we went all out with roses and hydrangeas in different shades of pink and white to give her that garden feel she was looking for," says Crowell.
The guest list was whittled down from 350 to 75, but that didn't minimize the planning and preparation. "We brought in a tent in a size we'd normally use for a larger wedding, just so we'd have room to spread out the tables," she says.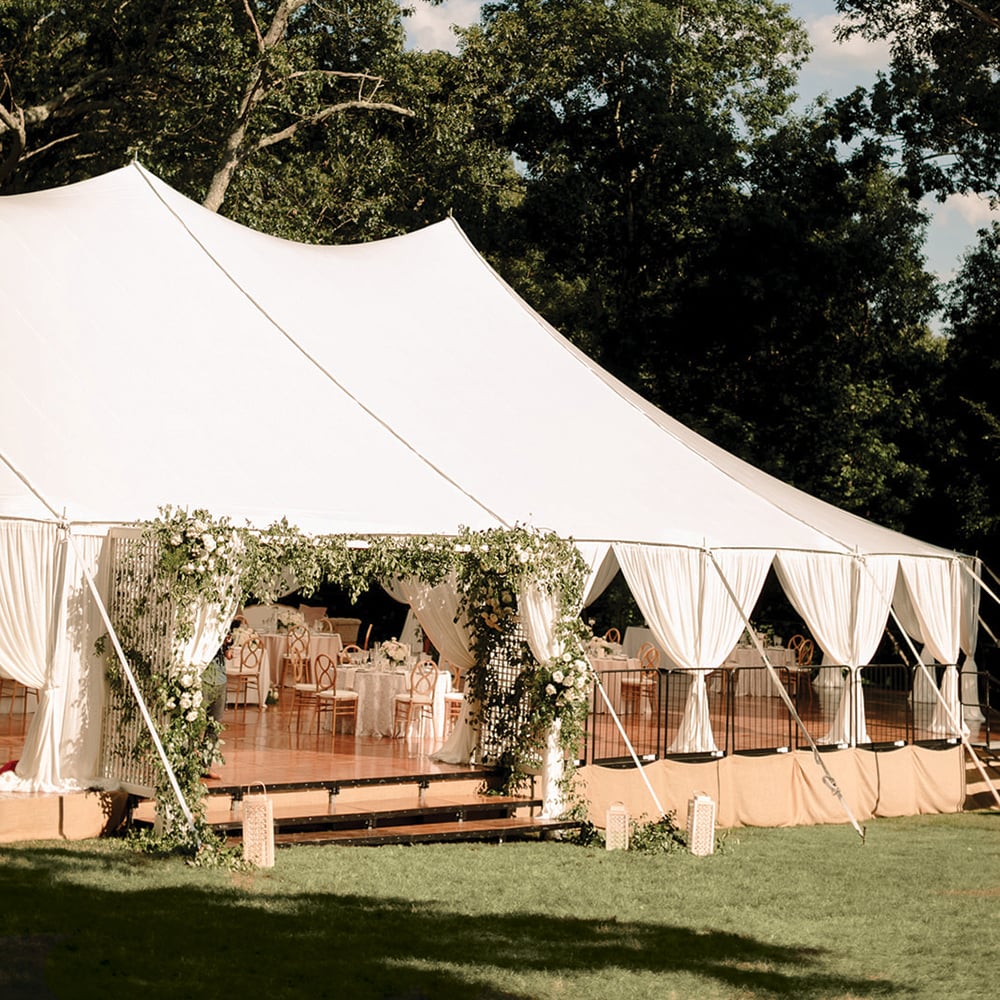 To meet new safety guidelines, there was no walk-up bar or food stations — servers walked the grounds with drinks and appetizers. Guests could also grab pre-plated selections from a raw bar. In addition to cake, the couple handed out individually wrapped sugar cookies that were painted with a picture of their puppy, who had helped the groom propose.
Like the other couples mentioned, this duo had to forgo guest dancing, but Crowell says people stayed to mingle and enjoy each other's company. "Home weddings are always special because of how deeply personal they are, but this one felt even more so because of what has been going on," says Crowell. "It wasn't lost on anyone there that they were surrounded by love."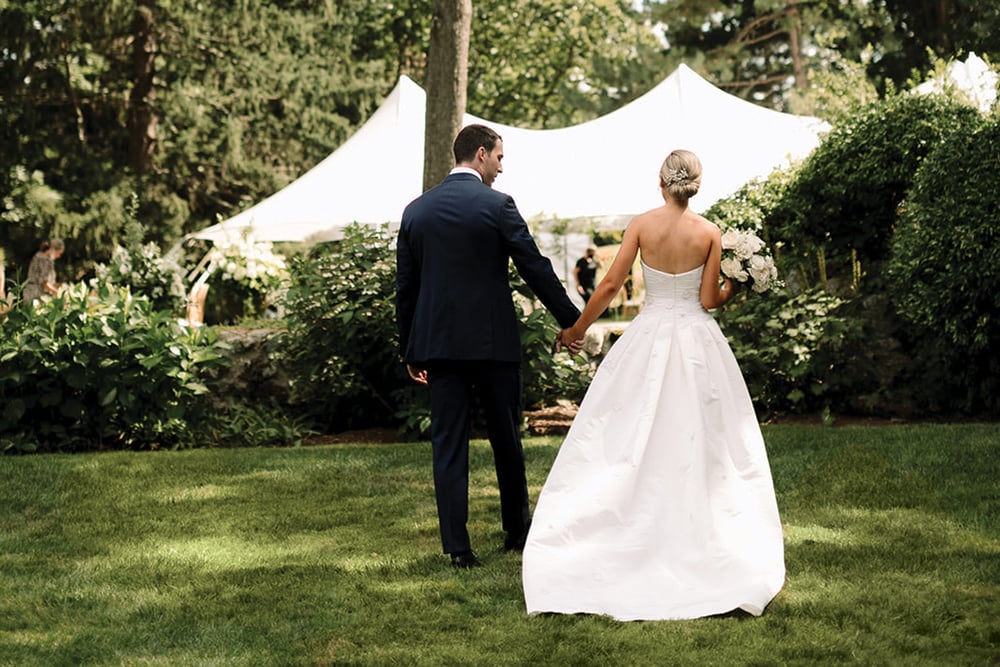 Photo: Henry + Mac
Safety First
Ensure you can accommodate physical distancing, even outside.
Many locales are now requiring event permits for home celebrations, meaning you must follow the same guidelines as event spaces.
Work with vendors (especially caterers) who are familiar with current local restrictions and have plans in place.
Ask guests to quarantine for two weeks and get tested ahead of arrival. Members of the wedding party, including the couple, should do the same. Ask everyone to kindly stay home if they're not feeling well for any reason on the day of your event.
Provide masks and plenty of hand sanitizer. Hint: These items make perfect favors.
Take steps to keep servers/staff safe during your event. Consider hiring extra staff to clean and sanitize throughout the event.
Remain understanding. Allow your guests grace and understanding if they decline your invitation.