Refined, romantic and easy on the budget, consider a sugar-licious tea-party shower— Lady Mary would approve!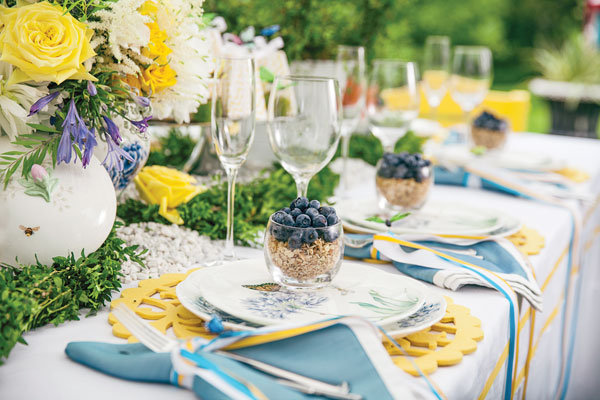 Photo credit: Elegant Affairs
Andrea Correale, celebrity caterer and president and founder of of Elegant Affairs, gives us the inside scoop.
When planning a tea party, what's the vibe to strive for?
"These affairs are feminine and elegant, with a fun, girly element. Picture an English tea, with beautiful teacups and scones and pastel colors. Very proper and dainty. Set the tone with your invitations: Choose a formal, feminine font on heavy paper."
What should you serve?
"The great thing is that tea foods won't break your budget. You'll want to feature light, delicate fare and a selection of desserts. Often, I suggest that the girls and the mother of the bride try their hands at making tea sandwiches — of course you don't have to do that if you don't want! Think cucumber sandwiches, for example. You take thin-sliced cucumbers (seeds removed) and arrange on pressed bread with a little butter. A favorite cost-effective idea: deviled eggs. Yes, just the way they served them at cocktail parties in the 1950s."
You can also do deviled eggs in a salad; spice them up with gorgonzola and bacon or go southwestern with diced onion or chipotle. Carry the theme through with chocolate-accented cookies shaped like tea bags for a festive finish (see recipe, below).
And the "proper" beverages to serve?
"Hot teas, of course, as well as chilled lavender or chamomile teas. A bellini cocktail made with peach nectar and prosecco (less expensive than champagne) is wonderful. I also like a traditional kir royale, made with prosecco and raspberry liqueur, topped with a fresh raspberry. Put out sugar cubes, not regular sugar, and rock candy sticks to use as stirrers."
Must tea parties be small? And what time of day is best?
"You can have groups of 50 to 100 people, or you can keep your shower very intimate. For a larger crowd, do a fabulous tea buffet on a dining room table. Use three-tier tea stands on which you can arrange your sandwiches and pastries. Traditionally, tea is served at 4 p.m., but noon or 1 p.m. is just as good."
What about décor?
"If your mom has a silver tea set, go for it! Or maybe someone has crystal goblets or a cake stand you can borrow. Use a nice linen or a lace or floral design for a tablecloth — nothing that looks contemporary. Tie each napkin with a beautiful ribbon bow. For centerpieces, fill antique-style teapots or teacups with one type of flower (a few pink or white tea roses, for example). For single use, silver-plated is an inexpensive option. Another affordable idea is to go to an event rental company for vintage-style three-tier stands and dishes (plastic or paper are fine) for an appropriately old-world effect."
What about favors?
"Small individual boxes with a variety of teas, or little potted plants in teacups, are perfect. The ladies will love them!" 
Another idea: Make these adorable tea bag cookies ►