Everything you need to make your best friends feel appreciated when you ask them to be in your bridal party. Just add bubbly!
By: Mary Gillen
Your gals have been by your side through it all, from laughter and tears to kissing frogs and finding your prince. Now it's your turn to pop the question! Show them how much they mean to you by planning a special brunch to ask them to say yaaas to the bridesmaid dress!
Set a Date
Don't feel the need to ask your 'maids the second after he puts a ring on it, but consider planning your brunch early on so they can be there for the entirety of the planning process. Since your bridesmaids are often from different stages of your life and may not all regularly hang out with each other, it can be hard to find a day when everyone is available. Let them know you want to celebrate your engagement over a special meal without ruining the surprise of the proposal. 

Photo Credit: Renata Adrienn
Menu
Whether you whip up a delicious home-cooked meal or opt for a girl's day out with fancy restaurant fare, there's no better way to pop the question to your 'maids than over a bottle of bubbly at brunch. Consider your budget and your culinary skills. If you can't afford to go out and aren't a wiz in the kitchen, try to enlist the help of someone who is or order in items you can afford combined with simple things you do know how to cook. Some food options include: Eggs Benedict, avocado toast, chicken and waffles, pancakes, fruit, salads, etc.
Photo Credit: Rachel Park
Decorations
Have fun with the décor at your brunch. From dressing up the table with floral arrangements to decorating a bar cart with fancy flutes, fun signs or photos. If you are hosting the event at a restaurant keep it simple and bring balloons for boomerangs and group photo ops!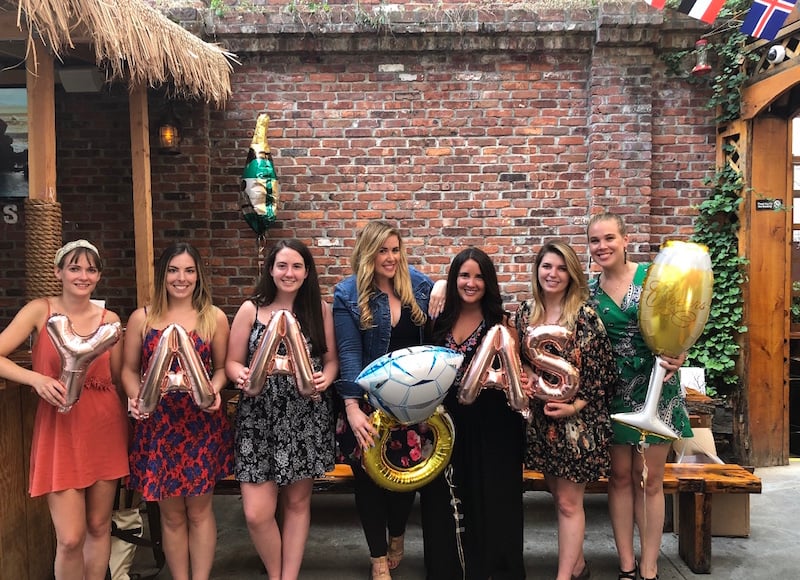 Pop the Question
Crafty brides can create a DIY gift, but if you need a little help with your proposal, order a personalized gift box. This box from LaLa Confetti (shown below) features a stainless steel wine tumbler with matching mini straw, a "Bride Tribe" mini wine label, Lindt white chocolate truffles, bridesmaid hair ties, a candle, and an optional body scrub and face mask. You have to purchase the wine or champagne, but that lets you choose each of your bridesmaid's favorites. It costs $45.00 and arrives at your door in as little as three days.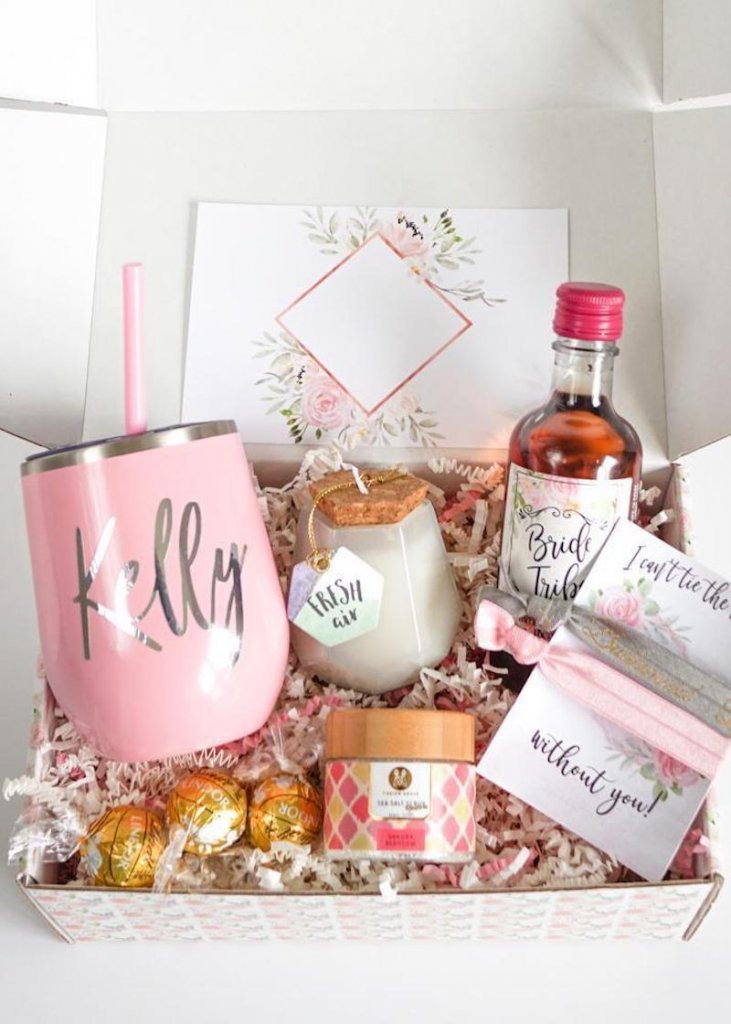 See more bridesmaid boxes your girls will love here.
Whatever you decide to do, your besties will be thrilled to be included in your bridal party. Cheers!