Inspiration and planning tips for every time of the year.
By: Debra Witt
-AS SEEN IN BRIDAL GUIDE MAGAZINE-
Festive Fall
For one California bride, fall means gorgeous twilight sunsets and the local grape harvest. That's what she wanted to recreate for her special day. "The bride chose to get married at her childhood home, which overlooks the Pacific," says Sarah Tivel, owner of Gather Events. "Her memories of fall were filled with saturated colors — bright but not overly bright."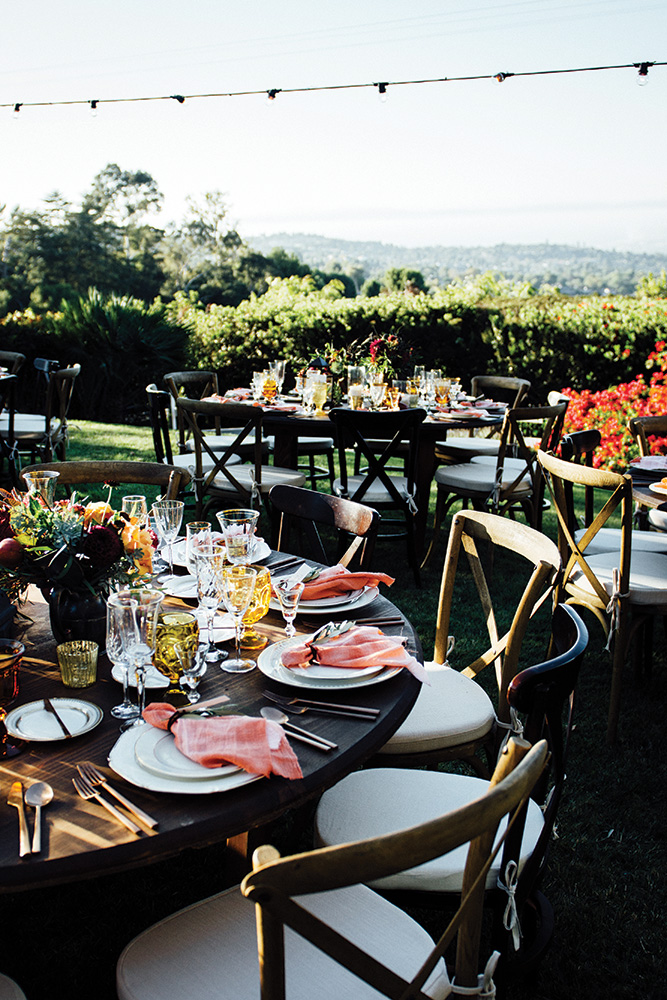 To recreate that feeling, Tivel turned to the source — the wine grapes and pomegranates grown on the family's property, and the meandering bougainvillea that lent the space a romantic European vibe.
Tivel's team used vividly colored Mexican blankets to outline the ceremony space. The bride's father built the ceremony chuppah, and all the florist needed to do was pluck a few sections of the nearby bougainvillea to weave with eucalyptus leaves for a whimsical effect.
Every display table featured a cornucopia of flowers and fresh fruit— grapes, pomegranate, prickly pear and plums.
Dinner was in the backyard where sweeping views of both the ocean and downtown Los Angeles brought conversation to a halt — but only for a moment. After all, a feast was about to be served. For one of the entrees, the couple asked the caterer to braise beef short ribs using red wine, a nod to her family's grapes. Amber cut-glass goblets and peach-toned hand-dyed napkins echoed the colors of the setting sun.
Across the yard, a lively klezmer band and DJ were gearing up to keep guests moving, which they did in abundance! As the evening came to a close, guests soaked up one last view and were handed a bottle of wine made from the family's grapes. "It was a wonderful way to end the night, reminding all that they were all one big family celebrating a great love story," says Tivel.
Photo Credit: Docuvitae
Cozy Up to the Winter Cold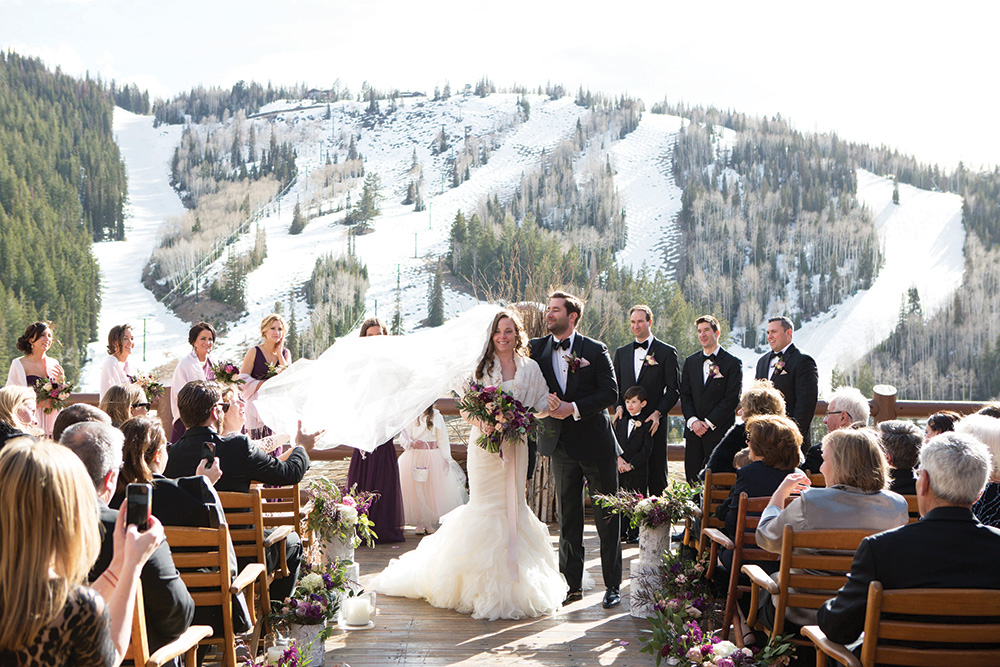 If there's anything avid skiers love, it's snow. So once this New York couple were engaged, they immediately booked their favorite resort in Utah's Deer Valley and called wedding design guru Michelle Cousins, of Michelle Leo Events. "Their priorities were snow," remembers Cousins with a laugh. The design challenge for Cousins and her team was to soften the resort's rustic edges with a plenty of romance and elegance.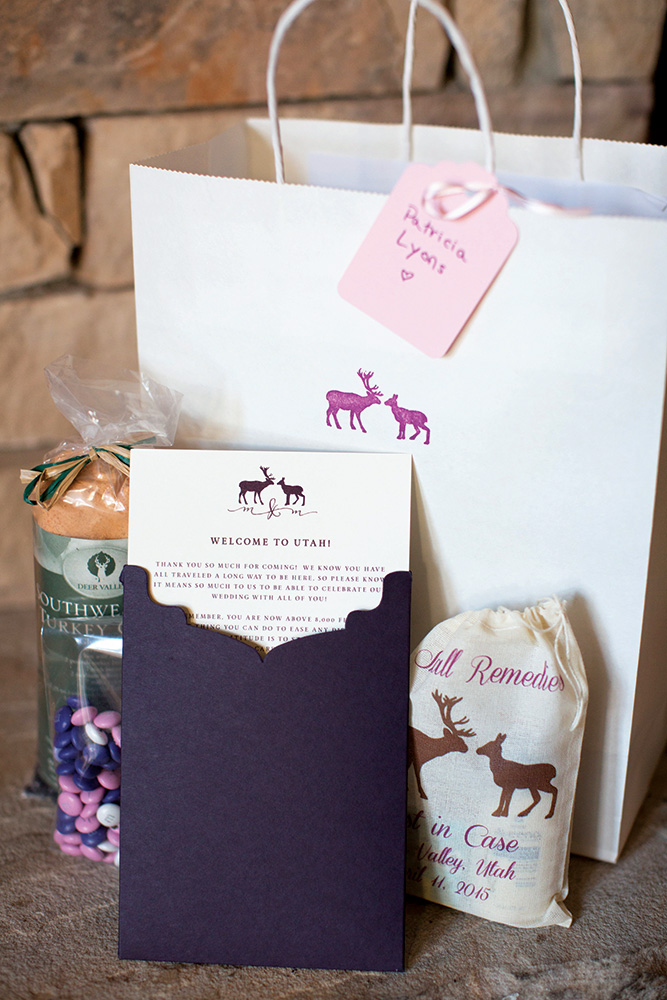 The couple exchanged I Dos outside on a sun-drenched patio that was normally abuzz with skiers. To glam it up, Cousins created a ceremony backdrop using tall white birch branches and lush arrangements of plum and blush roses.
After the ceremony, everyone followed the couple inside for cocktails and dinner. Here, Cousins transformed the dark, masculine space using hundreds of candles of all shapes and sizes.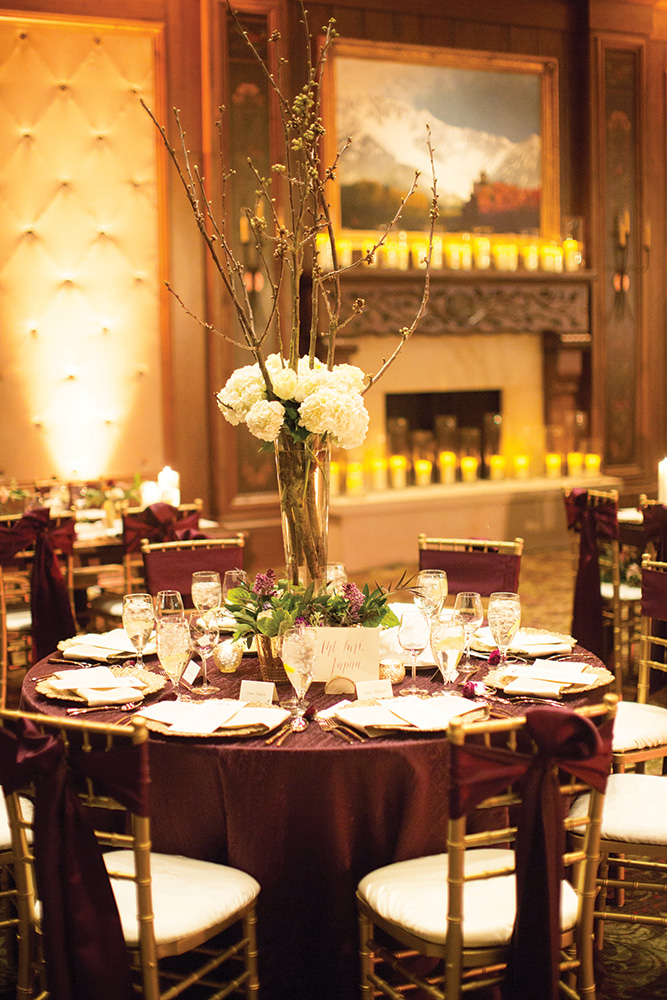 She also brought the ceremony flowers inside and used them to adorn a large fireplace that was a natural gathering spot. 
Generous portions of tenderloin and roasted halibut were served atop rose-gold chargers that matched the sparkling hue of the gilt chairs. Round tables were dressed in a luxe satiny plum cloth topped with tall arrangements of white hydrangeas and flowering branches.
The dessert table featured pastries and cakes adorned with wintery touches like pinecones and deer figurines.
Crisp white table runners stretched out over the longer vineyard tables that were a rich, dark brown. Another elegant touch to the dinner hour? The bride surprising her husband with the next best thing to his favorite singer: A Frank Sinatra impersonator. "Everything about the day felt warm and cozy, exactly what the bride was hoping for," says Cousins.
Photo Credit: Patricia Lyons Photography
Spring Attraction
Wedding trends may change, but some things remain timeless. Take this spring wedding in beautiful Santa Barbara, California. The bride didn't have to think twice about where to say I Do — she chose the exact spot where her parents tied the knot. She also didn't have to mull over color schemes or wedding themes. "She wanted a clean, chic wedding that was simple and elegant, and to her that meant white and green," says Lindsey Hartsough, owner of Magnolia Event Design.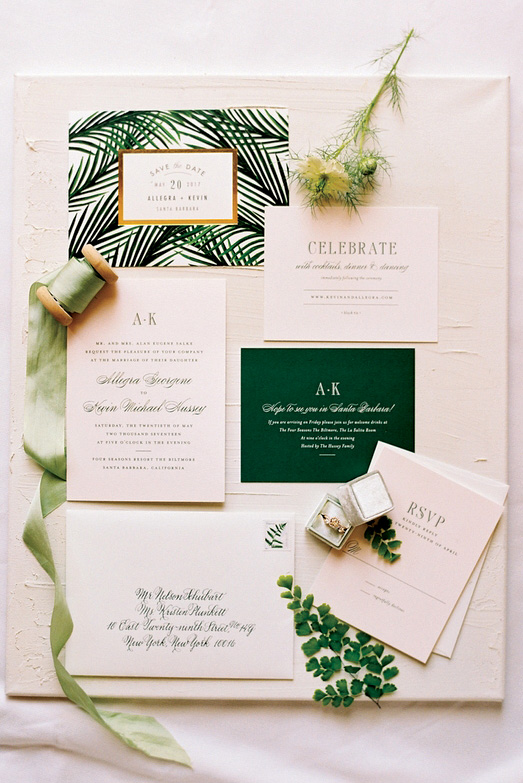 "We took full advantage of the season to create a romantic atmosphere," says Hartsough. "The white peonies, ranunculus, sweet peas and garden roses were all in season, and we complemented those spring blooms with different types of ferns and so much lush greenery.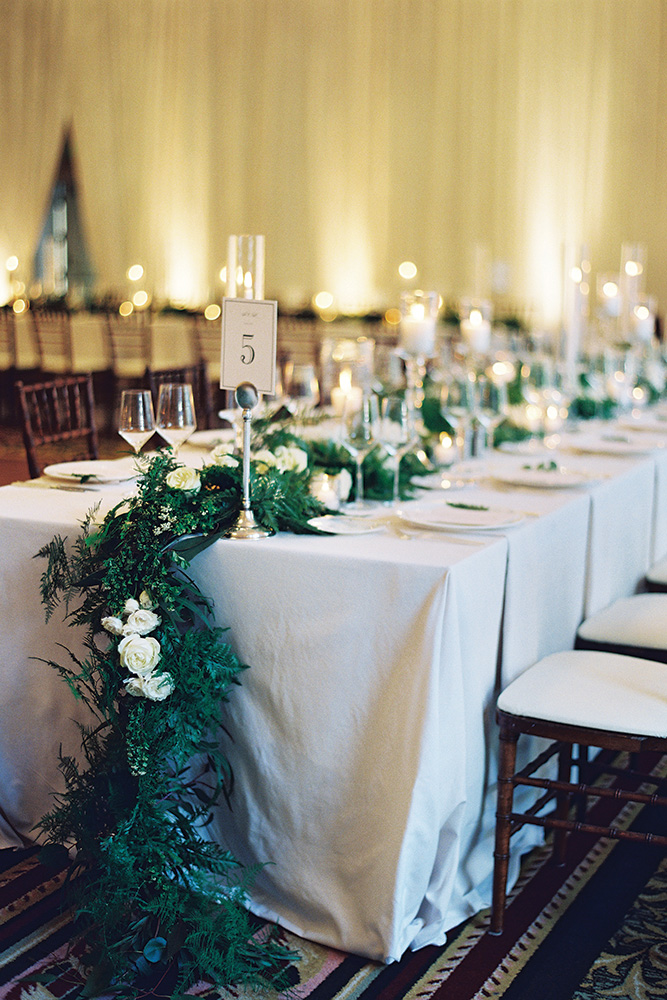 The ceremony was designed to look as if she were walking through a spring garden, at the end of which was a stage covered in white rose petals." Dinner was classically elegant, with tables covered in crisp white linens and white china, candles of several shapes and sizes, and greenery garlands studded with roses and peonies.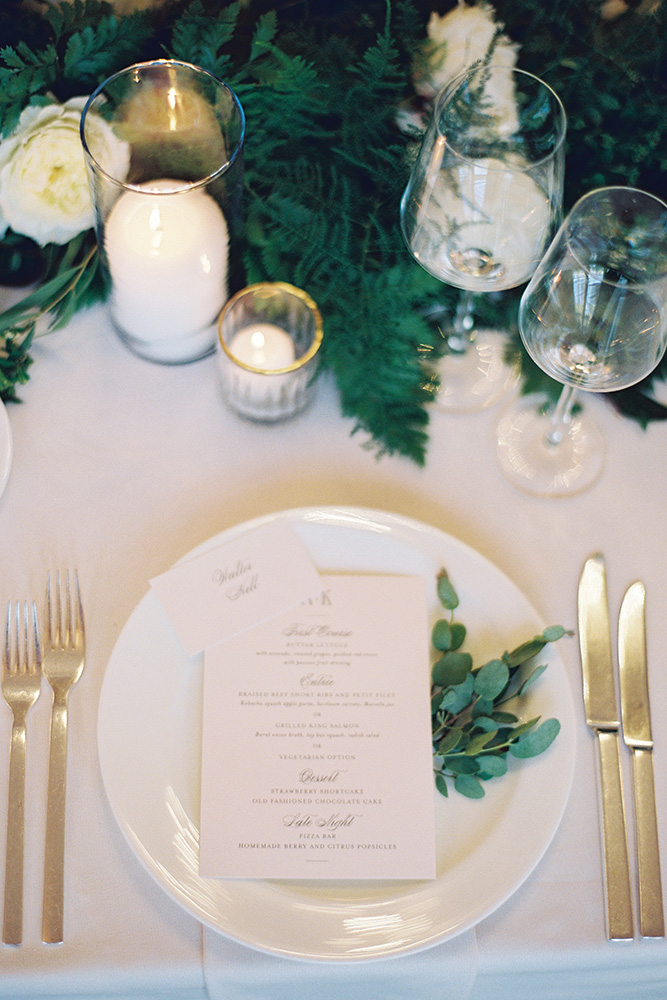 Dessert featured both strawberry shortcake and old-fashioned chocolate cake.
Late-night snacks were a combo of his-and-her favorites — a pizza bar for her and homemade berry and citrus popsicles for him. When dancers needed a break, they headed to one of the outside lounge areas, where Hartsough carried over the spring theme using palm-print pillows, soft seating and mirrored tables. "By combining her favorite colors with a space that had a touch of history to her," says Hartsough, "this wedding felt like home for the bride. It was perfect all around." 
Photo Credit: Braedon Photography
Summer Adventure
Talk about going with the flow. This Brooklyn couple had their heart set on tying the knot close to home, remembers Jove Meyer, owner and creative director of Jove Meyer Events. After scouting a number of not-quite-right venues throughout Brooklyn and Manhattan, the couple took a break and headed to the beach to unwind... and found their ideal spot to wed. The only problem? It was a yacht club and the two didn't want a nautical theme. Meyer drove out to see the magical space and together they decided they had the makings of an awesome summer-camp experience — no anchor icons needed!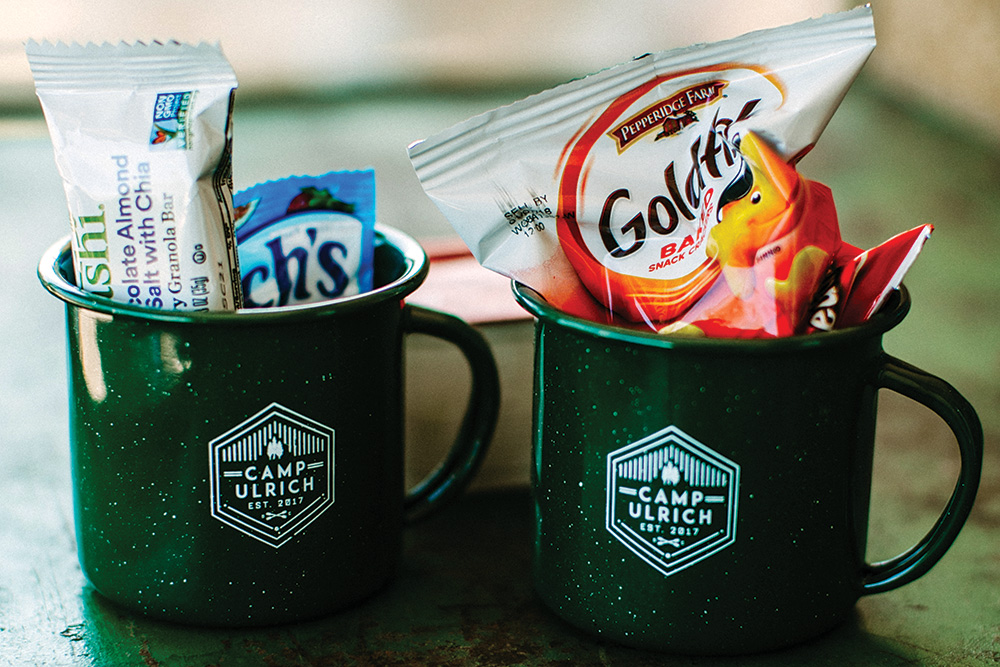 "The camp theme really came to life," says Meyer. It started with the name, Camp Ulrich (the groom's last name, which the bride was taking) and "camp" colors — green and white. The stationer, Fourteen-Forty, designed a crest that was woven throughout the event.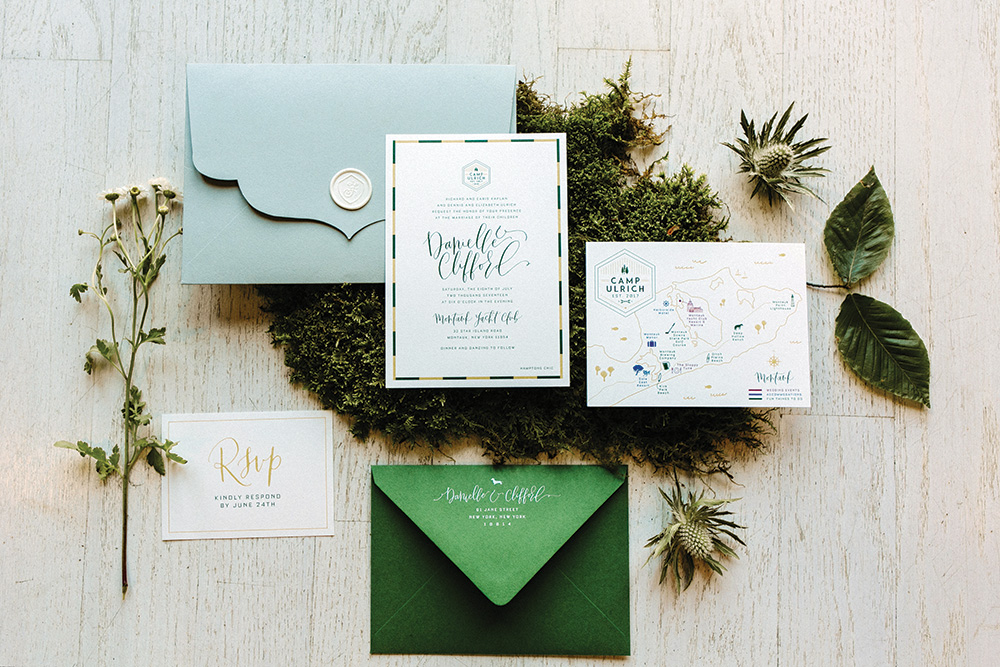 The ceremony took place on the beach set against the single non-camp element: an elegant backdrop draped with ornate pink and white blooms
Inside, Meyer transformed the all-white yacht club by bringing the outside in.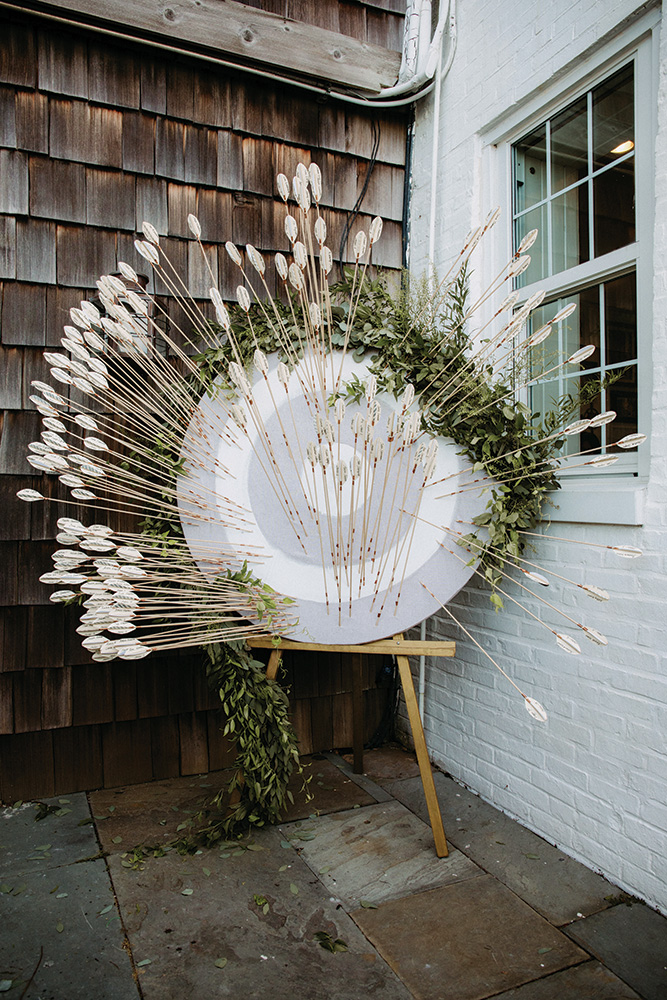 Tree branches were fastened to the room's columns and draped over the rafters, while white linens dressed the tables below.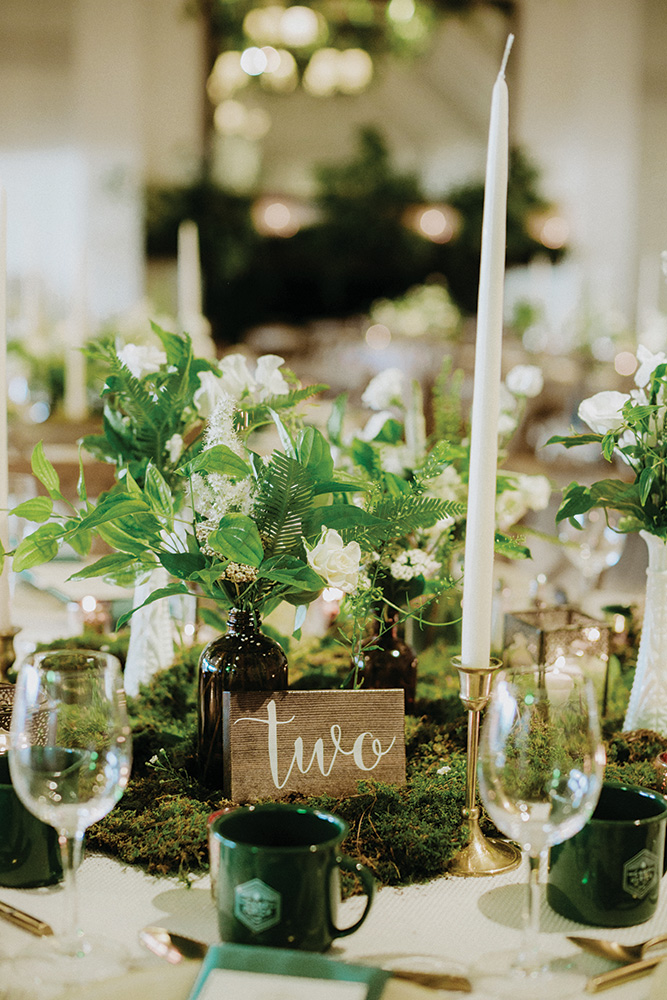 After feasting on steak and sea bass, guests satisfied their sweet tooth with one of three cakes.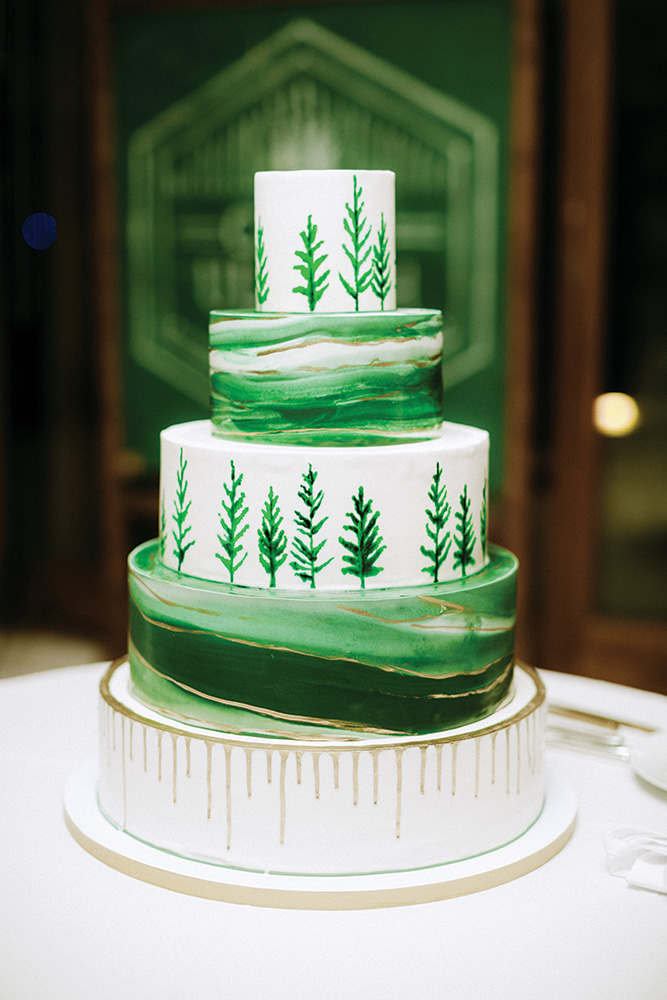 A DJ Drummer helped everyone burn off dinner and make room for the late-night surprise of Van Leeuwen ice cream from Brooklyn, which was a nod to the couple's engagement-night celebration. "This wedding started out being far from what the couple had dreamed of as their ideal wedding," says Meyer, "but in the end that's exactly what it was, ideal."
Photo Credit: Amber Gress Photography