Be it a ballroom bash, a fresh-air fête, or an intimate affair, here's how to put together an unforgettable celebration — and make it your own.
By: Debra Witt
"To one bride, romance is a grand ballroom with candles everywhere. To another bride, it's a meadow filled with wildflowers. They're both right," says Tara Guérard, who works with couples in her event design firm Tara Guérard Soirée, based in Charleston and New York City. "It all comes down to, what's your story?" says Robert Palomo, of New York-based Bardin-Palomo Event Planning Company. "When you focus on the little things that show your guests what's important to you, your wedding is guaranteed to wow." We asked Guérard, Palomo, and wedding pros from across the country to share their favorite ways to tailor three of the most common wedding locations to suit a couple's personal style. Read on, and get ready to write your own definition of what a wedding should look like.
The Great Outdoors

Photo Credit: Trevor Holden
Any wedding style is well suited to the backdrop provided by the natural scenery of the seaside, a rustic farm or a dreamy garden. Two challenges posed by nature: bringing a sense of intimacy into the vast space, and ensuring guests' comfort. Keep these tips in mind.
• Create your own borders. Designer Alexandra Wise of Southern California's Blush Botanicals likes to use tents of different shapes, sizes, and colors to set up makeshift "rooms." Other ways to defne different spaces for dining, dancing, and mingling are to arrange lighting as if walls were in place. You could use strings of bulb lights, lanterns, candles, or mix-and-match lighting sources. Within these areas, incorporate interior design elements, such as sofas and ottomans, chic bistro tables, even framed artwork, adds Amy Cagginello of Amy Champagne Events in Milford, Connecticut.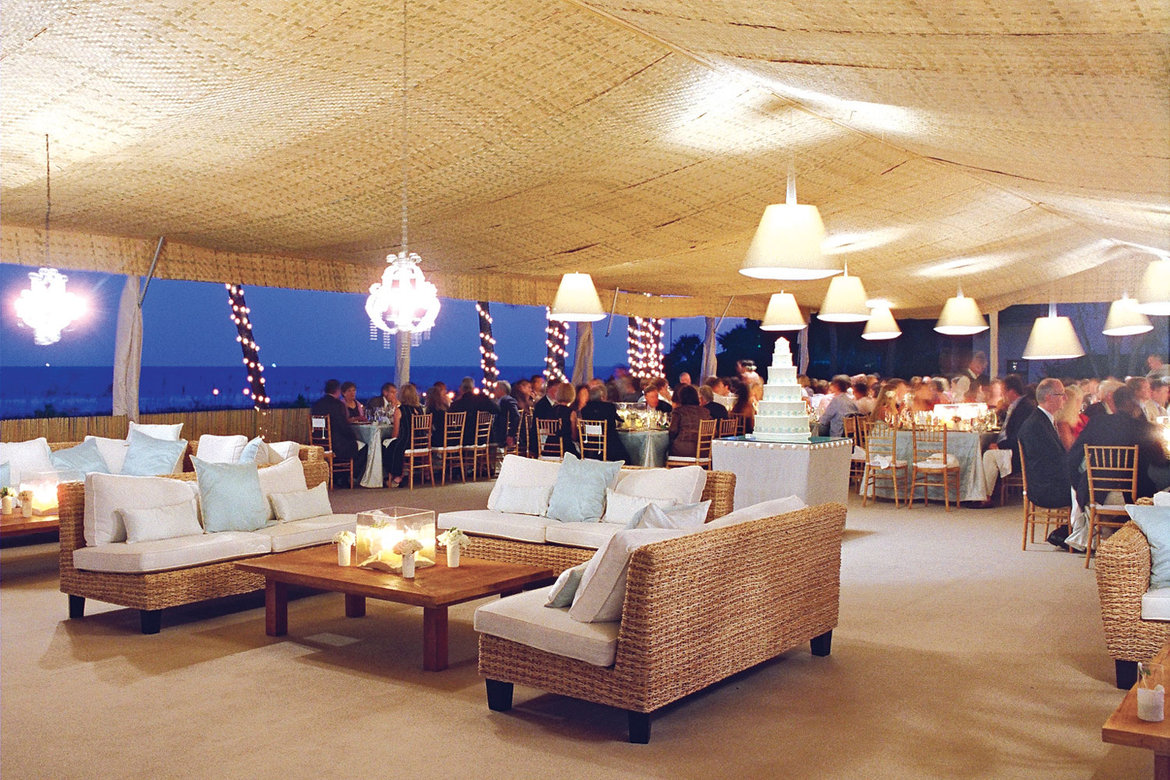 Photo courtesy of Tara Guerard Soiree
• Think about comfort. "You want people to be able to move gracefully and in a timely manner," says Robert Palomo. That means if you're working with a sandy beach, uneven grass, or dirt and gravel, you may want to budget for carpet runners, rugs, and/or portable floors.

Photo Credit: Trevor Holden
• Connect the elements. Erich and Tatiana Jones of New York City's whimsy weddings recently helped a couple plan a wedding in Montauk, New York, which is on the easternmost tip of Long Island. "We needed to make the church, the tent, and a beach inn all feel connected, so we used their favorite color, a deep royal blue, everywhere — from the table runners to the directional signs to their hand-painted Just Married sign."

Photo Credit: Trevor Holden

Photo Credit: Annie Nyborg Photography

Photo Credit: Annie Nyborg Photography

Photo Credit: Trevor Holden
Pages