Wedding receptions in the wake of the pandemic may not look quite the same as in years past — but dare we say they'll be even better than before? Without dancing taking center stage all night, couples are looking into more creative ways to keep their guests entertained and engaged all night long. Here are some of our favorite ideas.
By: Kristen Klein
"While we may not be able to get into each other's bubbles, there are still so many ways to keep guests entertained during your socially distanced weddings," says Nora Sheils of Bridal Bliss.

Photo: Joe Laurin via Infinite Events
Live Music + Performers
Live music will command your guests' attention. But the secret here is choosing music your guests will enjoy without feeling the urge to get up and dance. Dueling pianos or pop violinists provide a lively way to keep guests entertained with music sans dancing. "Consider hiring an opera singer, but have them play lower-key music that's not necessarily something that will make people want to dance," says JoAnn Gregoli of Elegant Occasions by JoAnn Gregoli.

Photo: West Coast Music
A concert atmosphere can also capture everyone's attention. "Consider setting up your reception for a concert or cabaret-style performance, or live-stream an acoustic celebrity performance for a short performance," says AJ Williams of AJ Events.
You can also look to your family heritage to find a meaningful performance idea your loved ones will appreciate. "Cultural performances can be extra special to couples, as we have learned to truly appreciate our elders during this time of greater threat to their health," says Sage McRae of Sage McRae Event Design. "You can hire a mariachi band, drummers, a jazz band, a step club, or whatever resonates with your heritage."

Photo: FineArt Studio Photography
If you dare, you can also let your guests provide the entertainment through karaoke! "Karaoke can provide the party vibe without dancing, It's a great option that's the best of both worlds," says Gregoli.
Performing Arts
The arts are hurting right now; theaters and venues across the country continue to be closed indefinitely. But there are so many ways to include live acts into your wedding. "So many performers are dying to get back to work for a live audience," says Marylee Santoro of Events by Marylee.
Fully embrace the theater environment by hiring a theater company to host a murder mystery show, suggests McRae. "Staying safe does not mean staying bored, thankfully!" Dancers can also liven up the reception — and fill up the dance floor. Consider belly dancers, aerial dancers, ballroom dancers, or even acrobats to wow your guests.

Photo: Ben Pigao Photography via Bridal Bliss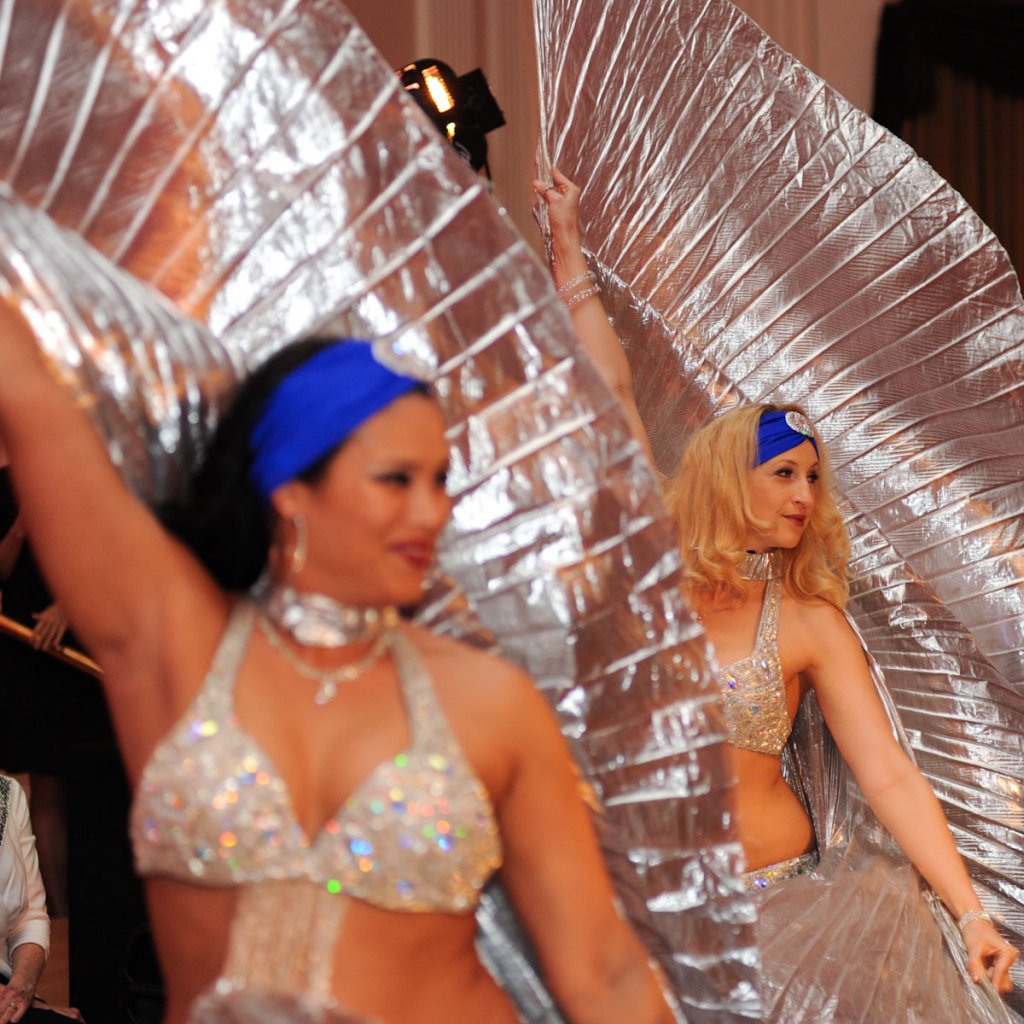 Photo: Powers Studios via Bridal Bliss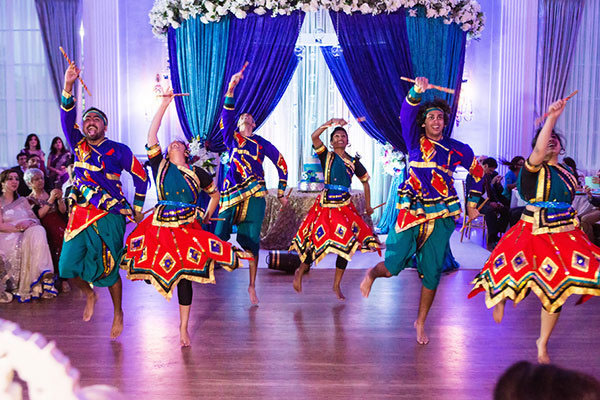 Photo: Jeff Loftin Photography
Find a family-friendly comedian to perform after dinner. "Laughter is good for the soul!" says Santoro. Other fun performance options include magicians or jugglers.
A fortune teller can also make a lovely addition to your reception. "Create an area where you have tarot card reader. One-on one-readings for all your guests is intimate and something they will not forget," says Erin Sprinkel of Sterling Social.
Photo Opportunities
Crowding into the ever-popular photo booth doesn't exactly encourage social distancing, but there are plenty of ways to still capture fun photos and videos from your guests' perspectives. "Consider adding an Academy Awards element to your wedding for some wow factor. Capture moments by letting your guests create and share unique video content, on the spot, with a custom social media installation that's recorded and then projected for guest viewing," says Williams. 

Photo: Aimlee Photography via Starry Eyed Events
"Rather than set up photo booths and have your family and friends reuse the same props in close quarters, consider giving each table or attendee their own selfie stick or disposable cameras with proper sanitation," says Kevin Dennis of Fantasy Sound Event Services. "You can capture memories of the night through the lens of those in attendance, all while ensuring that no one needs to huddle together for a photo opp."
You can also incorporate art instead of photographs. "We've also seen more weddings with interactive art options, such as live-paintings, and caricature artists," says Jena Clem and Katie Borges of Gibbes Museum of Art.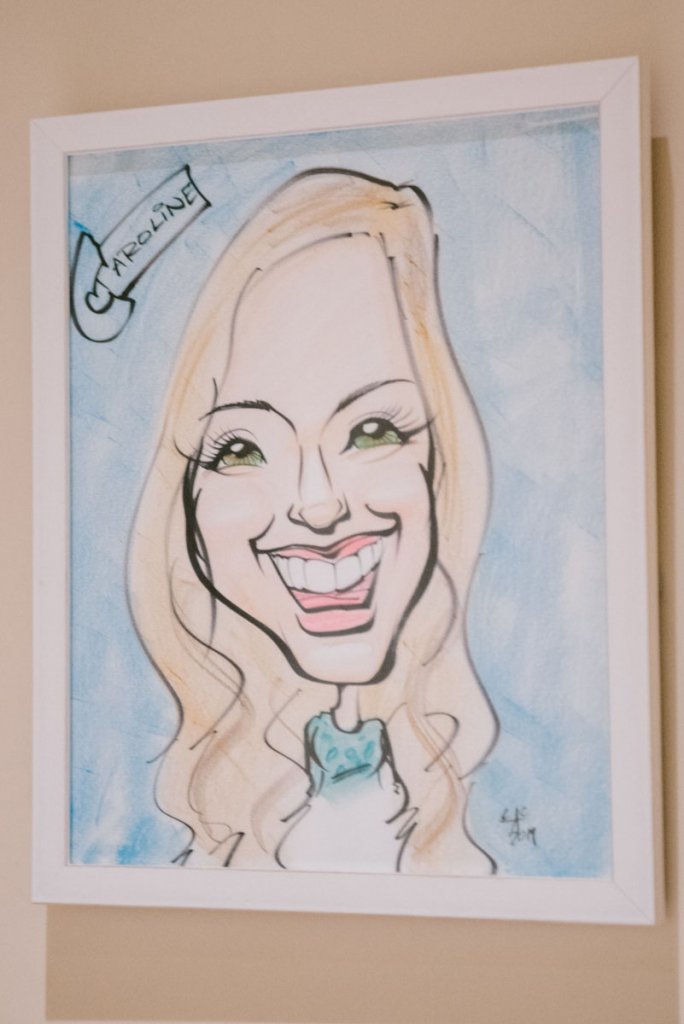 Photo: Jennings King Photography via Gibbes Museum of Art

Photo: Fairy Tale Photography
Video Montage
Once your guests have taken their seats, grab their attention with a video montage on a jumbo screen. "Present a slideshow of engagement photos or photos from the ceremony," says Jon Lemon of JC Lemon Photography. "You can even make it a sing-a-long or quote-a-long for an extra layer of fun."
You can also ask your videographer about creating a same-day edit, where all of the moments before the reception are quickly edited on-site. This emotional video will captivate your guests. 
Culinary Show
Make your menu a part of the entertainment by having elements of the meal prepared live in front of your guests. "Who doesn't love fresh mozzarella? But the term 'fresh' is often misused, and by definition means: recently made or obtained; not canned, frozen, or otherwise preserved. So, let''s offer a true fresh mozzarella experience, created live for your guests – warm, sliced and drizzled with Extra Virgin Olive Oil, torn basil, sea salt, and fresh ground black pepper, and Parmigiano Reggiano," says Michelle of Michelle's Catering. "Talk about sensory stimulation! Truly an entertaining and culinary voyage."
Your bar can also be a way to bring the dining experience to life. "Utilize a bar cart instead of a bar station to eliminate lines," says Ashley Okamura of Grand Hyatt Vail. Not only does this cut down on crowds, but it provides a truly personalized experience to craft the perfect cocktail.
Life-Size Cardboard Cut Outs
Dancing with the bride or groom is a time-honored tradition, but being in such close contact with each and every guest may not be the best idea. "One couple wanted to follow their family's tradition with a money dance but we couldn't figure out how to do it safely. We decided to print out life size cut outs of our bride and groom to place on the dance floor. Our guests couldn't stop laughing." says Lizzy Liz Chan of Lizzy Liz Events. "This way, all of the guests got to 'dance' with our couple and pin money on them. Photos came out great!"

Photo: Square Eye Photography via Lizzy Liz Events
Pod Dancing
Can't imagine your wedding without dancing? There are ways to safely let your guests boogie down! We've all seen social distancing stickers on the floor in stores; you can add these to your dance floor as well to show guests how far apart they should be, says Okamura. Another option is to mark out circles or blocks for pods to dance together.
A larger dance floor provides more space to spread out, but interestingly, a smaller dance floor can work to eliminate crowding as well – it tricks the eye, so guests are naturally drawn away from a "packed" dance floor, even though there may only be 5-10 people on the floor. To give everyone the chance to dance, "work with the DJ to call up guests by table number to the dance floor," recommends Kamia Kinchlow of Balboa Bay Resort.
Another way to make distant dancing fun? Dance-offs! "Provide scorecards to each table, and let your DJ direct each table stand up in their 'bubble' and show off their moves," says Ashley Lachney of Alston Mayger Events. "Guests get to hold up their scorecards to rate other guests' skills. Guaranteed laughs, guaranteed fun."
Make it easier to request a song by using QR codes to send tips to the DJ, recommends Dennis. "To take it a step further, speakers can be placed remotely among various reception tables for guests to listen in without needing to leave their seats."
Games
Keep your guests engaged with partner and small group games, such as giant Jenga, cornhole, Connect Four, shuffleboard, or a ring toss. "Take it to the next level by customizing the games; there are options to order them personalized, or you can have vinyl stickers printed and applied to the games," says Daniela Grafman of Vision Event Co. "You can also have a sanitizing station next to each game."
"Depending on the theme or tone of the wedding, carnival games can be a fun surprise," says Santoro.

Photo: Balboa Bay Resort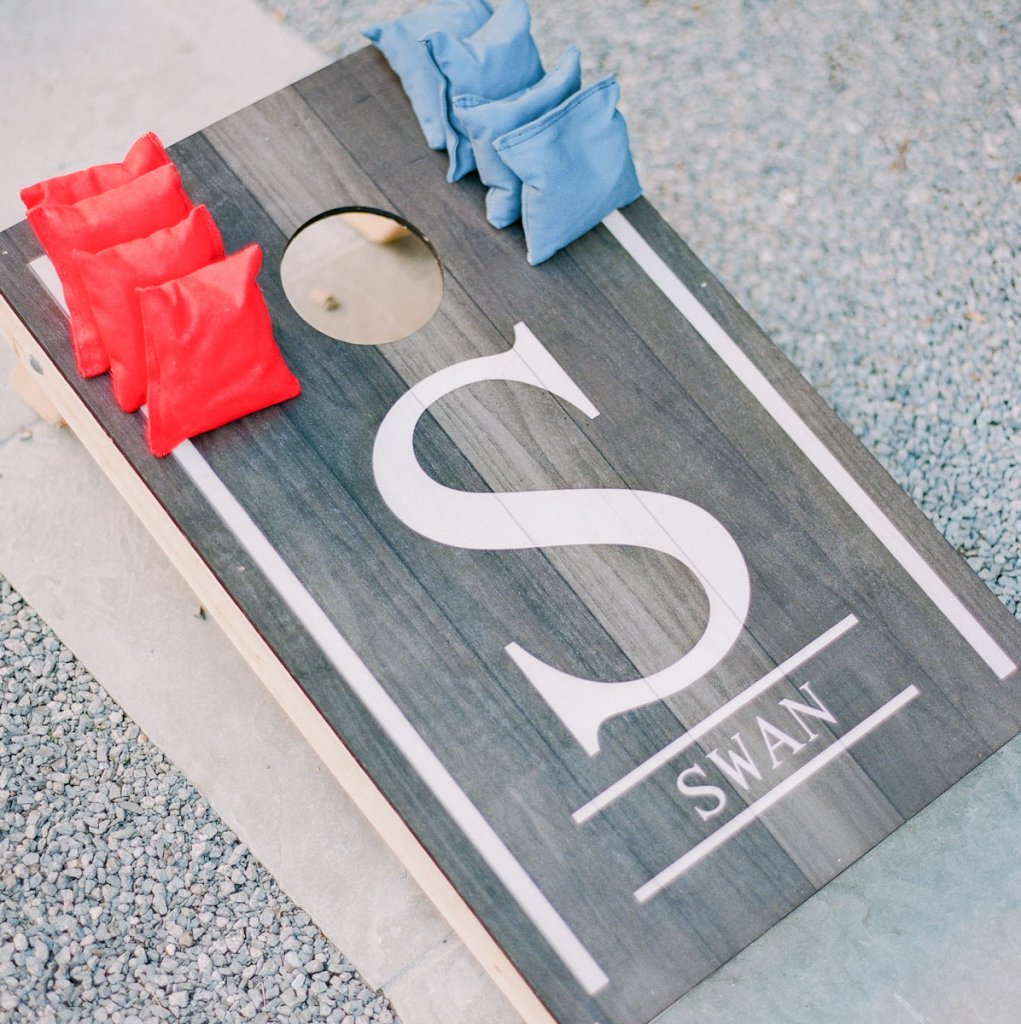 Photo: Clay Austin Photography via Gibbes Museum of Art
You can also place a selection of board games on each table, which gives your guests the opportunity to play and engage with their pod without leaving their table. 

Photo: Sea Studio
Trivia
If you're hosting a themed wedding, create a trivia game that reflects your unique theme. Each table can be their own team and compete to win a prize. Or, you can create a trivia game all about you as a couple! "A fun variant would be a version of the Newlywed Game to see how much the guests know about the couple," says Santoro.

Photo: Katelyn James Photography
Live Animals
If you're hosting your wedding on an active farm or ranch, see if you can incorporate the animals into your wedding in some fashion. For example, The Ranch at Lake Sonoma offers donkey rentals during the cocktail hour! And all guests also receive a discount on a horseback ride through Lake Sonoma's wilderness area.

Photo: The Ranch at Lake Sonoma

Photo: Aimlee Photography via Starry Eyed Events

Photo: Danielle Coons Photography
Host your wedding in an aquarium, and guests can wander through the exhibits during your event.

Photo: Gabriel Boone Photography
Seasonal Activities
Getting outdoors isn't always easy at a winter wedding. Consider a venue that offers a bonus activity, like ice skating. "At Grand Hyatt Vail, we have a skating rink up all winter season," says Okamura. "After the dinner, what could be more romantic than putting on some skates and skating to music under the stars?"
No skating rink? An outdoor activity could be as simple as making s'mores around a fire pit. It's a great way to get some fresh air without freezing during the cold-weather months. Design a create-your-own s'mores bar with individually-packaged ingredients.
During warmer weather, jump in the pool on individual floats!

Photo: Hey Kelsey Kay!