Opting for a brut or champagne is a must for many wedding toasts. Here, we've broken down how to choose the perfect bubbly for your nuptials.
By: Emily Goldman
In times of celebration, people turn to champagne. Something about the light libation adds an air of occasion, sophistication, and overall excitement to any situation. But, there are a few bubbly facts to note before toasting to forever together.
The Difference Between Champagne and Brut
Champagne is classified with a label that indicates the level of sweetness or dosage (amount of sugar added). Brut, which is typically drier, and Demi-Sec, which is sweet, are particularly popular at weddings, according to . "Brut is usually a good place to start and one of the more commonly available Champagnes. A crowd pleaser, most Brut Champagnes have just enough sweetness to balance the natural acidity in Champagne. For the cake cutting, a Demi-Sec (between 32g-50g of sugar per liter) is the ideal choice to accompany desserts, due to its creamy texture and sweetness, which complement the cake," said Guillaume Roffiaen, Chief Winemaker for Champagne Nicolas Feuillatte.  
5 Things to Consider When Choosing Your Champagne 
1. Deciding when to serve Champagne as it will determine not only the type of Champagne you need but also the quantity, is extremely important. For example, will you want Champagne for toasts, for the cake cutting, and at the bar during the reception? 
2. The number of guests is also important as you would likely not choose to serve the same Champagne to a small intimate group as you would to a larger wedding party, due to price points. Glassware is also an important consideration. Flutes for Champagne are actually a no-no to Champagne aficionados, as they tend to prefer white wine glasses to better enjoy the bubbles. And, the larger glass allows the complex aromas to further develop.
3. Finding the perfect Champagne is just like choosing your wedding dress: it takes a lot of trials! Taste as many different Champagnes as you can before the Big Day (starting with the engagement party). Once you've found your favorite, don't forget to bring a bottle with to taste with the caterer.
4. Which brings us to food pairings: what's on the menu? Vintage and Rosé Champagnes are particularly well-suited to enjoy with food.
5. Ultimately, it is the bride and groom's taste that should prevail when selecting the Champagne. Select the Champagne that you, as a couple, enjoy the most.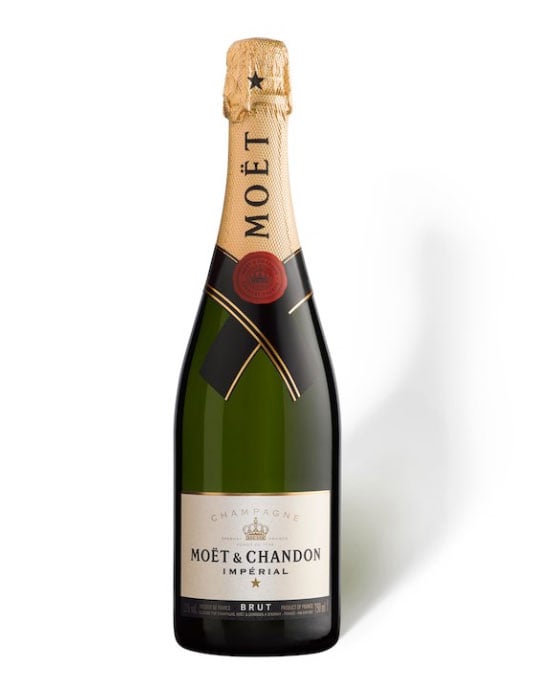 Popular Champagnes
You can opt for a classic, like the Moét Impérial, which is an ideal drink for celebrations and encapsulates true Champagne spirit. Or, for a summer soirée, or for the couple that simply loves rosé, a pop of pink from the Champagne Nicolas Feuillatte Réserve Exclusive Rosé NV, is delicate yet bursts with fruity flavors of freshly-picked red berries like red currant, blueberry, raspberry, strawberry, and cherry.