Here, we check in with Gérard Bertrand Wines to get some expert tips on choosing the best wines for your big day.
By: Amy Schweitzer
There are so many ways that wine can elevate your wedding reception, make it more fun and inspire special moments. And, with all the different types, colors and tastes (and beautiful bottles!), it's easy to get overwhelmed by the decision of what to serve. Need help navigating the vineyards? We do, too! Here, Gérard Bertrand Wines Prestige-Director and Wine Educator, Vanessa Queyranne de Ballard, provides expert tips on incorporating wine into your celebration; plus, she offers up some stellar suggestions on what to serve and when to serve it.
Credit: Marie Ormières
Make Wine a Guest Experience at Your Wedding 
Take your guests' preferences into account. For example, Naturae is an all-around crowd-pleaser since it's vegan, organic and sulfite-free. The line features two reds (dark fruit-flavored Syrah and scarlet Merlot) and a white (Chardonnay), so it's easy to satisfy to both red and white wine fans. "Gérard [Bertrand] loves to serve these with the main course at events, since they pair well with meat, fish and vegetables," says Ballard. 
Have fun with wine pairings to enhance the dining experience. Make a personalized menu of what you're serving with the different courses and celebratory moments; encourage guests to sample and discuss the wines, maybe even vote on a favorite! Plus, don't underestimate the cultural appeal that wine offers. For example, Ballard suggests, "A gorgeous white wine that will have your guests feeling like they've been transported to the South of France is biodynamic Cigalus, light and smooth enough for an apéritif, but complex enough to serve with a seafood dish."
Consider wine as a centerpiece, a wedding favor, or both! Of course wine is meant to be enjoyed, but the bottles can also play a fun role in your wedding décor. "The bottom of Cote des Roses is shaped like a rose, so why not turn a few bottles upside down and arrange them with flowers for an artistic centerpiece?" says Ballard. When guests discover the wines, they are sure to love the surprise. Furthermore, if you use half-bottles of Cote des Roses in the arrangement, guests can surely take them home as favors.
Credit: Marie Ormières 
Wine Inspiration for Pre-Wedding Events
Pick something that's really exclusive for your rehearsal dinner: a rare wine, from a limited edition, says Ballard. Gérard suggests his Clos d'Ora, for example. There are only around 8,500 bottles produced each year, so the fact that your guests have the chance to sample such a limited-production wine, where each bottle is hand-numbered, is really special.
For bachelorette parties or bridal showers, Perles de Sauvignon Blanc is a great option. The bottle features a pearl necklace design created by one of France's most celebrated lingerie designers, Chantal Thomass. If you're planning a more spiritual outing like a yoga retreat with friends, many brides like the biodynamic Clos du Temple, whose bottle is modeled after ancient temples and comes from the same region where the "Sun King" Louis XIV once sourced wines for the court of Versailles. Clos du Temple is also super exclusive — around 8,000 bottles made per year — which makes sharing it with your closest friends an even more intimate and memorable moment.
Credit: Marie Ormières 
Wine at Intimate Gatherings vs. Grand Celebrations
What's great about smaller, intimate events is that you have the ability to focus more on quality for your selection and not so much on the quantity. One option is Château la Sauvageonne La Villa, which is one of the most elegant rosés on the market and stands beautifully on its own during an afternoon cocktail hour or with food — which makes it a favorite of chefs, says Ballard. "Its notes of crushed strawberries, sweet spices, violet and hawthorn, make it a more complex rosé than most people are used to." It's also easily paired with light bites that appeal to all guests, whether they're vegan, vegetarian or meat eaters.
Another one of Gérard's estate wines ideal for small weddings is the red L'Hospitalitas, a blend of Syrah and Mourvèdre. The biodynamic wine easily rivals classic go-tos like the bold reds from Bordeaux or Chile. It's best to decant a unique wine such as this about an hour before serving (something harder to do at larger receptions), and pair it with a main course like steak at a seated dinner, suggests Ballard.
Larger weddings don't mean you have to lower your standards to meet your budget. There are plenty of quality wines at an affordable price point that have wide appeal. What's great about the Cote des Roses wines, for example, is that the glass stopper makes it easier and quicker to open and serve these bottles at dinner. The same goes for Gérard Bertrand's organic rosé JOY'S. The elegantly shaped bottle is like a piece of decor that stands out on the table, if you're placing it in the center for guests to help themselves.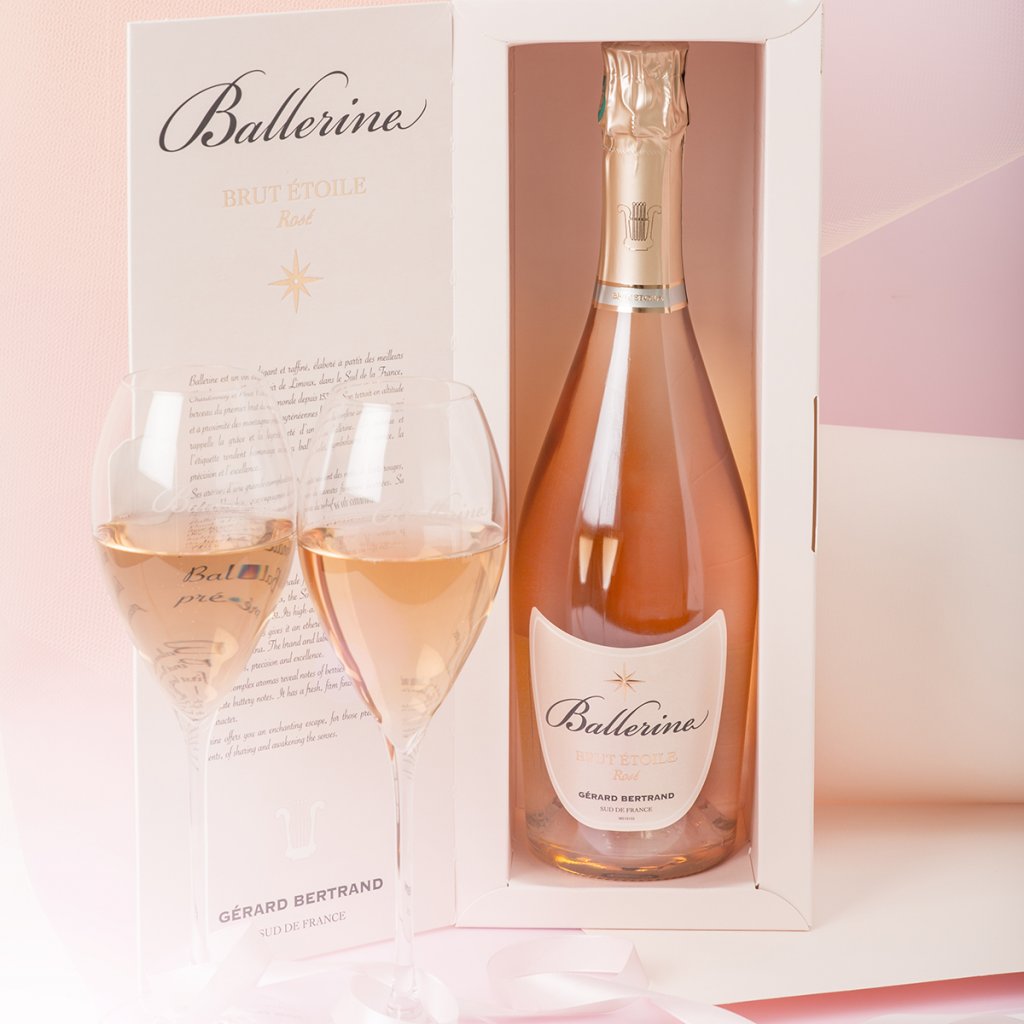 Credit: Marie Ormières 
One common rule no matter the scale of your event is to match delicate wines with delicate dishes and vice versa. This is why a light rosé like JOY'S or a vegan, organic wine like Naturae Chardonnay work well as an apéritif. A great sparkling wine for cocktail hour is a Limoux, from where sparkling wine originally came. Gérard's Cremant de Limoux Thomas Jefferson, named after one of the region's all-time biggest fans, produces fine bubbles that make it a wonderful celebratory wine, as well as a great match for delicate hors d'oeuvres like goat cheese.
Rosé has become quite popular over the past few years, and it's a wine that really has that "one-size-fits-all" quality. It's easy to sip on its own during an afternoon or evening cocktail hour — or even at a sendoff brunch, the morning after your wedding. It's feminine and a great alternative to Champagne at bridal and engagement parties, but is still complex enough to pair with main courses or dessert. Ballerine, a sparkling rosé, could work for cocktail hour, and then your guests could move on to an organic rosé like Naturae for appetizers and a gourmet rosé like Clos du Temple for a main course. A sparkling rosé like Crémant de Limoux Thomas Jefferson makes a good choice for dessert, since it's light and fruity, pairing perfectly with fresh berries or vanilla cake.
Credit: Gilles Deschamps
Pairing Wine with Dinner... and Dessert!
The main dish is where you'll have guests' full attention on the wine. This is the time to curate more complex or pleasantly surprising selections that serve as conversation starters and make the meal more memorable. Don't overcomplicate it or feel like you need to bring on a sommelier to help you choose, says Ballard. Follow the general rule of pairing red wine (such as Château l'Hospitalet Grand Vin, Tautavel, Cigalus red) with bold, heavier dishes like meat, and white wine (like Perles de Sauvignon Blanc or Picpoul) with lighter fare like chicken and seafood. If you're serving a sauce (like Béchamel or Hollandaise), match the wine to the sauce, not the meat.
Dessert is the last chance to serve a wine your guests will remember. Gérard recommends his Legend Vintage Rivesaltes, a fortified wine that is naturally sweet but still smooth and elegant from being aged in wooden casks for over half a century. The wine's deep red shade has the slightest brown flecks — an impressive color for guests to see in their glass — and the aroma hints of dried fruits, cherry brandy and cocoa. Ballard adds that she would pair this wine with a cheese course (especially Roquefort) or a decadent dessert like chocolate cake.
Whichever wines you serve throughout your wedding celebration, It's certainly a romantic touch if you share the experience of deciding on them together as a couple. Plus, guests will love the idea of being treated to your personal picks!