Choosing your wedding palette is one of those early wedding-planning decisions that will really set the tone for your entire wedding.
By: Kristen Klein
When selecting your colors, consider the temperature —the color wheel is divided into warm colors (such as red, orange, and yellow) and cool colors (such as blue, green, and purple). If you want your colors to pop, opt for contrasting hues. Or if you want them to blend seamlessly, pick colors within the same family. There are no rules when it comes to your colors, so have some fun with it! Here are some unique combinations you may not have thought of yet.
1. Blue, Orange, Yellow, and Red
Utilizing two different shades of blue adds balance to this warm/cool combination. There's no single dominant color here, instead forming a beautiful ensemble of tones.

Photo Credit: Trish Kemp Photography
2. Blue and Gold
Since blue is a cool tone, most will opt for the cool metallic (silver) when adding an accent. Be different and go for the gold! We love how it pops against the calming shades.

Photo Credit: Damion Hamilton
3. Red, Orange, and Sage
Red and orange play beautifully off the softest sage green, adding an autumnal vibe to your wedding without being overpowering.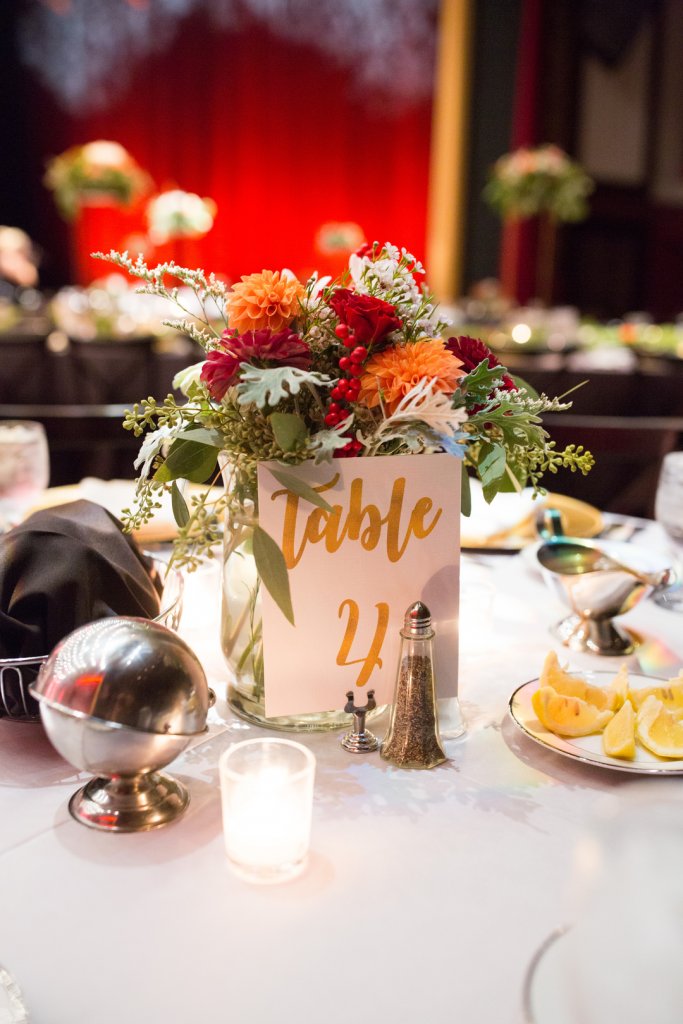 Photo Credit: Conforti Photography
4. Pink and Purple
Perfect for the girly girl, a pink and purple palette is a dream come true. Balance the colors by using them in an unpredictable way, like on your table cloth, while choosing neutrals for your flowers.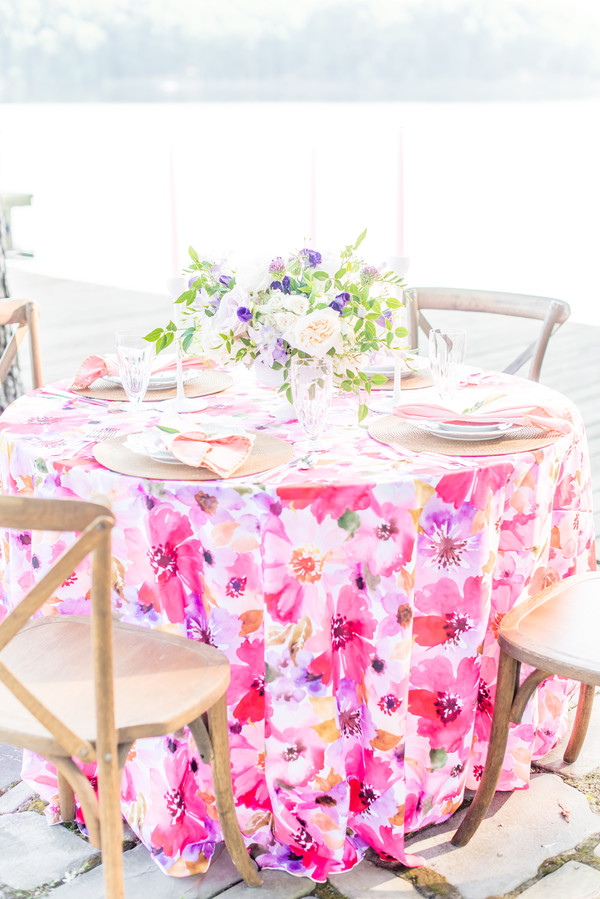 Photo Credit: Remy Thompson Photography
Or add another pop of color, like blue, to balance the more feminine tones.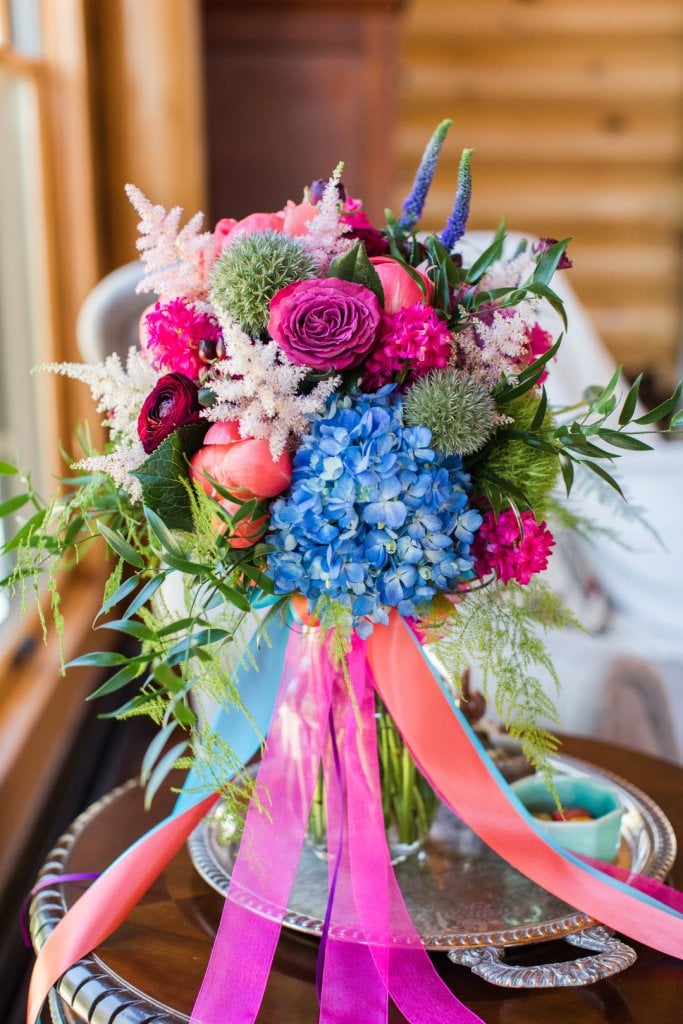 Photo Credit: Trish Kemp Photography
5. Blue, Pink, Orange, and Green
Make a statement by creating your own version of the rainbow. Add small touches in various vibrant shades to make the most impact.

Photo Credit: Trish Kemp Photography
6. Pink, Purple, Black, and Gold
 Black and gold instantly give your wedding a modern, luxe vibe, and purple accents add a regal touch. 

Photo Credit: B. Rich Photography
7. Blue, Orange, and Yellow
Whether your theme is rustic, classic, or seaside, the right shades of blue and orange can set the tone. Choose a muted cornflower blue and rust for a rustic wedding, or a vibrant aqua and orange for a beach wedding.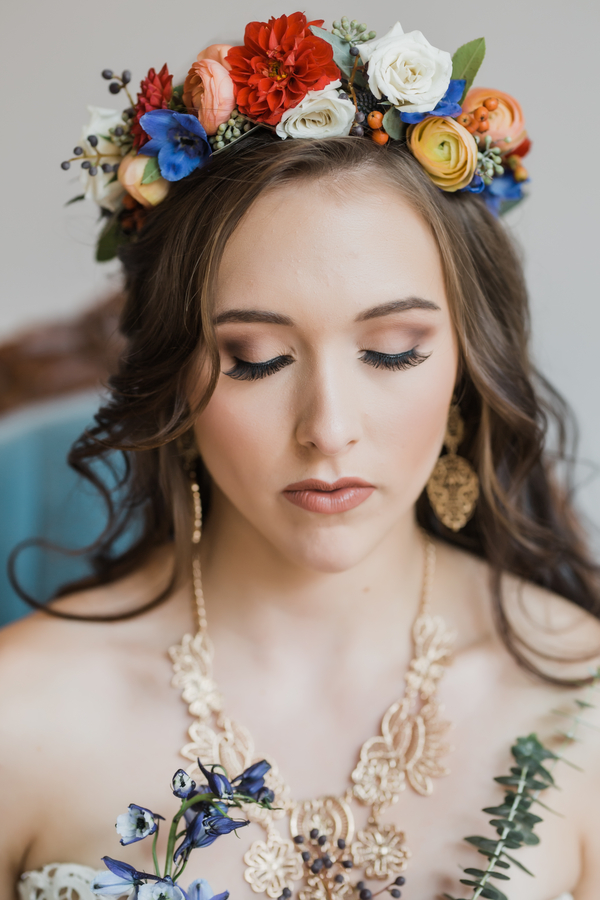 Photo Credit: Laurel + Prairie 
8. Purple, Orange, and Yellow
Purple is one of the most versatile colors in the rainbow; it looks beautiful when mixed in with other jewel tones, but it also works wonderfully with contrasting hues.

Photo Credit: Tina Joiner Photography
9. Red, Pink, and Green
A red and green palette is often associated with a Christmas wedding, but it can work year-round if you choose the right tones. Opt for a deeper jade for your green, and soften up the red with some pink touches as well. 

Photo Credit: Kristina Staal Photography  
10. Maroon and Yellow
Balance a rich, bold hue with something light and cheery — a soft yellow is the perfect accent against such a strong red.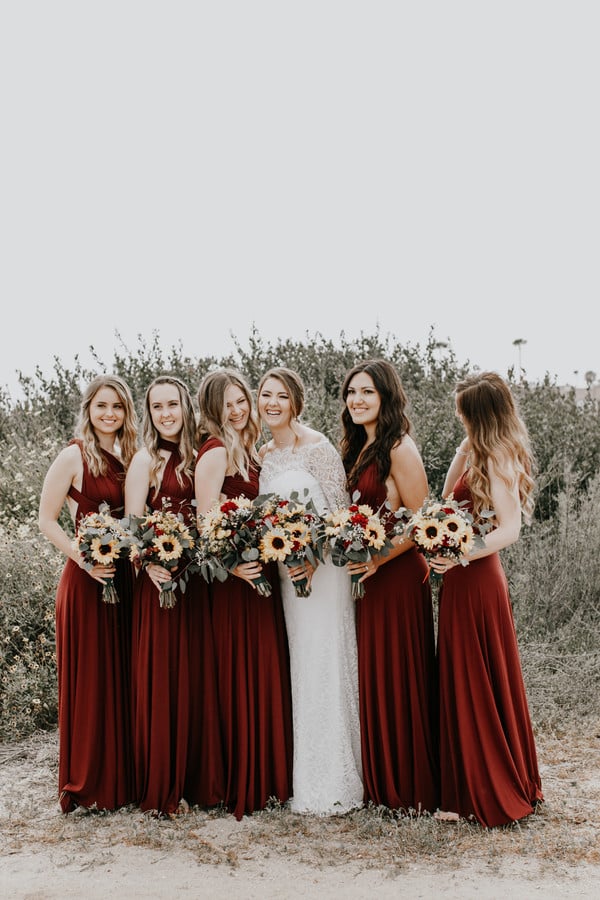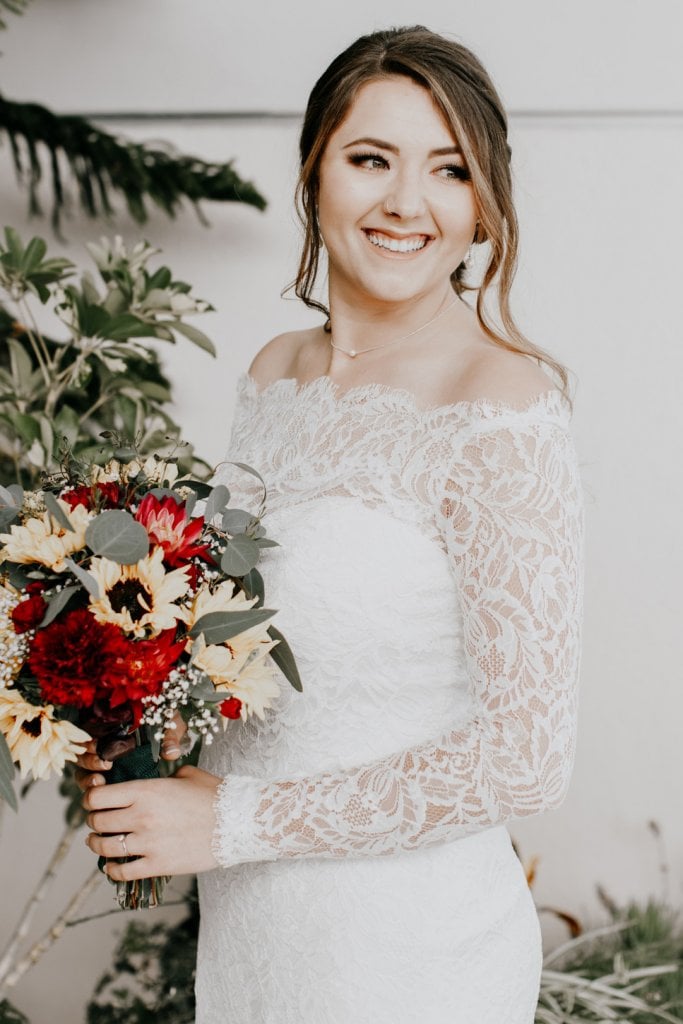 Photo Credit: Astray Photography 
11. Pink and Yellow
For a color palette that is sure to make everyone smile, choose cheerful colors, like pink and yellow. Yellow is synonymous with happiness, and pink gives it a playful vibe.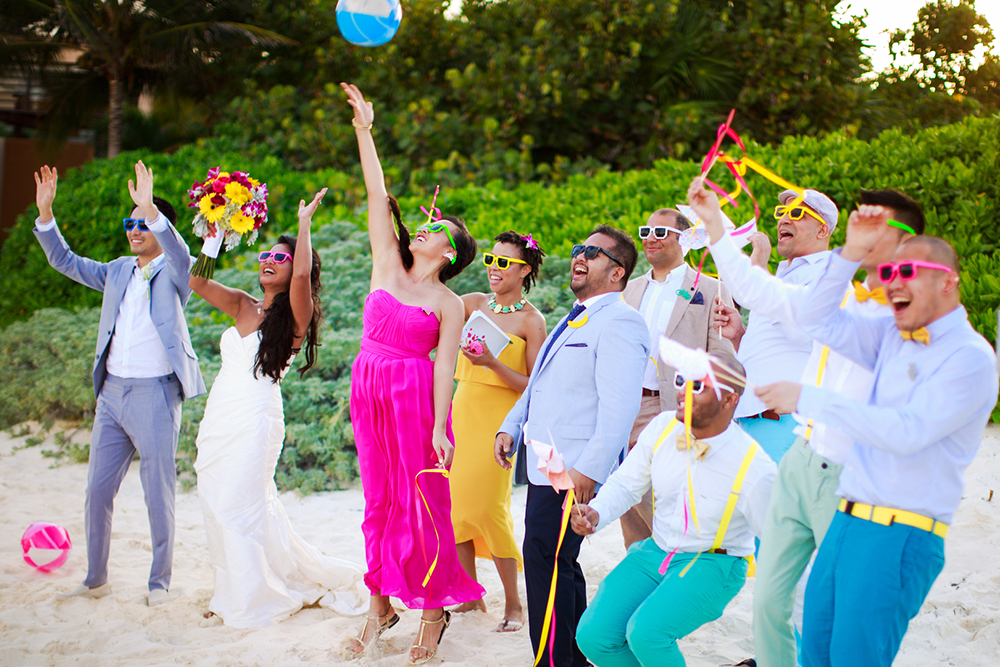 Photo Credit: PlayaWeddings 
12. Pink, Orange, and Green
Pink and orange work nicely together to create a soft ombre effect. Or punch it up by adding another accent color, like green or yellow.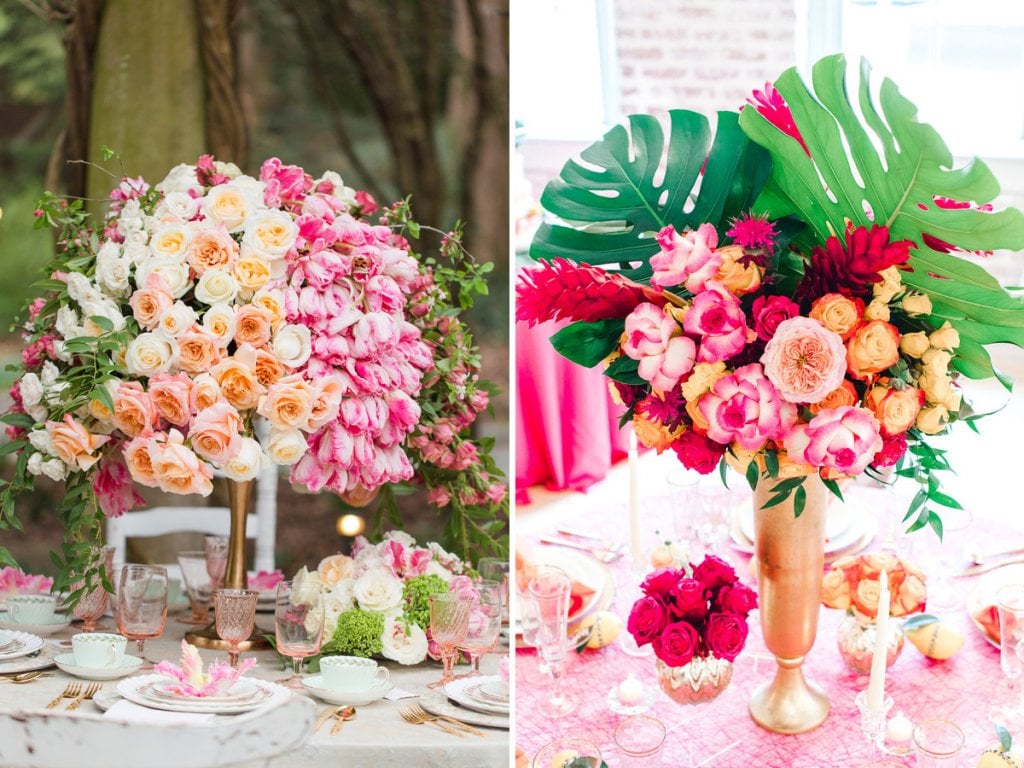 Photo Credit: McSween Photography (left) and Emma Lili Photography (right)

Photo Credit: David Alderman Weddings
13. Blue, Purple, Gold, and Black
Go glam with this sophisticated palette. Bright blue and purple work nicely together, especially when paired with black and gold accents.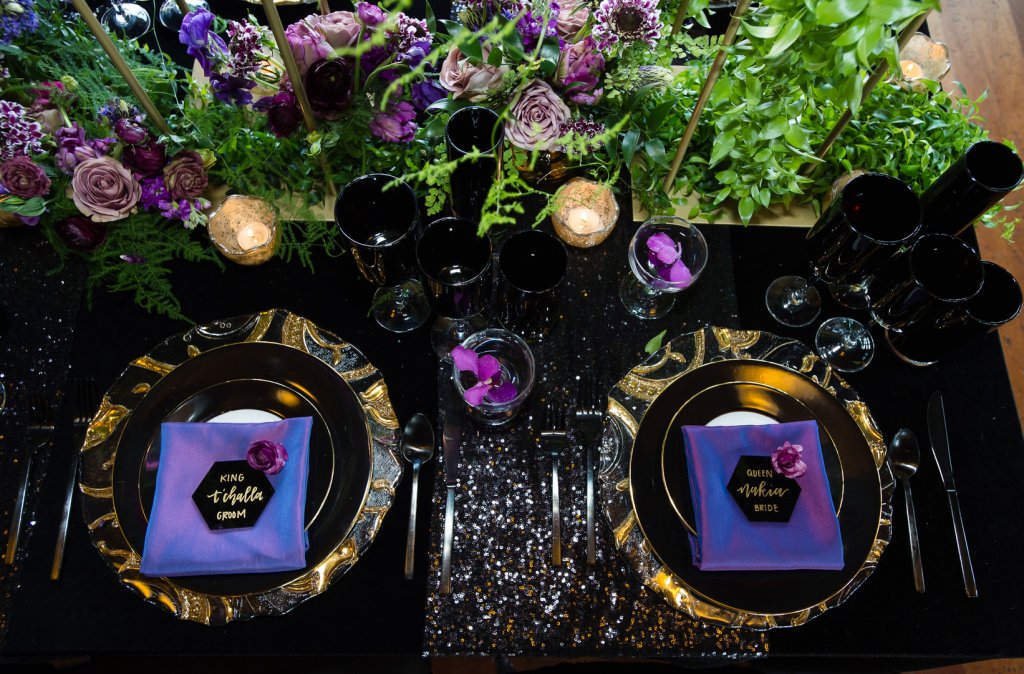 Photo Credit: Chloe Jackman Photography
14. Shades of Green
"Green" can mean so many different things, from hunter green to Kelly green to turquoise. Why choose just one? Blend various shades of your favorite color to create your own one-of-a-kind look.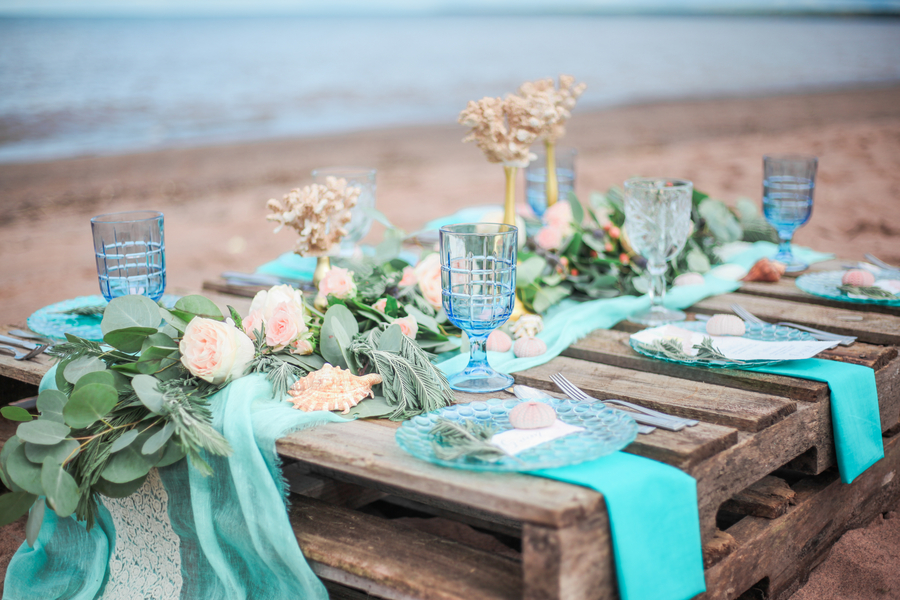 Photo Credit: Selyci Yang Photography
15. Navy and Orange
Navy is a mature and elegant color; orange is fun and adventurous. Pair them together for an unexpected palette that works for any wedding.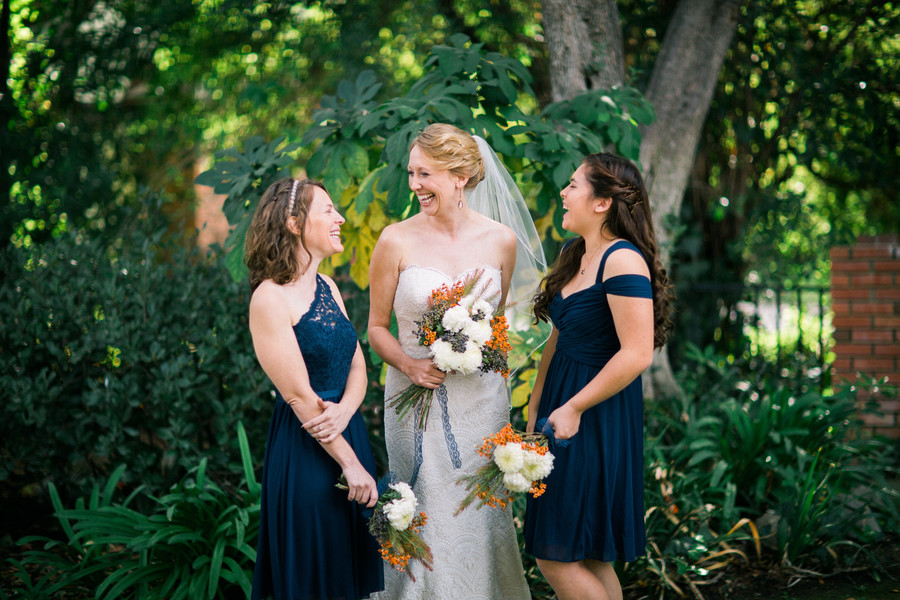 Photo Credit: Three16 Photography 

For more wedding color palette inspiration, visit 200+ Color Combinations for Your Wedding.