A captivating mix of eye-catching hues can take your celebration to new heights.
By: Debra Witt
-AS SEEN IN BRIDAL GUIDE MAGAZINE-
Fashionably Pink
Start with a real beauty queen, and you end up with a wedding that's straight out of a storybook. "This bride, who was a former pageant queen and is now a photographer, had such a great eye for detail, and she knew exactly what she wanted: romance, romance, romance, and flowers, flowers, flowers," says Michelle Cousins, owner and lead designer of Michelle Leo Events in Salt Lake City, Utah. "Pink was it for her from day one."
Where the real fantasy begins, however, is with the magical way Cousins wove in rustic elements (it's Utah, after all) and layered plenty of green in with many shades of pink for a look that was perfectly elegant, and not overly feminine.
 The setting was a grand arboretum surrounded by lush grounds, formal gardens, a vineyard, and the spectacular Wasatch mountains. The couple said their "I dos" under a stunning arch covered in white hydrangeas and roses of every size and in many shades of pink. For dinner, the arch was turned into centerpieces and garlands.
The white china was vintage, trimmed in rose gold to match the flatware. Miniature tree stumps housed the table numbers. And throughout the grounds custom wood signs told different parts of the couple's love story. 
In the pavilion, Cousins approached the overall table layout with a dual theme. Round tables were covered in soft, textured pink linens, each place set with a pink cut-glass water goblet, while long wooden farmhouse tables were left uncovered as a counterpoint to all that pink.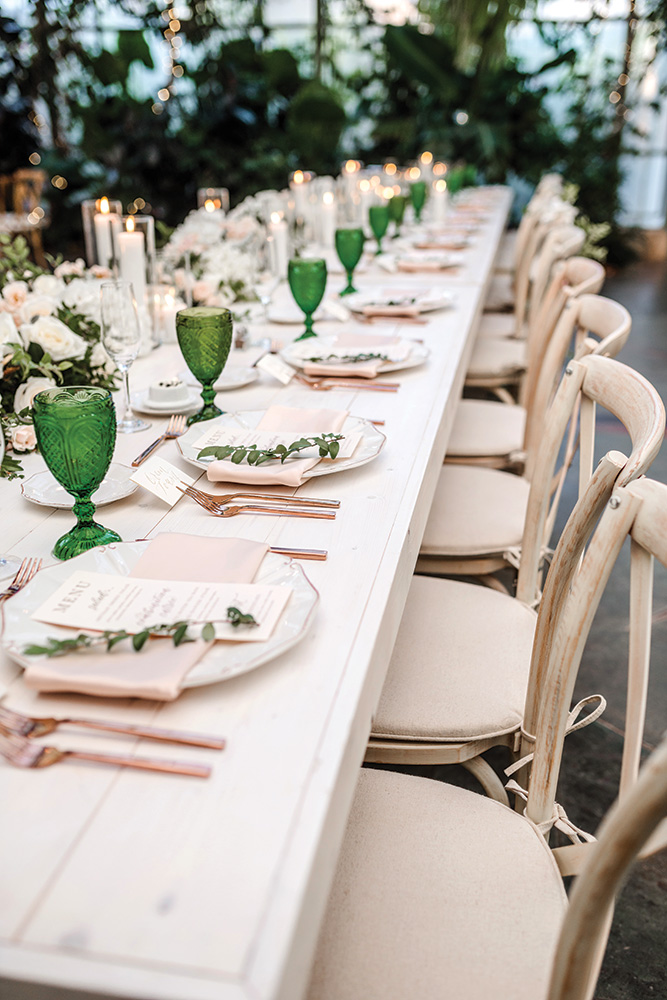 Those place settings had green cut-glass goblets. "Everything about that day was just breathtaking," says Cousins. "The bride got her wish, it really was simply romantic."
Photo Credit: McKenzie Deakins 
California Fresh
When a Southern California bride says she wants a wedding palette that makes her guests feel "happy and lively," the options on the color wheel start to narrow quickly. "Purples wouldn't work, and the couple didn't want pink," recalls Lindsey Hartsough, owner and lead designer of Magnolia Event Design in Santa Barbara, California. "When the bride mentioned that she loved poppies, we immediately turned to orange, which is a super vibrant, joyful color," — the perfect shade to anchor the happy day.
Hartsough used the vivid hue strategically, directing Rockrose Floral Design to drop kumquats and blooms of varying shades of orange into flower arrangements that were largely white and green, for example, or placing bowls of oranges on lounge tables.
The exception was a jaw-dropping curtain of strung marigold blossoms that guests passed through on their way to an alfresco dinner.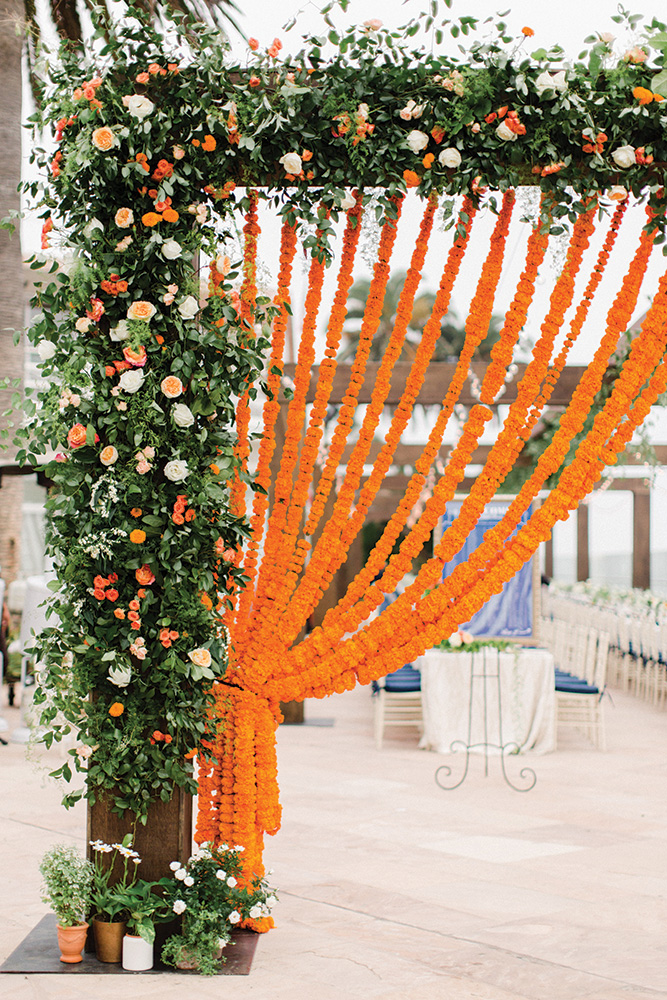 On the terrace overlooking the Pacific, two stately king's tables draped in cream cloths streaked with gold thread stretched out for 64 feet — a clever way to encourage guests to mingle. For a touch of elegance, Hartsough chose navy raw-silk dining chair cushions and matching hemstitch napkins. And vintage gold-rimmed glasses sparkled against the twinkling votive candles.
High above, she used rows of wooden arches to string Edison lights and lush garlands. After feasting on mahi mahi, roasted tenderloin, and red velvet cake, everyone was ready to let loose on the dance floor.
A live band kept guests on their feet until servers surprised them with late-night churros and tacos (two local favorites). Finally, the fun came to an end when the couple drove off in a classic 1951 woodie wagon. Now that's California cool. 
Photo Credit: Anna Delores Photography
Going Green
December's cold, even in South Carolina. So when this couple approached event designer Tara Guérard to plan their winter wedding, they all agreed on one thing: "Let's bring the outside in," remembers Guérard, owner of Tara Guérard Soirée in Charleston. The bride had a photo of a garden wall that she liked and that really became the inspiration for everything, says Guérard. "Fortunately, I love to work with the color green. It's feminine and masculine, it can be both a neutral and an accent color. Green just always looks fabulous."
They settled on a rich, emerald green as the focal point and brought in white and a shimmery light blue as accent colors.
The space was a large tent placed in the middle of a seaside bluff. Guérard pulled out all the stops to "make it not feel or look like a tent." First, she designed a front entrance with French doors, a green-and-white striped awning and decorative boxwoods. Inside, she hung sheer white drapes, and strings of garlands.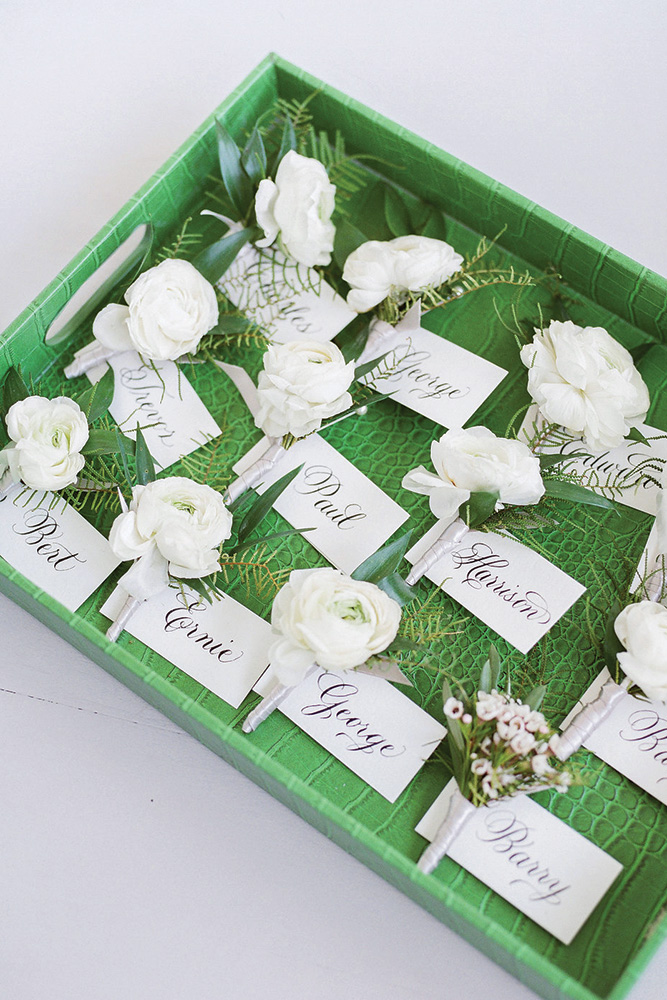 The romantic lighting was courtesy of hanging lanterns trimmed in greenery. The king's tables were covered in blue suede with contrasting green piping. The green velvet menu booklets were engraved with each guest's name and doubled as place cards.
After dinner, guests moved to the other side of the large tented space, where the ethereal vibe gave way to something much more modern. Guérard brought the three colors together in a custom-designed dance floor with a distinct striped pattern. Guests who didn't want to boogie could relax on green velvet sofas. "The green was so elegant," Guérard says. "It was the perfect classic color for such a timeless wedding."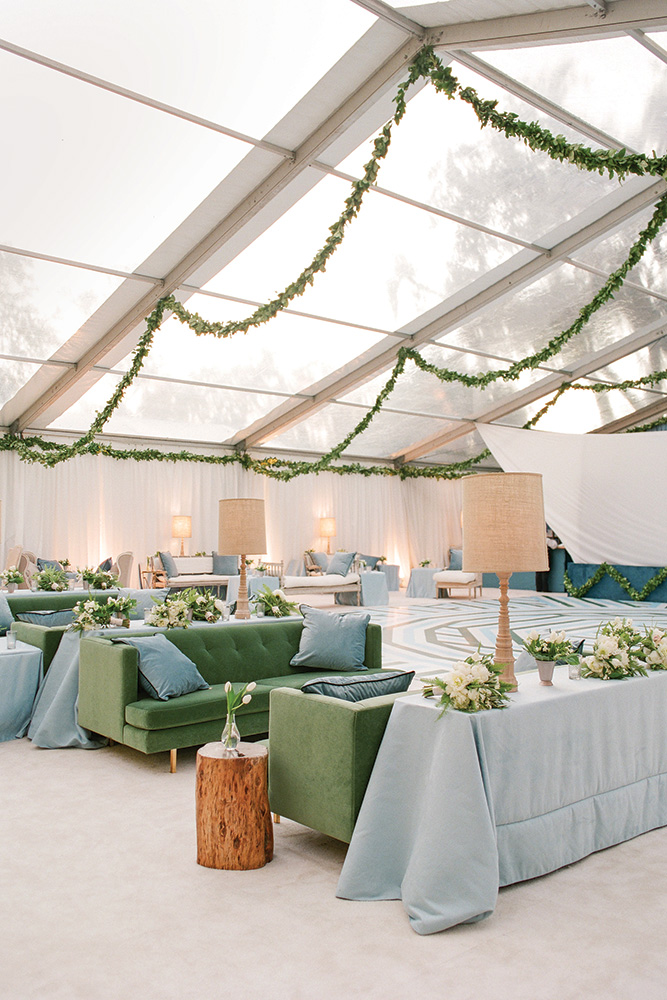 Photo Credit: Corbin Gurkin