Figuring out where to sit at the ceremony can be a confusing thing for your guests. Help them out with these useful tips.
By: Rachel Griffiths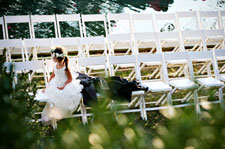 Photo by Dove Wedding Photography
For smaller ceremonies, say 30 guests, whether religious or civil, it's perfectly OK for people to seat themselves. However, if you're having a large crowd, enlist the help of groomsmen or family members to make sure everyone ends up in the right place. Here are some standard seating practices:
In Christian ceremonies: The bride's guests sit on the left side of the aisle and the groom's guests sit to the right. In Jewish ceremonies, it's exactly the opposite, except if the wedding is Orthodox. In that instance, men sit on one side, women on the other. In all cases, if the number of guests coming for the couple isn't proportional, you can even up the sides.
In Jewish ceremonies: The two sets of parents stand under the chuppah while grandparents and siblings sit in the first few pews. In Christian ceremonies, parents and grandparents sit in the front rows; siblings (and their spouses) sit in the second row.
If you're having a military wedding: You'll need to consider the ranking of your wedding guests and develop a seating plan. Consult with a representative from your or your fiance's branch of service for specific guidelines.
If you want to save certain seats for family members and important guests: Rope off the first five rows. Also, be sure to insert pew cards into the invitations of guests who should get prime seats.
How to direct guest: Whether you plan to appoint ushers or to make no formal seating arrangements, you should always designate someone who will help older guests or guests with disabilities to find a place up front.