For a ceremony your wedding guests will never forget, say "I do" to these stunning ideas from master planner Colin Cowie.
By: Susan Schneider
Wow Vows
"The ceremony is the most meaningful part of the wedding, and it should be set in a place that has meaning for the bride," says Colin Cowie. "It used to be that ceremonies all looked the same, but now brides see them as a way to express themselves and their vision for their wedding." Cowie "loves the idea of reinventing the aisle; with a serpentine shape the bride and groom can amble along naturally!"
Gates adorned with spring time cherry blossoms open onto a serpentine aisle leading to the wedding arbor .
(Photo Credit: Colin Miller).
A sandy aisle, in the shape of a wave, sweeps toward the altar.
(Photo Credit: Colin Miller).
"Choose colors or a particular motif, and draw it through your ceremony and your reception," Cowie advises. "Think of it as if you're pulling a thread through your entire event. Make your wedding a seamless story. Be inspired by your location, whether it's indoors or outdoors. Look for the beauty in the spot you've chosen."
Enchanted forest: White roses in an organic shape create a dreamy bridal party.
(Photo Credit: Alison Duke)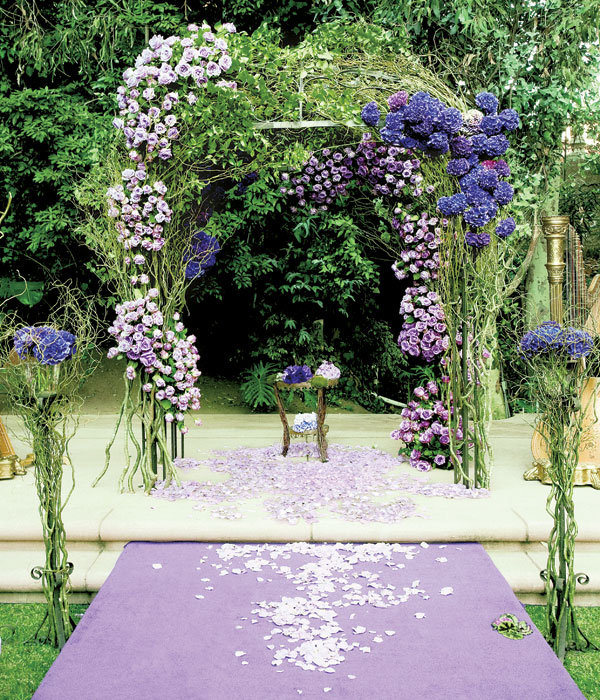 Naturally romantic: Roses, vines, ivy and hydrangeas create a fairy-tale feel for a garden wedding.
(Photo Credit: Colin Miller)
YOUR ENTRANCE: Cowie believes that every bride has a vision of herself standing at the end of the aisle, waiting to start her walk of a lifetime. What is your vision? A sandy pathway on a tropical beach? A serpentine red carpet? Whatever it is, it should be meaningful to you.
ALL EYES ON YOU: "The exchange of vows is your big moment. Be sure there is a focal point: an arbor, an arch, an altar, a chuppah, a backdrop. Think of it as framing the ceremony."
LET THERE BE LIGHT: "Be sure you have enough natural light so that you can be seen by everyone. Having plenty of natural light is also crucial to getting the kind of photos you want."
A round window at the end of the aisle creates a focal point for the exchange of vows.
(Photo Credit: Nathaniel Ward)

A simple white aisle runner has a softly pretty border of lavender rose petals.
(Photo Credit: Alison Duke)
TRUE COLORS: "Your ceremony flowers should reflect the same color scheme as the rest of your flowers, from the bouquets and boutonnieres to the centerpieces. You want to create a sense of uniformity.
MIX IT UP: Flowers can be expensive, so you might want to mix blooms with other elements. Depending on your venue and your vision, consider using shells, moss or vines. Hint: If you're marrying in Mexico, Gerbera daisies are the least expensive flower in that country, so use them to border your aisle. Another idea for a pretty border: succulents. They don't need to be planted to stay moist."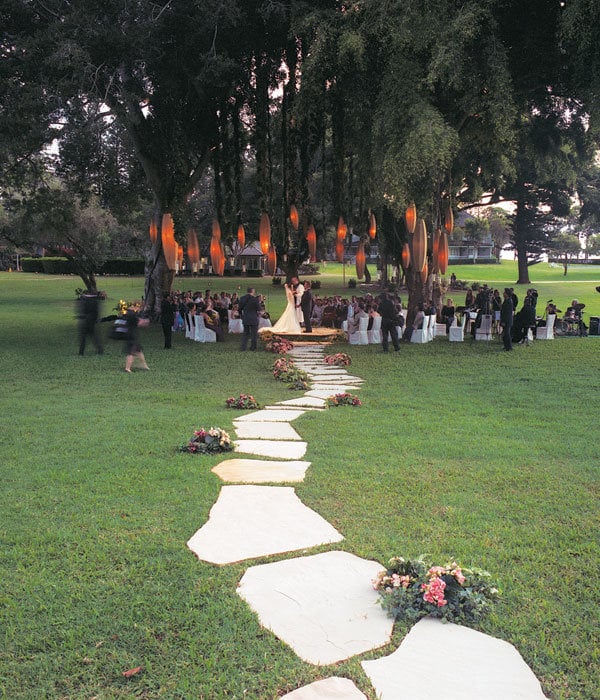 A charming flagstone path leads the bride to a ceremony in the round.
(Photo Credit: Jeffrey Asher)