Decided to write your own wedding vows but have no idea where to start? Get a little inspiration from your favorite TV couples.
Beverly Hills 90210: David Silver & Donna Martin
Who could forget this epic wedding? After years of getting together and breaking up, Donna and David finally tied the knot. Check out their words of love: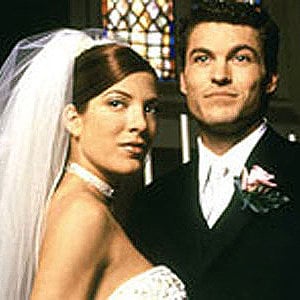 Everett Collection


David: When was it that we fell in love? When we were 18? 16? Maybe 10. I don't know 'cause the truth is I can't picture a time when I wasn't in love with you. I always knew you were the one that could look into my eyes and see my soul. I don't question your commitment to us and I know there's nothing that we can't work through. And I accept you as my partner and as my best friend above all others. It's a miracle to find the kind of peace and happiness that you've given me, and in honor of that miracle, I pledge before our family and friends to love and to cherish you forever.
Donna: I look at you and I see my best friend. Your energy and your passion inspire me in ways I never thought possible. Your inner beauty is so strong that I no longer fear being myself. I no longer fear at all. I never thought that I could find someone to love that would love me back unconditionally. And that I realized that although we are often apart, you are always with me, that you are my soulmate. You give me purpose when I feel I have none. Without you my soul would be empty, my heart broken, my being incomplete. I thank God every day that you were brought into my life, and I thank you for loving me.
Pages