As you're deciding on ceremony timing, there can be several factors to keep in mind to help you figure out what's going to work best for you, your partner, and your guests.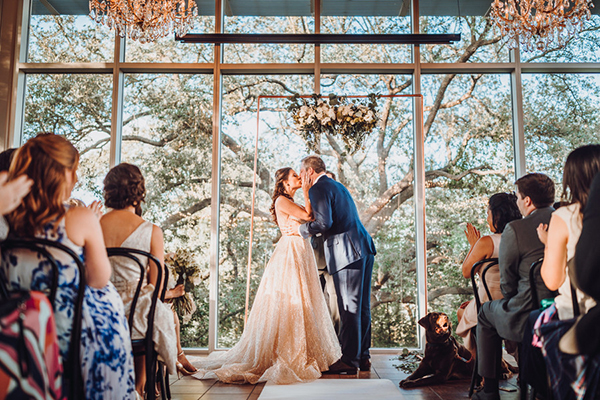 Photo: Ama Photography & Cinema
Consider the environment and guest list. "I advise my couples to think about their environment and guests when planning the ceremony. They should take into account what time the sun sets, how hot it will be and if there is shade, how comfortable the chairs are, if there are beverages available, and more. All things considered, you want to make sure that your guests are cared for if you plan on having a longer ceremony." —Melanie Levin, Owner of LuckEleven Events
Decide which parts of the ceremony are most important, then go from there. "There are a lot of wedding ceremonies out there, and everyone is different. There may be elements of the ceremony that you want to keep and those that you don't… In creating an outline for your wedding ceremony that fits you, both of you should sit down and decide the parts of a wedding that are the most important to you. There are no hard and fast rules on the length of a wedding ceremony, as it depends on what you want your perfect day to be." —Anna Rodenbeck, Whitehead + Co.
Keep in mind: the shorter, the better... more flexible! "In my personal opinion, I think shorter ceremonies are the way to go for various of reasons. First, shorter weddings tend to be more intimate and meaningful for the couple because it focuses on what matters most: the couple's relationship with each other. Second, you don't want to bore your wedding guests with a ceremony that seems to never end! Third, shorter wedding ceremonies allow room for flexibility which can be crucial if something unexpected happens during wedding planning." —Allie Calzada, Allie the Wedding Officiant LLC
A rule of thumb: budget for 30 minutes if it is nondenominational. "When planning for a nondenominational ceremony, I always budget thirty minutes on the timeline. Anything longer than this that isn't directly related to a spiritual ritual or act can leave guests (especially young ones!) feeling squirmy and ready to hit the dance floor. Whatever you opt for (your wedding should be a complete reflection of you as a couple, after all), have a few conversations with your officiant to see when they anticipate the ceremony starting and ending. A professional will have this down to a science, and they'll also understand the impact on guest experience they have with their timing." —Ashley Lachney, Owner of Alston Mayger Events
It depends on what you want to include. "Wedding ceremonies typically last anywhere from twenty to thirty minutes. This time frame gives you enough time to cover the basics of a wedding ceremony. During that period of time, you can include welcoming to all of your guests, your wedding vows, the ring exchange, and the first kiss as husband and wife. It will also depend on everything that you want to include into your ceremony. I will continue to remind you that it is your wedding day and if your ceremony is planned to be forty minutes or more because there are certain aspects you want to incorporate, then that is completely fine! Your ceremony can be as long or short as you would like it to be." —Lisette Gatliff, Lisette OC Photography
If you're opting for a shorter ceremony:
Try to keep it between 20-25 minutes. "It's always great to keep your wedding ceremony between 20-25 mins. We find this is the sweet spot for your officiant to share your love story. Try and keep the ceremony script centered around you as a couple." —Weddings by Susan Dunne
It should reflect you as a couple, but also consider your guests! "A wedding ceremony should always reflect what's most important to you and your partner. Whether that is incorporating traditions or your religion or keeping it simple, it should always be what you want. However, do keep in mind how long guests will be sitting for your vows and try to tailor the ceremony so that it includes everything you want but also makes it an appropriate amount of time so that guests don't start to become uncomfortable from sitting too long." —Kari Dirksen, CEO + Lead Planner, Feathered Arrow Events
If you're opting for a longer ceremony:
Keep in mind that the type of ceremony you're holding may determine the length. "If you're opting to do a religious ceremony, the timeline is usually given by the religion. A spiritual ceremony is that of two people who don't identify into a singular religion but still believe in a higher power of some sort but may not be sure of the exact details of their spirituality. During a spiritual ceremony, you have the freedom to customize the ceremony to the point where you can pick and choose which religious aspects or traditions you'd like to include or exclude from your ceremony. A secular or civil ceremony is a ceremony that is neither spiritual or religious. It's a legal wedding ceremony minus any of the religious or spiritual elements that would normally be there. Therefore, you have complete freedom to make your ceremony exactly how you want it to be." —Lisette Gatliff, Lisette OC Photography
A good offiiant can make all the difference. "The technical timing of the ceremony is actually less noticeable when you have an officiant who can keep your guests engaged while getting to all of the necessary points in the ceremony. Also, have your bridal party compare your vows (if you decide to write your own) so that they are similar in length. Finally, once the rings are exchanged, everyone is ready to party, so be sure to keep any readings or special songs towards the front half of the ceremony." —Danielle + Hannah, Joyfully Gathered