Instagram star and cohost of the popular YouTube talk show, The Morning Toast, Jackie Oshry married her long-time love, Zachary Weinreb, at the Pierre Hotel in New York City this weekend.
By: Emily Goldman
Below, the Influencer and her event design team at Birch Event Design share exclusive details on the couple's 350-person New York City nuptials!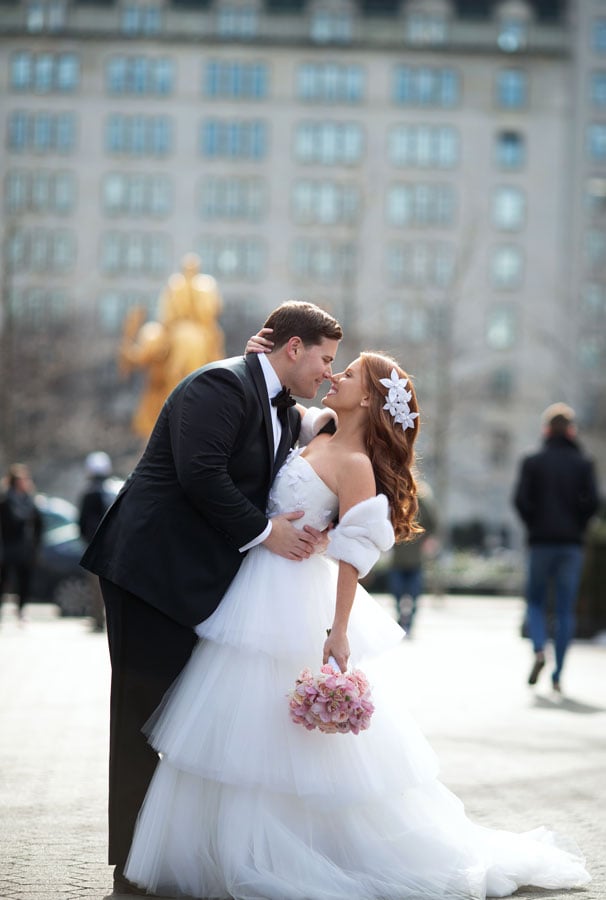 Photo: Anthony Vazquez Photography
Pictured: Jackie and Zach 
1. Inspiration is Key
Choose your inspiration carefully, and enlist the support of those that share your vision. The experience from across the timeline of the wedding was whimsical romance to enchanted luxury. According to Josh Spiegel, president and creative director of Birch Event Design, Oshry began the wedding planning conversation with a focus on the season during which her wedding was taking place: winter.
"Jackie is very fond of Disney and because she is getting married in the winter, we immediately thought 'Frozen,'" said Spiegel.  "We began dreaming up a 'Frozen'-inspired ceremony and we loved it so much, we expanded it into ballroom. In the end, we came up with a totally new ceremony concept but kept the ballroom a gilded, wedding-ready 'Frozen.'"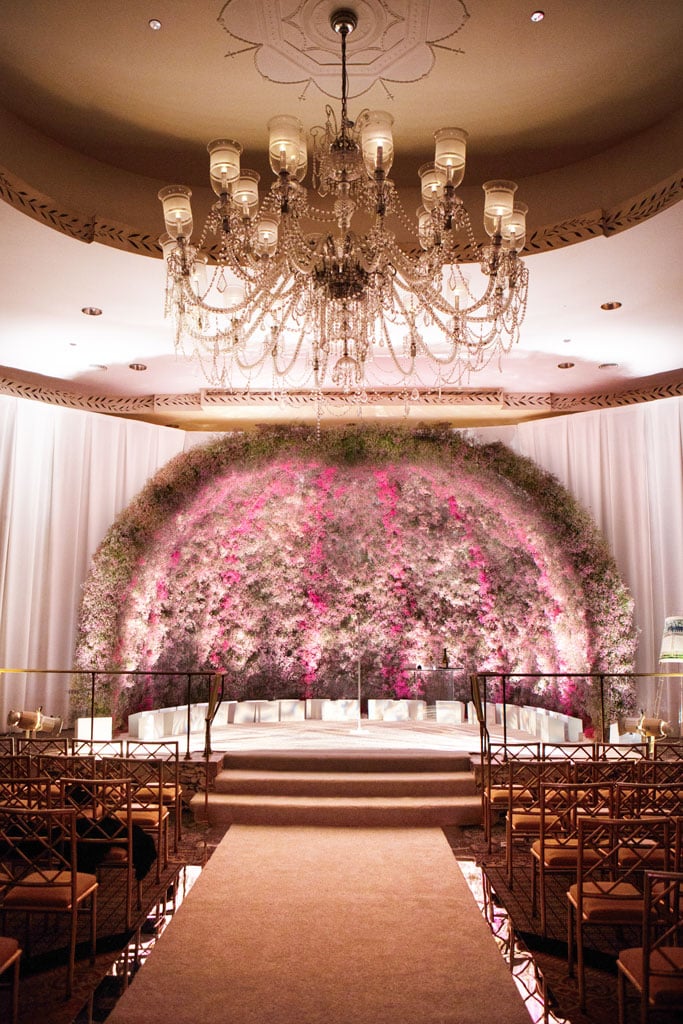 Photo: Anthony Vazquez Photography
Pictured: Ceremony Space
2. It's All in the Flowers
The ceremony featured a structural masterpiece created out of over 20,000 stems of pink baby's breath. Meanwhile, bridesmaids carried bouquets of soft flowers in blush tones including roses, garden roses, spray roses, ranunculus, freesia, and other seasonal blooms.
The reception took an edgy turn with metallic trees, an abundance of hydrangeas, orchids, and delphinium.

Photo: Anthony Vazquez Photography
Pictured: Reception Space
3. Pick the Perfect Location
"Initially we looked at The Pierre Hotel out of pure necessity as there aren't that many venues in New York City that can accomodate the number of guests we were hosting," said Oshry. "However, once we saw the Pierre and toured the space we knew it would be the perfect venue for us. It's elegant, it's classic New York, and it smells so good!"

Photo: Anthony Vazquez Photography
Pictured: Jackie and her three sisters: Claudia Oshry (@GirlWithNoJob), Margo Oshry (@HungoverAndHungry), and Olivia Oshry
4. Make it a Family Affair
"My family plays a huge role in my life so inevitably they played a huge role in my wedding," said Oshry. "In terms of bridesmaids duties I didn't ask too much of them, I more-so looked to them for support and advice when I felt in over my head. My sisters Olivia and Claudia recently got married as well so their input was especially valuable."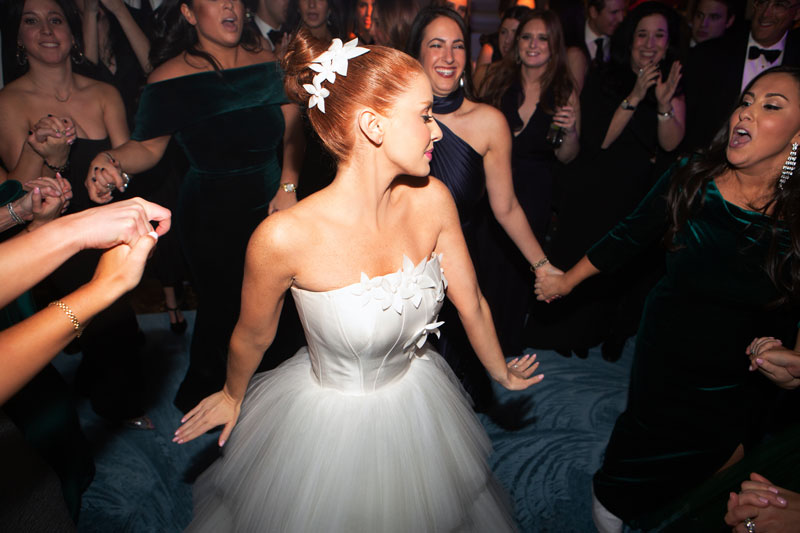 Photo: Anthony Vazquez Photography
Pictured: Oshry dancing with her guests 
5. Guest-List Size Matters
Oshry admits that the size of her guest list ended up limiting her wedding venue options, and to feeling a bit overwhelmed in the process – something that is completely normal for brides to feel.
"The most difficult part of wedding planning is figuring what kind of wedding you want to have in terms of size, vibe, and scale," said Oshry. "I'm not someone who has been planning my wedding my whole life so when I began the wedding planning process, I had so many huge decisions to make at once - it was overwhelming!"
Vendor List:
Photo: Anthony Vazquez Photography
Venue: Pierre Hotel
Florals, Décor & Design: Birch Event Design
Wedding Planner: Michael Russo of Michael Russo Events
Furniture: Luxe Event Rentals 
Cake: Lestis Cake 
Floor Graphics: Bombshell Graphics 
Napkins and Mints: By Invitation Only Designs