From an open-air pavilion to a backyard to a big-city loft, these couples' ceremony sites and rituals are unique—and very personal.
By: Rachel Griffiths
Becca & Drew: Honoring a Commitment
When you decide to get married, Becca says, "You have to sit and think about what means the most to you. We decided that people—our friends and families—have that place in our lives. The two of us had been together for eight years before we got engaged, so we'd already made a commitment to each other. The purpose of our ceremony was to extend this to our friends and family." Drew agrees. "We wanted to recognize their role in our life as a couple."

Becca and Drew
The northern California wedding was held on an organic farm, with the afternoon ceremony taking place on a grassy clearing in a field of lavender. Guests grabbed parasols and strolled through an apple orchard to the field. "We had wind chimes and enlarged photos of us suspended on ribbons from the branches. A lot of guests found themselves in the photos, which were taken of us from childhood through college."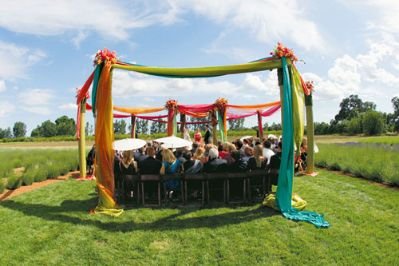 A ceremony site that's open to the sun and sky is
bordered by swags of colorful fabric.
Wedding planner Sasha Souza had created an open-air pavilion hung with colorful fabric; guests were seated in a horseshoe shape so the couple could feel embraced by the summer sky and the people they love. The ceremony began with a greeting by a family friend. Then the couple's two best friends got up to say a few words about the two of them, followed by their siblings and parents. Finally the pair exchanged vows they'd written themselves. "I talked about the importance of appreciating every step and every part of this journey we've taken together," says Drew. And, says Becca, "I thanked Drew for loving me for who I am—for never making me feel I had to be anyone else."
Brooke & Patrick: A Celtic Ritual
At the height of summer, Brooke and Patrick tied the knot in an outdoor ceremony held in the backyard of the house where the bride had grown up. There, on a lawn sprinkled with organic rose petals and lavender, the couple asked guests to create a circle. There was no seating (except for elderly guests), and no bridesmaids or groomsmen. Says Brooke, "Everyone was standing up with us."

The couple exchanges vows in a "sacred space,"
created by a circle of their loved ones.
Brooke and Patrick walked in from opposite sides of the circle—she in a pale-yellow embroidered dress, he in hemp pants and a white short-sleeved shirt—and met in the middle. Brooke's brother rang a bell, and then the officiant, a family friend, asked everyone to face the four directions—East for the air and fresh beginnings, South for the sun and hearth and home, West for water and deep commitment and North for the ground and foundations. "Everybody was really into it. It wasn't just a show to be watched," says Brooke.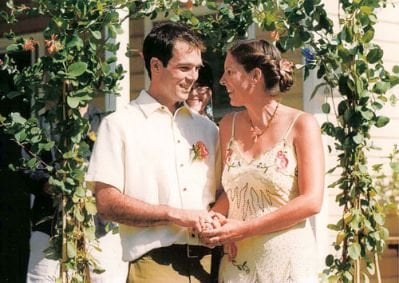 Brooke and Patrick
The couple honored their ancestors by acknowledging the grandparents who were no longer with them. Then the parents came forward for the hand-tying ceremony, in which each person was given a cord representing one of the four elements—air, fire, water, earth—to lay over the couple's joined hands. The officiant tied Brooke and Patrick's hands together in a loose knot, and the couple affirmed their vows. The ceremony culminated with an exchange of rings: a circle to reflect the circle in which you stand, and to remind you of the wheel of life. Brooke's favorite memory? "I was able to look out with Patrick, at all the faces smiling at us in this sacred space. It was really powerful. Weddings are one of the rare ceremonies in our culture, and I wanted to feel it. It was both meaningful and ours."
Erica & Sam: The Importance of the Officiant
When this couple decided to get married, they knew they wanted the ceremony to be nondenominational, with a strong spiritual component. To achieve their goal, they enlisted the help of their officiant, Katherine Kurs, a Harvard-educated professor of religious studies, who describes herself as Episcopalian and Jewish by background and belief. The couple met with Kurs for two hours, addressing each aspect of the wedding day—from the initial prayer to the vows.
The setting for the wedding was an airy loft in Manhattan's Chelsea neighborhood, with sweeping views of the Hudson River. "We were both raised near water, and for us that was a spiritual aspect we wanted to capture," Erica explains. Wedding planner Karen Bussen decorated the space with masses of orchids, fragrant gardenias and bright greens; two large arrangements flanked the celebrants, creating a sense of an altar. Bunches of sweet-smelling lavender were tied to dark wood chairs with white cushions.
A string quartet from Juilliard played as the processional began, which was followed by a prayer and readings—one from the Bible and one from literature. The groom's sister sang "La Vie en Rose." Then Katherine began to deliver the talk that she had created, from the discussions she and the couple had shared. "She touched on the story of how we met, what we mean to each other and our hopes for the future," Erica says. "The feeling was relaxed, and everyone felt comfortable enough to smile and share in the moment. And that's the most powerful memory that we have of our wedding day."

Photography: Sherman Chu Photography for Sasha Souza Events.