A sun-swept field with forever views is the perfect fresh (and fragrant) setting for this gorgeous bridal shower.
By: Mary Clarke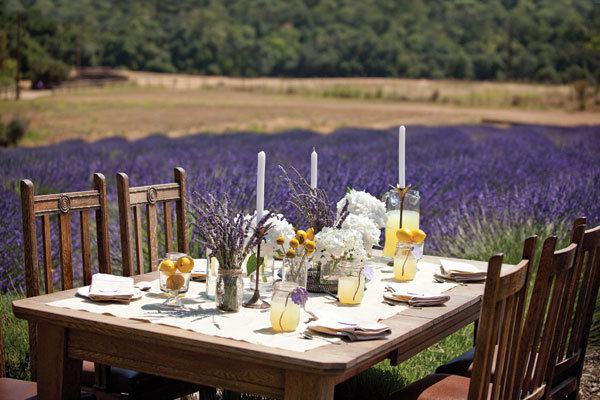 Vintage silver serving pieces and French china sit atop a rustic wood table. Pure white hydrangeas, pale linens and tall tapers offset the cool violet tones.
So stunning was this color-swept meadow that two—count 'em—creative teams joined forces to plan a naturally chic late-afternoon bridal shower here. "Brenda Maille, of Best Wedding Sites, came to us with the idea to co-design a gorgeous party, brimming with homey details that are sophisticated, yet simple enough for do-it-yourselfers to bring to life," says Aleah Valley of Valley and Co., a California-based eventplanning company she runs with her husband, Nick. 
"When it came to creating our color palette, we played off the prevailing violet tones of the surrounding meadow, using high-contrast pops of lighter shades like fresh lemon yellow and pure white, along with neutral linen and burlap tones."
Bright and cheery craspedia blooms mimic the shining sun. Vintage silver serving pieces and rustic glass vessels set the homespun theme.
The chief inspiration was, of course, the party's location itself: Keys Creek Lavender Farm, near San Diego, CA. Invitations in color-coordinating violet set the initial tone, and the ideas just flowed from there.
The pretty shower invitation was designed by Wedding Girl. Lemonade in twine-wrapped mason jars with attached drink tags sit atop a creamy linen runner.
"We looked to mix and match rustic, natural elements like burlap, linen and twine with vintage French scalloped-edge china and antique crystal and silver," Aleah says. Nick put together an array of delectable cookies, pies, chocolates and cupcakes to be washed down with fresh lemonade.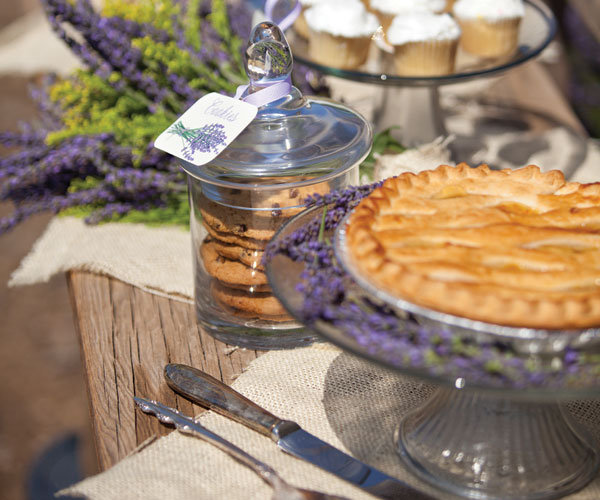 "When envisioning your shower, think about elements that will appeal to all your guests. Who doesn't love warm chocolate-chip cookies and juicy apple pie?"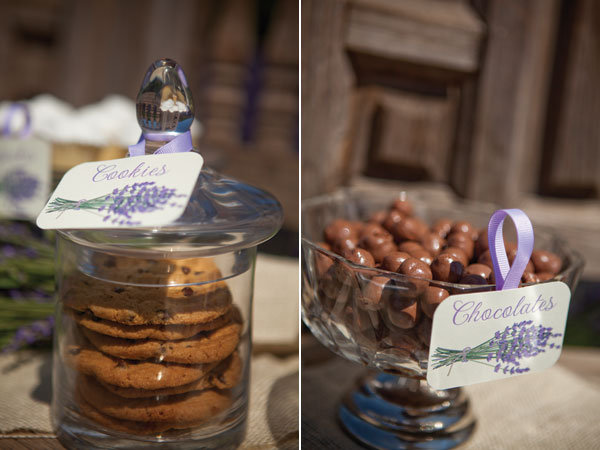 At day's end, guests were sent home with extra edible treats like cookies and malted milk balls in classic brown paper bags for a sweet finish. 
Festive "Cheers" and "Enjoy" drink tags beckon guests to partake in the grownup lemonade stand. Lush white hydrangeas and tall tapers play off the deeply hued lavender stalks.
Vanilla bean cupcakes with buttercream frosting are flanked by loose bunches of fresh-picked lavender and golden ragweed. Dessert cards created by Wedding Girl.
Photo Credit: Shannon Lee Images