Sweet and classic? Sexy and modern? Whatever the style, these tips from planner Karen Bussen will make your bridal shower an event to remember.
By: Valerie Berrios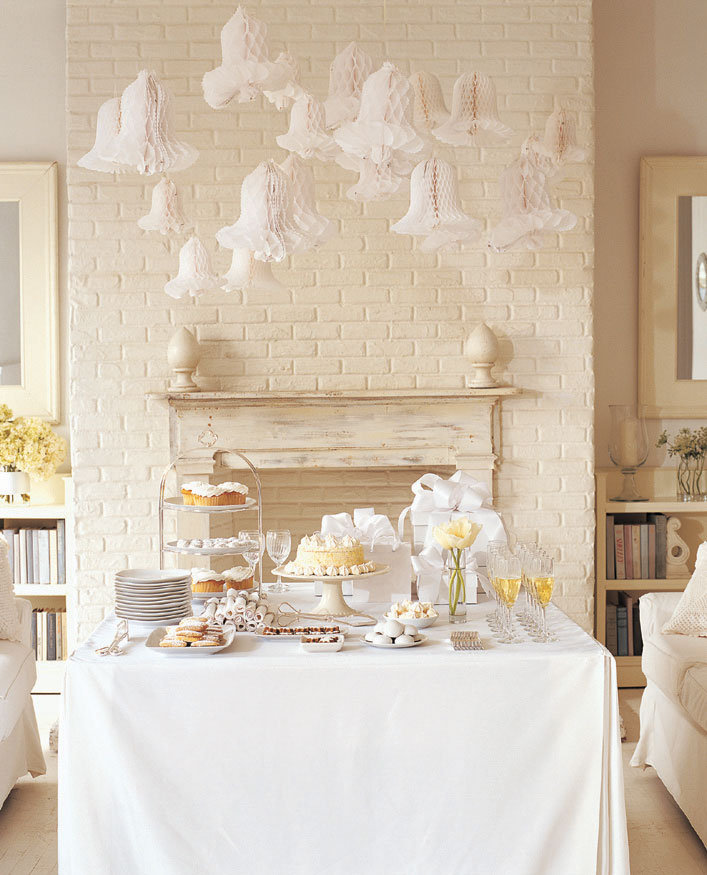 A traditional shower calls for white linens, elegant table settings and classic treats.

A favor table covered with beauty
products, incense and potpourri for a
goddess-themed fete.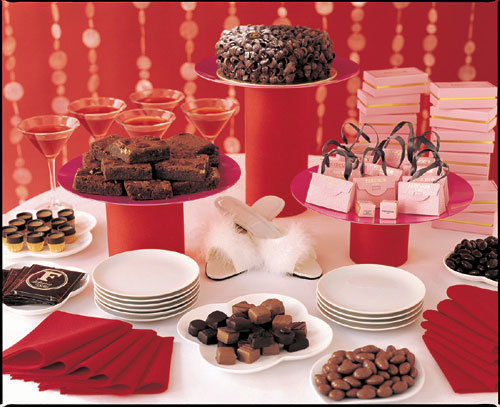 Chocolate makes a lingerie party divine.
What's the most important thing for bridesmaids to keep in mind when choosing a theme for the shower?
They should consider the interests, tastes and personality of the honoree. Is their friend a traditional bride? Then a white linen shower might be appropriate. Also think about what she needs for her new home—or, if it's a coed affair, what the couple might want to begin their new lives together. The bridesmaids should then layer the theme into at least three areas, such as the décor, food and drinks and the day's activities.

Where should the shower be held?
Since showers are meant to be casual, intimate parties, someone's home usually offers the most convivial atmosphere. But a private room at a cooking school, flower shop, bakery and tea house are all great options that require minimal work. Special touches like setting out a few pictures of the bride will go a long way.

What are some helpful decorating tips?
Keeping it simple is key. Select no more than three colors and work those into the invites, flowers and other design elements. Drape fabric or inexpensive sheets in the colors of your theme over couches and chairs, serve cocktails in your chosen hues and look for coordinating throw pillows, candles and vases. Your overall design will dictate which shades to use. For example, if you're planning a chocolate lover's lingerie shower, sexy reds are an obvious choice.

Can you describe your favorite bridal shower ideas?
It's always fun to have a shower revolve around a specific experience—that is, something the bride or couple covets, such as tickets to a Broadway show, a paid membership to a favorite museum or a sporting event. You also can't go wrong with something that involves lots of pampering. Hire manicurists or someone from a local department store to give makeovers or provide makeup tips. And adorn a table with clear containers filled with inexpensive beauty products that guests can take home. For a multicultural vibe, book a fortune teller or have a mehndi artist paint henna tattoos on the ladies' hands. A third option is the workshop shower. Guests can decorate cupcakes, design centerpieces or perfect their present-wrapping skills. The best part: Finished projects become favors.
The Coed Bash
When you're including the groom, you'll want to lose some of the fluff. Decorate the space with simple, chic candles and floral arrangements. Instead of dainty finger sandwiches, serve spiced nuts or bacon-wrapped dates. And opt for activities that embrace the couple, like a "how well do you know your mate?" trivia game. One idea for a couple that likes to cook is to throw a gourmet kitchen party. Cutting boards can serve as platters, and mixing bowls or utensil caddies may be used as vases.

Party planner Karen Bussen is the author of Simple Stunning Wedding Showers (Stewart, Tabori & Chang).
Photography: William Geddes, as featured in Simple Stunning Wedding Showers by Karen Bussen.