Chic details and an array of down-home treats made a stylish, eclectic statement at this intimate bridal affair.
By: Mary Clarke
When design wiz Kristy Rice heard friend Amy's happy news, she snapped into action, planning a bridal shower that featured special details that only a BFF (since middle school) could conjure. A nostalgic jumping-off point: A photograph of Amy and Kristy in front of Notre Dame Cathedral in Paris, which informed the overall theme. A glorious riot of striped linens, toile patterns and gilt touches were used to ooh-la-la effect. But when it came to the edibles, it was hometown all the way, with mini-cheesecakes, fudge brownies and cotton candy for all. Talk about taking a personal approach!
Lovingly titled "Amy's Favorites," the dessert buffet was filled with her most beloved goodies, from Mom's white cake to stovetop popcorn.
The festivities were held at Canteen 900 in Forty Fort, PA, a sunlit space featuring mid-century furnishings and reclaimed chandeliers. Colorful linens by La Tavola Linens. Production by Danielle Rasternak Events. 

Kristy crafted the paper flowers sitting amid the yummy dessert offerings. The two friends collected the antique glass beads that form the center of each bloom.

Bite-size mini-cheesecakes.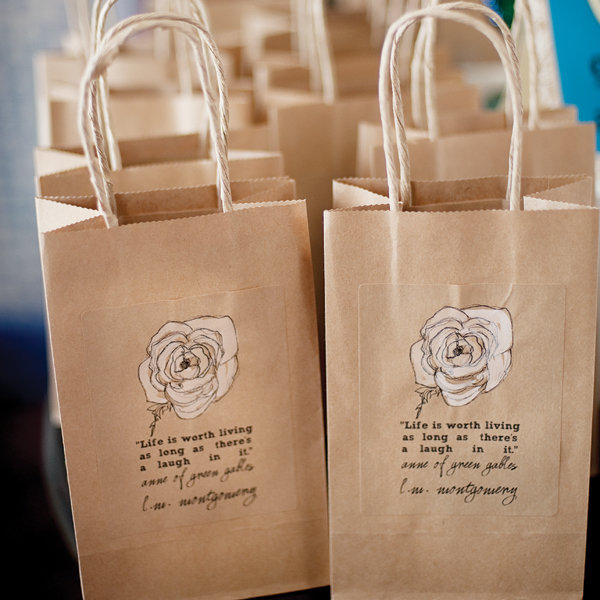 Hand-painted mini shopping bags hold edible favors that were collected at the party's end.

A display of Kristy's paper artistry, including "Sculpted Bloom" shower invitation suite with box-style envelope, an "Amy Trivia" crossword puzzle, buffet card and menu on gold damask.

Each place setting was a unique and stylish mix of mismatched vintage pieces.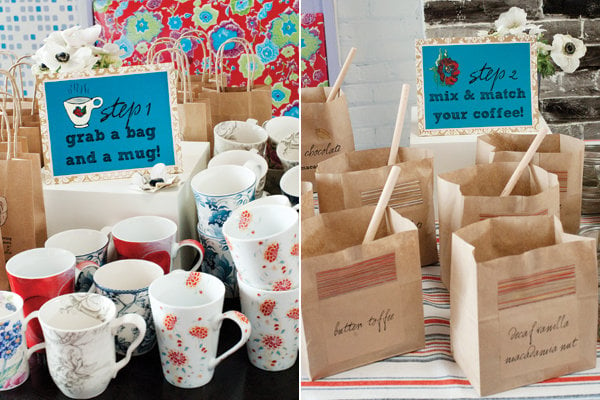 At the coffee-favor bar, each guest chose a vintage mug and a mini paper bag. Then, guests picked the coffee blend of their choice, along with flavored sugar and homemade cookies to take home.

Kristy gave Amy a silk-bound photo album. On the cover: A photo of the two friends taken in Paris.
Photo Credit: Amanda Brooke Photography