Eclectic décor and a riot of cottage-garden flowers bring this boho-chic shower into full bloom.
"Bohemian decadence." That's the theme conjured up by Dolce Designs Studio and Details Event Planning, both in Los Angeles. "We wanted a setting that would feel unique and personal," say Dolce co-designers Christina Whittle and Zaid Arriola. 
To that end, they went for a mix of textures and patterns: sparkling colored glass, ikat draping, pale linens and flowers—lots and lots of flowers. "Mismatched china and glassware add personality, as do groupings of individual bouquets, rather than one central display."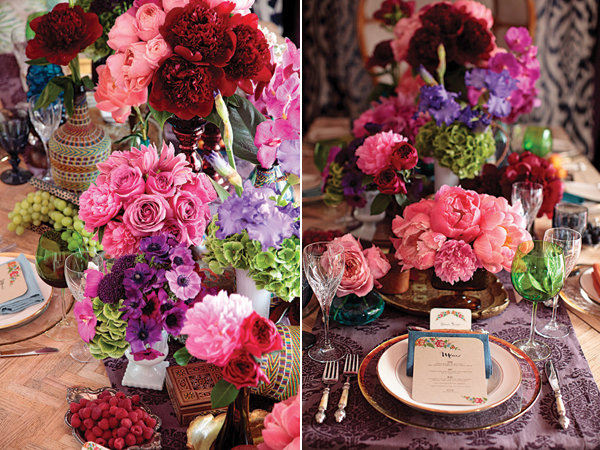 An abundance of fruit and flowers creates an inviting tablescape. A feature we love: "Fruit bowls for the guests to enjoy between courses;" blooms include peonies, garden roses, wild iris, orchids and anemones. 
Jewel tones—a plum table runner from La Tavola Linen, green stemware, gold-rimmed chargers and plates—provide dramatic contrast to the lighter pink blooms.

Colorful glass lanterns evoke a souk in Marrakesh—setting them on dimmers ensures flattering light. Vessels were selected for their mix-and-matchability.
Menu and table cards by Cherish Paperie feature calligraphy-style fonts and bright blooms.

A purple and green succulent adds a naturally chic and sculptural accent. Patterned silk and chenille pillows by Dolce Designs Studio provide luxe comfort.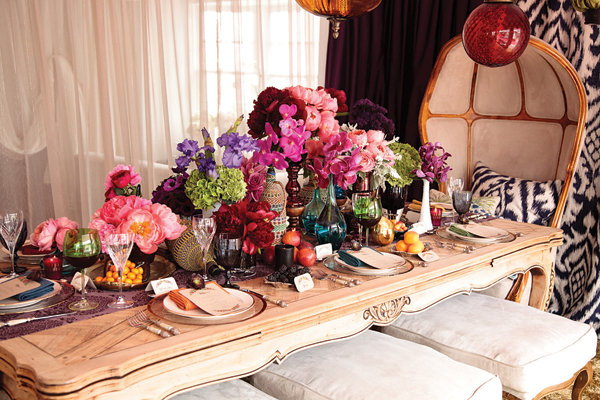 Creamy linens and blond wood are an elegant combination. An iconic Montecito canopy loveseat and matching ottomans partner with a vintage parquet dining table.
Photos by Samuel Lippke