A sunny shower takes its beauty theme to heart, with manicures, massages, and makeup on tap.
The vision: to create a bridal shower with a unique, girl-powered spin — and pampering galore. The bride, Jennifer Betts Conroy, an entertainment publicist, called upon event designer Liza Naguib of DessArt Designs along with a host of beauty brands to bring her ideas into Technicolor life.
Deciding on the party location was the easy first step: With its pretty pool, gardens and a gazebo, Jen's parents' home in Arcadia, CA, provided the perfect setting. "I always wanted to have my bridal shower at my parents' home, the house where I grew up. It was a dream setting for family and friends," said Jen.
Photography by Alexandra Wyman Photography.
Guests arrived to a full bar and lavish buffet that included sundried tomato and mushroom pasta and chicken salad with almonds, catered by Green Street Restaurant. Throughout the afternoon and into early evening, partygoers could roam the grounds and partake in mani/pedis, faux eyelash application and mini-massage stations. Talk about sweet indulgence!
Mason jars with decorative straws were displayed on a pink striped bar where guests helped themselves to mimosas, ice tea, strawberry lemonade, and flavored water.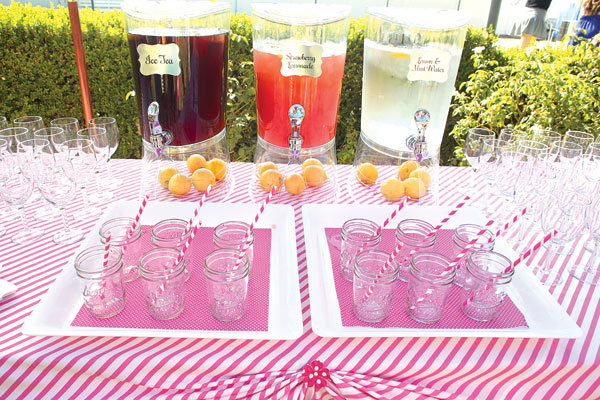 There was plenty of room for the star attraction: a dessert-slash-beauty bar. "I wanted a candy bar, but one that broke with tradition," Jen says. Think chocolate-dipped Rice Krispies treats and luscious NYX Cosmetics lip gloss, cake pops and nail polish!
The theme, "Jen's Bridal Beauty Bash" was woven throughout the decor and details, from the gift bags to the signage to the colorful fuchsia and yellow dessert takeaway boxes. There were bowls of grab-and-go beauty minis including Nivea hand cream, NYX Cosmetics lip gloss, tiny hand mirrors, sponges and emery boards. 
A cheery welcome sign displayed amidst shower gifts and a quotation from Christian Dior in a lattice frame serve to set the theme in motion. Framed quotations on the subject of beauty were placed throughout, and guests were asked to spill their best-kept secrets to a happy, glamorous married life in an album set up on the gift table.
Each product was personalized with Jen's name so guests would remember this event long after it was over. Attendees recieved hair spray, shampoo and conditioner from Joico and chose from a glass bowl brimming with NYX Cosmetics lip pencils and gloss in pink, fuchsia and rose.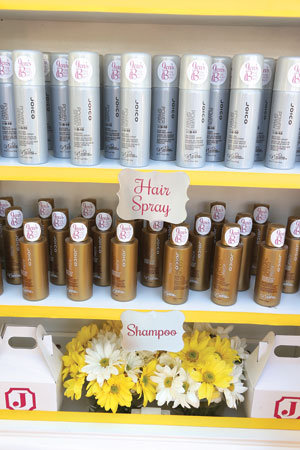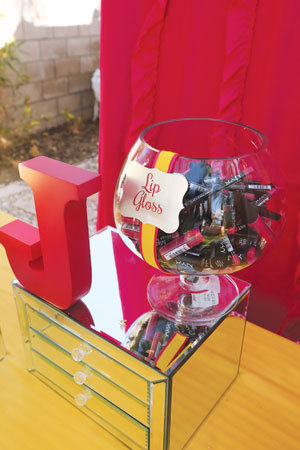 Guests were treated to manis and pedis featuring OPI Nail Lacquer and lash application with Lola V Lashes.