Want to throw a memorable party for the bride? Get inspired by these traditional and not-so-traditional options.
By: Sharon Naylor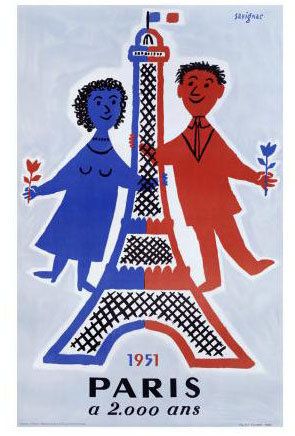 Parisian Cafe
Description: Springtime in Paris... strolling along the Champs Elysses... dining at an outdoor cafe... taking in the masterpieces at the Louvre... and the shopping! It's all part of the bride's dream trip to Paris, so "take" her there for her bridal shower without hopping on a plane.
Decor: Display travel posters of Paris, including the largest shot of the Eiffel Tower you can find! Set tables with red-and-white-checkered tablecloths, baskets of fresh bread (ideally, still warm when guests take their seats) and bottles of wine. Display copies of masterpieces from Monet (found at AllPosters.com or Art.com), and surround the scene with potted red flowers such as zinnia, vinca or inexpensive impatiens. Your group of bridesmaid hosts can wear red-and-white-striped shirts and berets with slim black capri pants... and a spritz of fine French perfume.
Menu: Mon Dieu! C'est magnifique! Offer fresh breads in loaves, round rolls and soft and steamy breadsticks, along with wonderful cheeses served on platters at each table. Guests can scoop their own portion of oozy hot brie with apricot sauce or slice slivers of cheddar to eat with a baked brioche. Set out pretty platters featuring thin slices of salami, olives and salads. Close the celebration with a fabulous cake topped with an Eiffel tower decoration or a message written en Francais.
Drinks: A fine red or white wine is perfect for this party, so search out a variety of wonderful French vintages atWineSpectator.com. Champagne is also a must, with a classic single raspberry at the bottom of each glass flute. If you must, rent them rather than dull your sparkling party with plastic champagne glasses from the party store! Bottled French water from the gourmet supermarket is also a fabulous treat, transporting your guests even more to Paris.
Games: Guests name phrases or items with the words "France" or "French" in them, like French bread, French dressing, French fries and Viva la France. Or play "Is it French?" Read a list of three items/people/places and everyone has to guess which item comes from France.
Favors: Little Eiffel Tower goodies, like keychains, magnets, t-shirts, mugs, wine charms and necklaces; chocolates, bottles of wine, perfumes, a silk scarf from the accessories section at your favorite discount superstore, a sexy red lipstick, pairs of black fishnet stockings (ooh la la!) or baskets of crackers and cheeses to bring the cafe picnic home to a sweetie.
A Little Something Extra: Rent or borrow outdoor bistro tables and chairs to use for your party's setup. Parisian cafes don't really line up family-style tables outside, so these smaller tables and wrought-iron chairs are ideal. If you can, set them up outdoors so that your cafe actually overlooks a busy street or waterway. Just ditch the berets, the fake moustaches and the exaggerated accent if you're going public!
Photo courtesy of Art.com
Pages