Want to throw a memorable party for the bride? Get inspired by these traditional and not-so-traditional options.
By: Sharon Naylor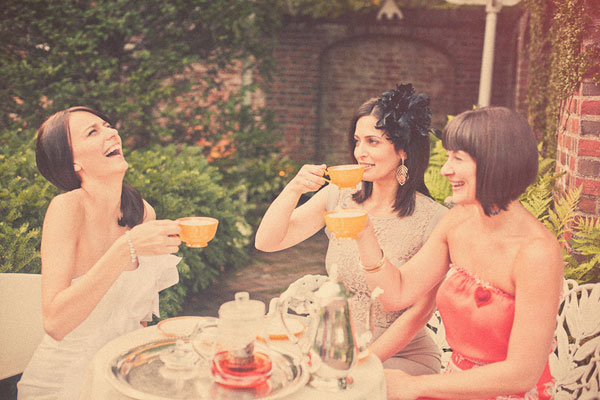 English Afternoon Tea
Description: The English afternoon tea can be an elegant gathering in a sitting room for the ladies or an outdoor spread right out of Jane Austen's Emma. Keep in mind that the best resorts in the world often plan an afternoon High Tea, at which they serve several different types of hot tea, iced tea, scones, petit fours and other baked treats. So planning a tea as a bridal shower theme is like hosting it at the Four Seasons, Caneel Bay in St. John or another celeb-fave resort!
Decor: If you are outdoors, set up tables under wide umbrellas or find a shady spot under an arbor or big willow tree for an al fresco tea party. Indoors, appoint a lovely sitting room with well-dressed tables, including fine china and crystal in different but coordinating colors and patterns. Silver platters are a must, as is a collection of elegant tea-serving sets, and purchase heart-shaped sugar cubes to impress guests with the smallest of sweet details. White and blush-colored flowers make beautiful centerpieces, as do white and blush-colored pillar or votive candles for ambience. Attach small floral bunches to the backs of chairs or to napkin rings for an added dose of high-society style.
Menu: Tea sandwiches, crudites, smoked salmon, fruit and nut breads, scones and crumpets, mini quiches, petit fours and pastries, fruit-covered meringue tartlets, and a beautifully decorated circular cake with lacy swirled icing and pastel-colored flowers. And include platters of fresh strawberries and raspberries, with whipped cream for dolloping right alongside.
Drinks: Earl Grey tea, if you'd like to be authentic, or an array of flavored teas, chai, green and Tazo brand selections (in Calm, Citrus or Chinese Green Tips), with tasty sweet additions such as raw sugar or stevia. Tea can be "spiked" as well—to your crowd's liking. For example, creme de cacao can be added to a mint tea or Malibu rum to a mango or fruit-flavored tea. Experiment ahead of time for these frisky mixes, and be sure to include coffee and non-alcoholic punch for those who don't want alcohol in the afternoon. Keep in mind that tea is served from 2 to 4 p.m. in the afternoon, which makes this party theme one of the more budget-friendly ones—since alcohol isn't expected and guests don't drink very much that early in the day.
Games: Attach little bridal charms (which you can find on wedding supply web sites or in catalogs) to thin ribbon lengths and embed them in the icing layer of a cake. Your guests gently pull a ribbon to retrieve their charms. A horseshoe means good luck, a coin means prosperity and a wedding ring means the bearer will be the next to marry (or enjoy a long and happy marriage).
Favors: Single flowers wrapped in cellophane and tied with a ribbon, a single gardenia in a clear Lucite box, charm bracelets, a flower-themed gift book, a book of love poetry or sonnets, a gift-sized cookbook of teas and tea cakes, classical music CD, DVDs of movies adapted from Jane Austen novels (Emma and Sense and Sensibility) or another favorite British movie.
For tea lovers, create baskets of flavored teas from Rishi-Tea.com, TeaLeaves.com or InPursuitofTea.com. Or give tea pots, honey bear bottles with personalized labels, tea infusers, flavored honeys or copies of The New Tea Book to each of your guests.
A Little Something Extra: Ask the ladies to wear their best hats to the affair.
Photo Credit: Sweet Little Photographs
Pages