Color, color everywhere—and
don't be afraid to drive into
eclectic combinations.

What's black-and-white with touches of green? An ultrachic table.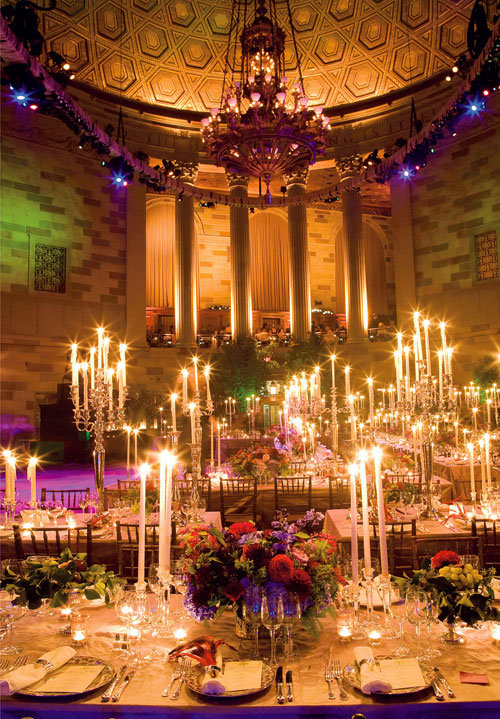 Light up the night with sparkling candelabras and different-colored spotlights for a magical effect.
Hot Wedding Trend #1 - Dazzling Wedding Decorations
Tabletop is going eclectic, according to New York planner Marcy Blum. "We're getting away from the plain silver or gold-beaded charger that's been used ad nauseam. Instead, there's colored glassware, knife and spoon rests and more interesting chargers." A look Blum loves is a Rococo table set with three complementary patterns of china.
This is the year to light it up! "Everything is lit from above, within or under. With new lighting, your tables can change color with the courses of your meal," says Sasha Souza of Sasha Souza Events in the Bay Area. Also hot? Individual chandeliers over tables. "Choose clear, red or black crystal."
Look for bold, graphic prints to make a reception appearance, says Souza. "It's very sixties mod. Don't be afraid of patterns—everywhere from the invitation to the cake and the ribbon on the bouquet!"
This year, you can expect the bar to be a focal point, says Jung Lee of Fête in New York City. "We're doing oversize bars, maybe 40 feet in length—and we're doing them in different shapes." Her favorite look for the year? A stunning white leather bar studded with polished-nickel nails.
What's out? "The checkerboard dance floor," says Souza. What's in? "Seamless dance floors with any look you want—maybe a red floor, or a big monogram or filigree patterns at the corners."
Want to declare your love to the world? "We're putting a couple's wedding pattern or monogram on bright fabric banners and hanging them from trees, tents and entrances," says Souza.
Souza's brides are projecting full-color patterns and movies against walls or the sides of tents. "You can do anything—a graphic of a forest, for example, so it feels as if you're moving through trees. You could use climbing vines or a sari fabric print. Just make sure it's in full color!"
Hot Wedding Trend #2 - Mood Altering Wedding Colors
Sexy, eye-popping color is in. "There is no wrong way to do it," says Sasha Souza. Her pick for the #1 hue in 2009? Yellow. "It started getting hot in late 2008, and it's carrying over to the new year. Mix it with orange or coral."
New York wedding planner Karen Bussen agrees that color is key. "Couples are becoming savvy about changing and creating mood by using color. Maybe the ceremony is really serene, and the cocktail hour is hot and spicy. So you start with soft, creamy shades, and then allow the more raucous, festive hues to come in later on."
"Black is the new black," Souza reports. "This year, it's completely replaced brown. Pair it with turquoise, gray or white. Do it with flowers too—for example, anemones are black and white."
Photography: (from top) Roey Yohai; Christian Oth; Shawn Connell of Christian Oth Studio.
Hot Wedding Trend #3 - Tasty Food & Drinks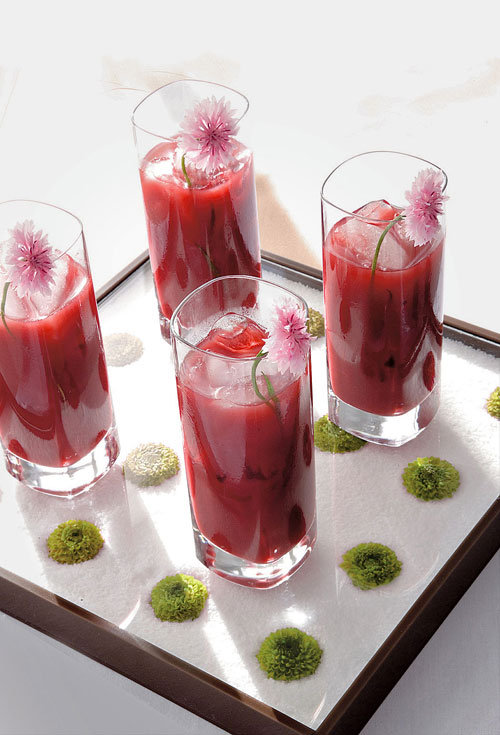 Pomegranate mojitos, garnished and served in shot glasses, hit the spot.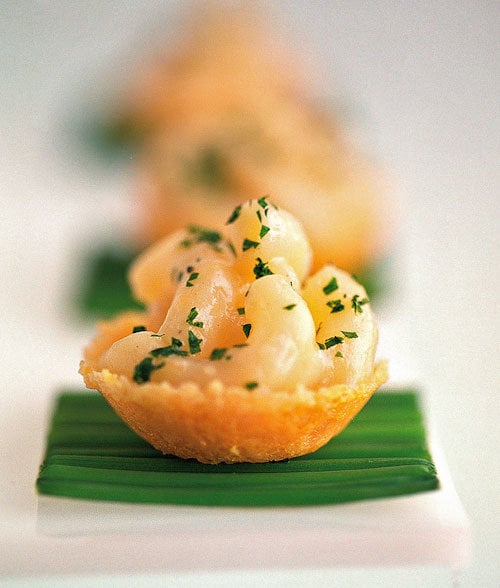 Miniature macaroni-and-cheese bites make a huge crowd-pleaser.
The Ultrachic Cocktail Hour
"Whether you call them southsides or mojitos, mint and lime ingredients are a hit," says Peter Callahan of Callahan Catering. "Fresh-squeezed lime juice is key. Caipirinhas also depend on it. That's one of the secrets to a dynamic specialty cocktail."
According to Callahan, custom trays are a trend for the cocktail hour. "Silver has its place in a gilded ballroom, but everywhere else the trays should reflect the setting—whitewashed wood for beachside and white acrylic for modern settings, maybe even a hot pink for the racy after-party."
"The 'it' alcohol is tequila," says Callahan, who serves it up in fruitflavored margaritas. And what is out? "Martini bars and martini glasses! They seem dated."
What's always in for cocktail-hour bites? "Mini is still sizzling hot—mini hamburgers, fries, mini grilled cheese." says Callahan.
According to Olivier Cheng of Olivier Cheng, Catering and Events, the spotlight is on gorgeous ingredients presented simply. "It's a bit of wagu beef on a skewer with fleur de sel. It's the purity of the idea."
The Tasteful Reception
"2009 is the year of regional food," says Callahan. "Local ingredients are huge, as is organic food. Or it might be food native to an area you love. We had a couple in the Rocky Mountains who served elk chops, which were delicious and everyone loved."
Cheng's pick for the first course? Trios and tasting plates. "We just did a ceviche tasting: a mushroom ceviche, a shrimp ceviche and a black bass. In the summer, we do a trio with heirloom tomatoes."
"Beef is back for dinner," says Callahan, who picks New York strip steak as his #1 meat. For the best results, serve it sliced.
After-Dinner Festivities
The after-party is going strong, says Karen Bussen, who recently organized a
lavish reception at New York's Metropolitan Club, followed by a casual late-night bash around the corner at Pop Burger. "People are getting into totally changing their venues."
"After dinner, set out buckets with iced vodka, white wine, bubbly and a little bottled water," says Callahan. "Let the fun begin!"
The hot new thing is the after-dinner signature bar, according to Cheng. "We do a vodka infusion bar with a six-foot piece of ice and beautiful containers that sit in the ice for lychee and lemongrass vodkas."
Cheng reports, "We make frozen fritters; you take mousse and dip it into harmless liquid nitrogen. The mousse freezes, and when you eat it, smoke comes out of your mouth!"
Hot Wedding Trend #4 - Wines of the Times
Here's what's hot off the vine this year, according to caterer Peter Callahan.
Red: "St. Émilion is a nice light summer red, and bordeaux is always best in winter.
White: "Sancerre for summer is a favorite; it reminds me of outdoors in southern France. A dry white burgundy for winter is perfect."
Champagne: "Serve it in magnums for a rich, regal look."
The 2009 "It" Wine: "Rosé. It has that St. Tropez feeling that everyone loves!"
Photography: (from top) Rachel McGinn; Ross Whitaker.
Hot Wedding Trend #5 - Forget-me-not Flowers
The In Blooms: This year's flower will be the Mokara orchid, predicts Debi Lilly of A Perfect Event in Chicago. "It's a lush, romantic, modern orchid." And this variety comes in vibrant colors: sun-kissed orange, deep lavender, hot pink."The other big flower trend? Everything seasonal, says Karen Bussen. "It's more environmentally friendly and cost-effective."
What are the out blooms? "Roses. No offense to roses—I love them," says Lilly. "But they're a little predictable. It's fun to go in a different direction with something people haven't seen before." Blum adds, "Exotics are biting the dust." So forget the ginger and birds-of-paradise.

A spring bouquet is a heaven-sent gathering of yellows, pinks
and fresh greens.
The In Vase: "Very hot is colored glass—mango orange, apple green. We're also putting silver leaf or gold leaf on glass. It's a stunning touch, and easy enough to do yourself," Lilly suggests.
The Height: You can go high or low for your centerpieces this year. Some planners are choosing low arrangements so that guests can talk over them for a more intimate feeling during the meal.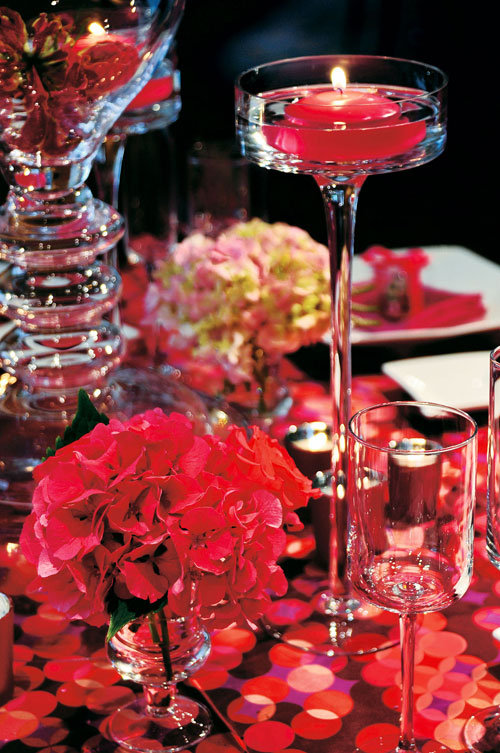 Different heights and shapes in containers and votives make
a chic statement.
The Treatment: "There's a simpler approach to floral design," says Karen Bussen. "In the past, everyone wanted large, lush masses. Now we're seeing one kind of bloom arranged in vases that are set all the way down the table. It's much more about celebrating the particular flower than it is about trying to cram tons of blooms into the centerpieces."
Says Lilly, "A really hot trend on bars is a collection of glass. I saw this at the George V in Paris. You have seven vases—hydrangea in one, calla lilies in another, a floating candle or floating flowers in yet another," Lilly says. Collect inexpensive, different-size containers to reproduce this sophisticated look."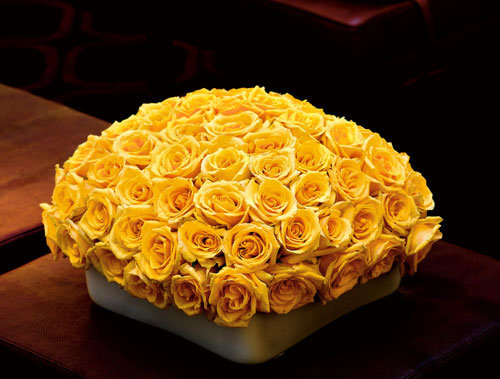 Bright yellow roses are packed into a
low, simple container.
The Greens: "I'm using fiddlehead ferns," Bussen says. "They're quirky and eye-catching, and they make a whimsical accent for many kinds of arrangements."
Photography: (from top) Susan Stripling; artistgroup.net.
Hot Wedding Trend #6 - Tempting Desserts & Cakes
Style: Make a statement with a tall, slender cake this year. "Cake is a piece of sculpture," says cake designer Margaret Braun, so go for high-visibility, multitiered confections.
Bling: "I like shiny!" Braun is using sugar-pearl and gold accents this year for a retro-glam gleam.
Color: Just as in décor, bold color is back. Look for cakes in bright oranges with turquoise and gold. Outrageous color combos? Go for it, says Braun.
Decoration: Opulence is the word. Think intricate piping, sugar sculptures and Asian-inspired patterns. "I like my cakes to look like jewel boxes," Braun says.

Braun's sugar-pearl fantasy
of a cake with a shape like
a storybook castle.
Flavors: Start with the best cacao chocolate, farm-fresh creams and butters; keep flavors simple to highlight the high-quality ingredients. Another sweet note: Peter Callahan says that dessert tables are definitely in. But keep them mini with caramel crab apples, quarter-size pies and fluffer nutters. "Then pass mini frozen items for the guests coming off the dance floor, like mini popsicles or chipwich lollipops."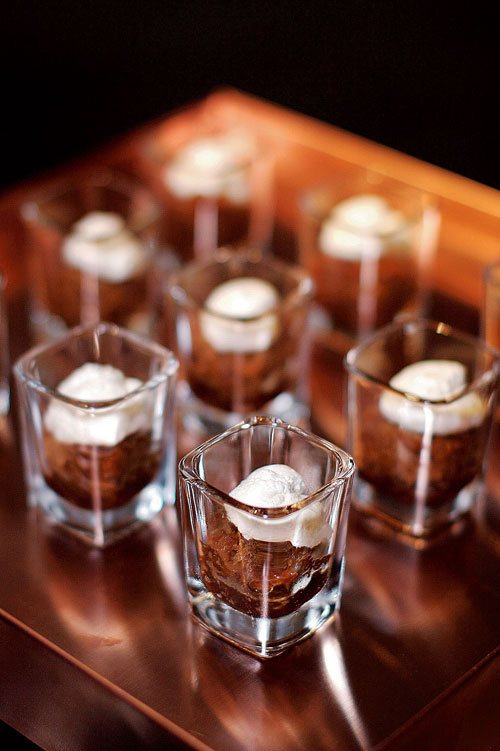 Olivier Cheng's espresso granita
(an ice concoction), with
sweetened whipped cream.
Hot Wedding Trend #7 - Mood Music
Get Personal. "Couples are treating music as one of the important ways to personalize their wedding, and getting bands to learn songs," says Karen Bussen. "I just had a couple who had their first dance to a song from Natural Born Killers!"
Get Sentimental. "Sometimes couples love music that's not danceable," says Jung Lee, who advises couples to play their favorite songs that aren't right for dancing at the cocktail hour. "I have a couple that loves Coldplay. The cocktail party is
a good time for that."
Go International. "The cocktail hour is about having unusual ensembles," Bussen states. "It's not just a jazz trio. We're seeing a lot of Latin music for cocktail hours: salsa, samba, bossa nova. We even had a marimba—that was exotic!"
Get Extravagant. Couples want their favorite songs played just the way they like them. The solution? According to Bussen, couples are booking a wedding band to kick off
the night, and a DJ to up the tempo with hip-hop and dance music later.
Get Real. And what about the emcee? "Announcements of any kind are out," Marcy Blum reports. "Dead, dead, dead." Lee agrees. "I hate when bandleaders say 'Get up and dance!' If you're playing great music, they'll dance!"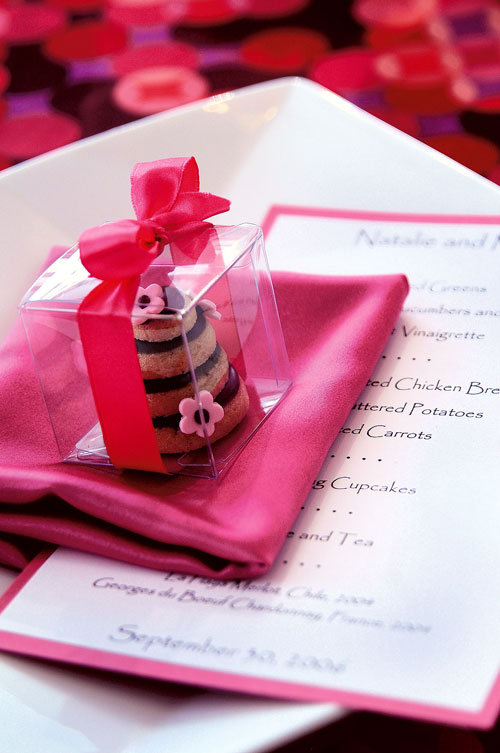 Top Four Favor Trends
Wrap it Up: "It's all about the packaging," says Lilly. "You want to give your guests a colorful little package that corresponds to the wedding palette, and a little monogram or tag."
Down Home: "The hot trend in favors is something homemade," Lilly reports. "One father of the bride made chocolate turtles for every single guest. We made a cellophane envelope and a label that said 'Homemade by Dad.' How many Dads get involved like that?"
Get Sweet: "Treat them to candy bars," Jung Lee advises. "We all kind of want to go back to being kids!"
Give Back: More and more couples are giving donations to a favorite charity in their guests' names. Go to Idofoundation.org to find out just how easy it is.
Photography: (from top) Quentin Bacon; Richard Cohen; Jeff Thomas; artistgroup.net.