Get expert advice on how to make this situation less awkward!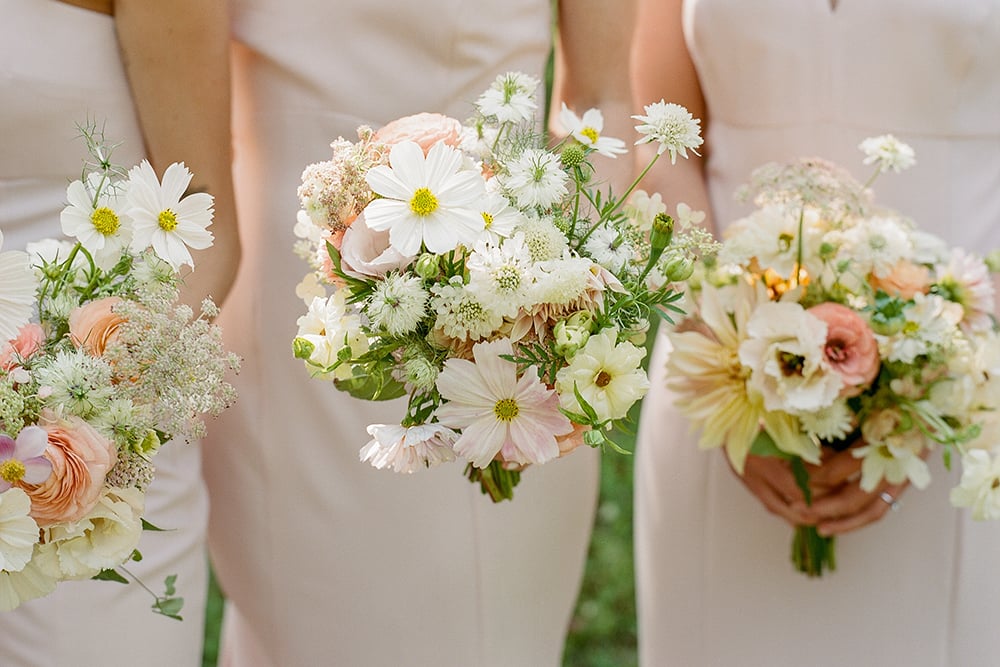 Photo: Jocelyn Filley
Creating your wedding party requires a lot of difficult decisions. How many attendants do you want? Should the number be evenly matched? What is the protocol for friends vs. relatives? In the frenzy of making these decisions, it's easy for somebody close to you to feel left out. Perhaps you have a cousin, family friend, or childhood playmate who you've lost touch with that may have expected to be included in a wedding party.
These decisions aren't easy to make, and it can be even harder to address the person who wasn't included without hurting feelings. We asked experts for their best advice on how to handle these conversations in a positive and constructive way. Here are their thoughts:
"It's crucial to have an in-person conversation to avoid any misinterpretation that can occur through texts. Begin by expressing the value you place on your friendship and acknowledge the difficulty you and your fiancé experienced while making the decision regarding the bridal party. It can be helpful to approach the conversation with a potential solution in mind, such as offering them another significant role in the wedding. For instance, suggesting that they read a passage during the ceremony or deliver a toast at the rehearsal or welcome party demonstrates your desire to involve them in other meaningful aspects of your special day. This approach can make the conversation easier and reinforce your commitment to their presence and participation in your wedding celebration." —Sandy Brooks, Timeless Event Planning
"Be as vulnerable and honest as possible. Loved ones tend to react more kindly and rationally to vulnerability than to carefully crafted and formalized responses. Most people want to be treated as individuals, so couples should always deliver the information with the individual's specific situation in mind. For example, if a couple uses specific criteria for the selection of their wedding party, they should share those factors with those who were not selected. While a full analysis is not necessary and can end up feeling hurtful to the person who was not successful, sharing the specific and truthful reason can help bring deep understanding and closure to everyone involved." —Deliece Knights-Barnett, Dhalia Events LLC
"Let your family member or friend know there are other important roles to be filled on the wedding day and that you and your significant other would be honored by their participation. Live musical talent can be included in the ceremony or even at the reception. There's usually a passage or poem during the ceremony that needs a reader. And if you're planning a grand departure and/or an after-party, you'll need someone to hand out the sparklers and get out the word. Acknowledge their special role in the ceremony program." —David Fox, Bunn DJ Company
"There is really no need to let someone know they are not in your wedding party. It feels way more awkward to have that conversation than to let them figure it out on their own. Now if someone directly asks, that is a different story. Be honest and direct. They asked, so you might as well give it to them straight. Many couples today are nixing wedding parties altogether or keeping them very small. However, they are including their nearest and dearest in pre-wedding events and having them be on-site for getting ready, etc." —Nora Sheils, Rock Paper Coin, Bridal Bliss
"Keep your reasonings private from the other people in the wedding party. To avoid hurt feelings, it is best not to share the details of the decision with the other wedding party members. The last thing you want is the person who was cut to hear anything potentially negative from a third party. To keep the relationship strong between you and all involved, it is best to lead with kindness and keep the details to yourself." —Mary Angelini, Key Moment Films
"If feelings get hurt, work through it all by talking it out at a pace that works for both of you. Some introspective people may be in their head about it months later, then deal with their feelings. Just be aware: someone can say they are ok and not be. That is on them! Gently remind them of your intentions and reassure them about your relationship." —Jen Sulak, Weirdo Weddings
"If the friend you're letting down is still a good friend, say it to them with not only your words but your actions. Make time for this person. Schedule an upcoming date to go to dinner and do what you would normally do together. The more you show how much that person still means to you, the easier it will be to continue your friendship after the wedding is over." —Kimberly Sisti, SISTI & CO.
"Immediately explain how much they mean to you and why you're offering a different part in your wedding as they are best suited for it, depending on what their skills or temperament are. This can be roles such as: handling a DIY project if they are creative; coming up with fun games during pre-ceremony parties or at the wedding itself if they are skilled in this area; making a special toast or speech at the rehearsal dinner or wedding day if they are a good storyteller; handling a coordination role if they are logistically gifted."—Sarah Chianese, Mangia and Enjoy!
Weddings can often be a magnet for drama, and it's frightening to think that leaving somebody out of your wedding party could hinder your relationship with them. However, if you are proactive in how you handle the situation, speak honestly, and make sure this person feels included in other ways, your wedding has the potential to strengthen relationships in the future.