No matter where you hold your wedding, you're going to have to toe the bottom line. Here, planners share regional budget breakdowns along with savings tips that can be used anywhere.
-AS SEEN IN BRIDAL GUIDE MAGAZINE-
Northeast (average wedding cost NYC metro $38,721)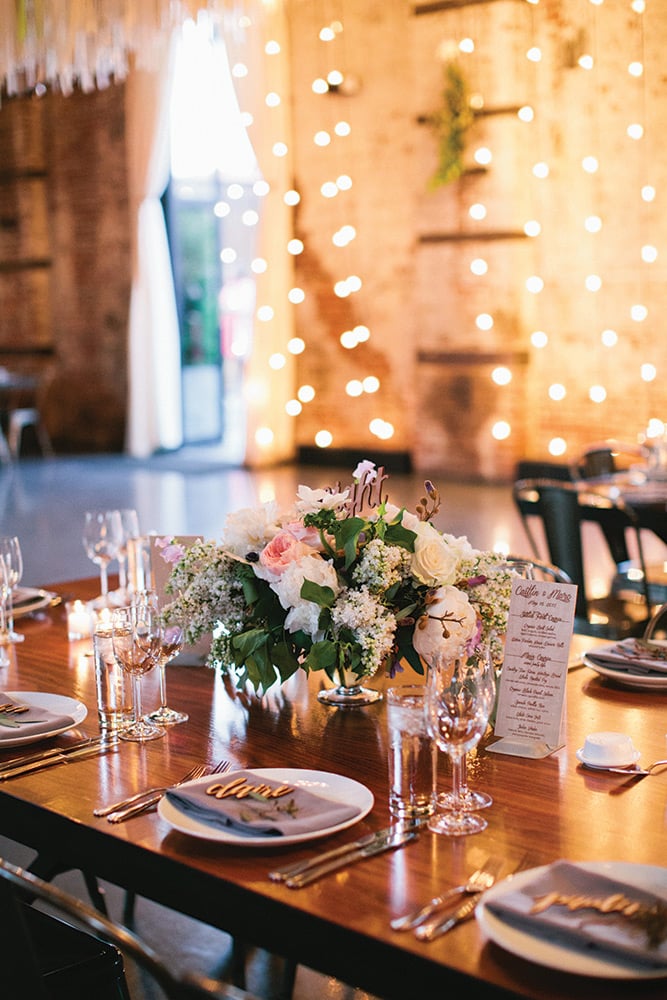 Photo: Sasithon Photography
Venue: 16%. When deciding on the right locale, Brooklyn-based wedding planner and designer Jove Meyer calls "getting clarity on costs" the first order of business. "Some venues have no rental fee, just a food and beverage minimum, whereas others don't do food and only make money on venue rentals." A full-service venue that includes food, beverage, staff and space often helps the budget, Meyer says.
Food and Beverage: 31%. Outside of reducing the guest count, Meyer suggests exploring other creative cost-saving measures. For instance, forego appetizer stations in favor of passed appetizers during the cocktail hour or downsize from a fully stocked open bar to a limited bar featuring select beers and wines.
Photography & Video: 16%. Meyer suggests couples book an eight-hour minimum for photo and video coverage. "But 10 hours if you want full coverage of getting ready through dancing," he notes. Booking one company that shoots both photo and video rather than two separate teams can spur savings.
Entertainment: 5%. Entertainment costs will shift dramatically if couples select a live band over a DJ. For those dead set on a band, which can cost about five times more than a DJ, Meyer recommends sticking with the core band members and being mindful of their time. For the ceremony and cocktail hour, for example, couples might pipe in a playlist through the venue's speakers instead of having live music.
Rentals: 16%. Rentals like tables, chairs and linens can be both functional and decorative. For the budget conscious, Meyer suggests chairs that work for both the ceremony and dinner, favoring on-site rentals. And, for those really seeking savings, consider disposable dinnerware for buffets or beach weddings — chic options abound, from sustainable bamboo to glossy acrylic. "Just keep the glassware," Meyer says.
Flowers: 16%. A living product requiring staff, storage and transportation, flower costs frequently surprise couples. Meyer offers these tips: Instead of full bouquets, have your 'maids hold a single bloom, a fan or other pretty prop, and avoid any floral arrangements that require on-site construction.
South (average wedding cost Charlottesville VA metro $25,808)

Photo: Haley Sheffield
Venue: 25%. Charlottesville, VA-based wedding planner Alana Futcher of Chancey Charm Weddings urges couples to take advantage of the region's many venues capable of accommodating the ceremony, cocktail hour and reception. "You can give your guests different experiences at one location and often capture some savings, too," she says.
Food and Beverage: 35%. Futcher recommends couples carefully review the caterer's proposal to see if there are any menu items that require special equipment for prep or extra staff for serving — both of which add extra costs.
Photography & Video: 15%. While couples might initially balk at all-day coverage, Futcher often finds it's the better way to go. "Couples often need more time and booking extra hours on the day-of instead of beforehand can be costly." 
Entertainment: 7.5%. Favor entertainment that performs double duty, Futcher says, such as those who can play music and serve as the evening's emcee. Booking a band? Then, inquire about additional music options for the ceremony and cocktail hour, which will often be more affordable than bringing in a separate entertainment provider. And don't forget to ask about the inclusion of sound systems. "You don't want to have to rent a sound system at the last minute," Futcher says.
Rentals: 10%. As with catering, the guest count can intensify rental costs — more chairs, more linens and so on. A venue with chairs, tables and the like included in the price frequently spurs savings compared to rent- ing such items. "See what equipment rentals are already included in your venue and, most importantly, clarify what needs to be brought in," Futcher says.
Flowers: 7.5%. It's a universal, often-overlooked floral- budget truth: "The more bridesmaids and groomsmen you have, the more bouquets and boutonnieres you need," says Futcher. "And the more guests you have, the more table centerpieces you need." Ask the florist for ideas on what pieces from the ceremony can be repurposed for the reception — just be sure to monitor the fees for moving flowers between locations.
Midwest (average wedding cost Chicago metro $28,655)

Photo: Abby Rose courtesy of VLD Events
Venue: 15%. When comparing venues, Kate Lerman, owner of Chicago Vintage Weddings, urges couples to consider the overall value, not simply the final tally. A venue with tables and chairs, a stage and a quality sound system on hand might cost more than raw space, but ultimately prove more cost effective since those items won't need to be rented. Still, Lerman encourages budgetary vigilance. Some venues, she says, have "hidden costs" like strict vendor lists or in-house services that might not be "as exible or affordable as couples would like."
Food and Beverage: 50%. With food and beverage service greatly impacting the overall guest experience, couples are right to invest in it. Still, Lerman suggests couples ask caterers about their most affordable meal format. In some cases, plated meals might be more economical because fewer rentals are needed compared to a buffet or family-style meal.
Photography & Video: 14%. If couples love an established professional whose fee is simply too high, Lerman suggests asking that pro about more economical associates, perhaps someone the pro trained. Also, review the contract regarding digital rights. "This will allow you to make your own prints and albums instead of having to order them through your photographer," Lerman says.
Entertainment: 8%. Whether a couple chooses a DJ or a band, Lerman recommends asking the music pros if they will work with the venue's sound system. "Just because it's available doesn't mean they'll want to use it, and that will drive up costs," she says, noting that many music pros prefer the reliability of their own equipment.
Rentals: 8%. Though optional, Lerman says fun extras like vintage lounge furniture and photo booths add to a reception's vibe without breaking the budget. In some cases, these goodies can be available from existing vendors. "So, ask," Lerman says.
Flowers: 8%. Lerman advises selective extravagance. "You don't need giant centerpieces on every table," she says. "Instead, have some showpieces and keep the rest more modest. This will save a lot of money and provide a pleasing texture and variety to your wedding style."
Southwest (average wedding cost Houston metro $28,988)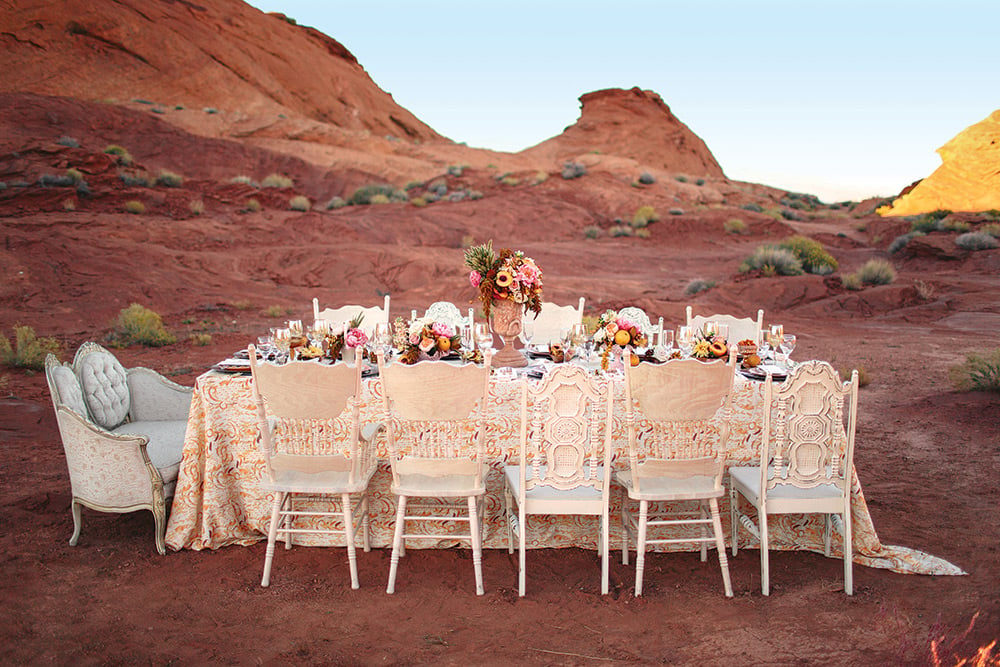 Photo: With Love and Embers
Venue: 15%. Houston-based wedding planner Skylar Caitlin of Chancey Charm Weddings says many notable venues in the Southwest offer more than raw space. That's a plus, as it means many items are conveniently and affordably factored into the venue costs.
Food and Beverage: 50%. Given catering's hefty costs, Caitlin urges couples to prioritize. If premium liquor is paramount, then consider a buffet dinner to offset costs. If a grandiose display cake isn't important, then consider a dessert table or a cost-effective sheet cake paired with a more modest three-tier display cake. And rather than trying to slash catering costs to the bones, investigate trades such as swapping the salad course with additional cocktail-hour hors d'oeuvres.
Photography & Video: 10%. Avoid selecting the photographer's lowest option package, which often fails to provide enough hours of coverage and excludes extras you may end up wanting. "You can chat with them about removing items like prints or albums, but remember that adding these on later will typically cost more when they are not a part of the package," Caitlin says.
Entertainment: 9%. DJ's, Caitlin reminds couples, will almost always be more cost-effective than bands, where costs can escalate if lighting or a stage is needed. For those dreaming of live music, however, Caitlin proposes bypassing full-fledged bands in favor of string quartets or small acoustic groups who can play during the ceremony or cocktail hour.
Rentals: 6%. According to Caitlin, minimizing the rental budget starts with selecting a venue that doesn't need a lot of "dressing up." "Draping, false walls and replacing unsightly banquet chairs can add up fast," she says. She suggests pushing the rental budget toward high-impact places, such as a backdrop for the band or higher- quality linens.
Flowers: 10%. Provide a color palette, your likes and dislikes and then give way to the professionals, Caitlin says. But do tell the florist you want to reduce and recycle. Bridesmaids' bouquets can double as flowers at the reception bar while the ceremony's floral wall can later serve as a photo backdrop.
West (average wedding cost LA metro $34,698)

Photo: Katy Gray Photography
Venue: 20%. The Western U.S. offers an array of desirable, picturesque venues, though those with ocean views carry a premium price, reports Jen Bergmark, owner of First Pick Planning in Manhattan Beach, CA. Yet many venues do not include rentals, which means every element of the wedding needs to be brought in — which can add up. While a full-service venue can lower costs, so, too, can a weekday wedding. For those less traditional couples, a non-weekend wedding can provide substantial cost savings, even at some of the most sought-after venues, Bergmark says.
Food and Beverage: 30%. Bergmark isn't one to support food and beverage service as a money-saving area. After all, cutting corners and veering away from a professional caterer with reliable, qualified staff can affect a wedding's vibe and hamper the guest experience. Still, Bergmark says, "Your caterer can suggest cost-cutting suggestions without compromising quality of service or food."
Photography & Video: 12%. Reminding that pictures and videos are long-term testaments to the wedding day, Bergmark cautions couples against choosing inexperienced, inexpensive photographers. "While a lower rate might look appealing at first, in the end you'll want your wedding photos to reflect the technical skills only an experienced photographer has to capture those special moments accurately and beautifully," she says.
Entertainment: 6%. Though a live band will almost always cost more than a DJ, Bergmark doesn't think that should preclude live music-loving couples from booking musicians. "It doesn't have to be all or nothing," she says. Couples can mix and match. Perhaps a live band kicks off the night with one set before giving way to a DJ to close the evening.
Rentals: 20%. When it comes to rentals, particularly at a venue that requires various extras, Bergmark suggests creating a priority list. "Know your deal-breaker items, but also have realistic expectations of items you would be okay not having in order to adhere to the budget," she says.
Flowers: 12%. Given the prevalence of outdoor weddings on the West Coast, Bergmark says couples can utilize their surroundings to stretch the budget. "Less is sometimes more," she says. To save, Bergmark recommends providing the florist creative freedom to make alternative suggestions, as many pros can share thoughts on cost-effective alternatives or ways to repurpose flowers throughout the wedding day. Garlands, for example, can easily transition from the ceremony to reception decor.