Micro-weddings are on the rise, thanks to the COVID-19 pandemic. Here's how to plan the intimate wedding of your dreams.

Photo: Ioana Porav Weddings via Destination Wedding Romania
A micro-wedding is an intimate affair filled with up to 50 of the couple's nearest and dearest. It can be formal, casual, or anywhere in between. Contrary to popular belief, a smaller wedding doesn't necessarily mean a smaller budget — it allows you to allocate your wedding funds in a different way. Here, wedding industry pros share their ideas for where to save and where to splurge.
Save on pre-wedding details: "Opt for a simpler invitation design, or save even more with online/email invites, and choose to put that budget instead towards paper goods or other design elements on the wedding day itself!" —AJ Williams, Founder and Creative Director, AJ Events
Splurge on a photo moment: "Invest in a photo booth or photo moment for guests to take selfies or have their pictures taken. Long after the wedding is over, these pictures will live on in memories you will cherish forever." —Raul Rodriguez, Lavish Event Rentals
Save on your dessert: "With a smaller guest count, a smaller cake size is already a given, but you can also select something that still feels thoughtfully chosen without paying for an intricately decorated cake. Consider a passed dessert course with an indulgent option like chocolate mousse with fresh berries, or a trio of sorbets or ice creams for something a little lighter." —AJ Williams, Founder and Creative Director, AJ Events
Splurge on customization: "Cast aside what might be typical wedding traditions, and do what you really, truly want for your wedding. Explore bright colors, beautiful seasonal menus, and wine flown in from your favorite winery. Book a unique outdoor venue, mix and match your linen pattern choices, check out custom-built backdrops from local artists, look into neon signage. Now you have the time to really customize!" —Sarah Kuhlberg, Creative Director, Colette's Catering and Events
Save on your centerpieces: "You don't need to have an entire flower garden in the middle of the table! Scale it back, and use candles and other non-floral items that can be rented at a lower cost to make your table feel full." —Raul Rodriguez, Lavish Event Rentals

Photo: Julie Cate Photography via Lavish Event Rentals
Splurge on personal details for guests near and far: "Go ahead and splurge on that curated welcome wedding box, and take it a step further and send a personalized box to others not able to share in person with you for your wedding and include a piece influenced by your wedding destination so they feel included." —AJ Williams, Founder and Creative Director, AJ Events
Save on an open bar: "Focus on featuring quality red and white wines with a signature cocktail that reflects your theme." —Michelle's Catering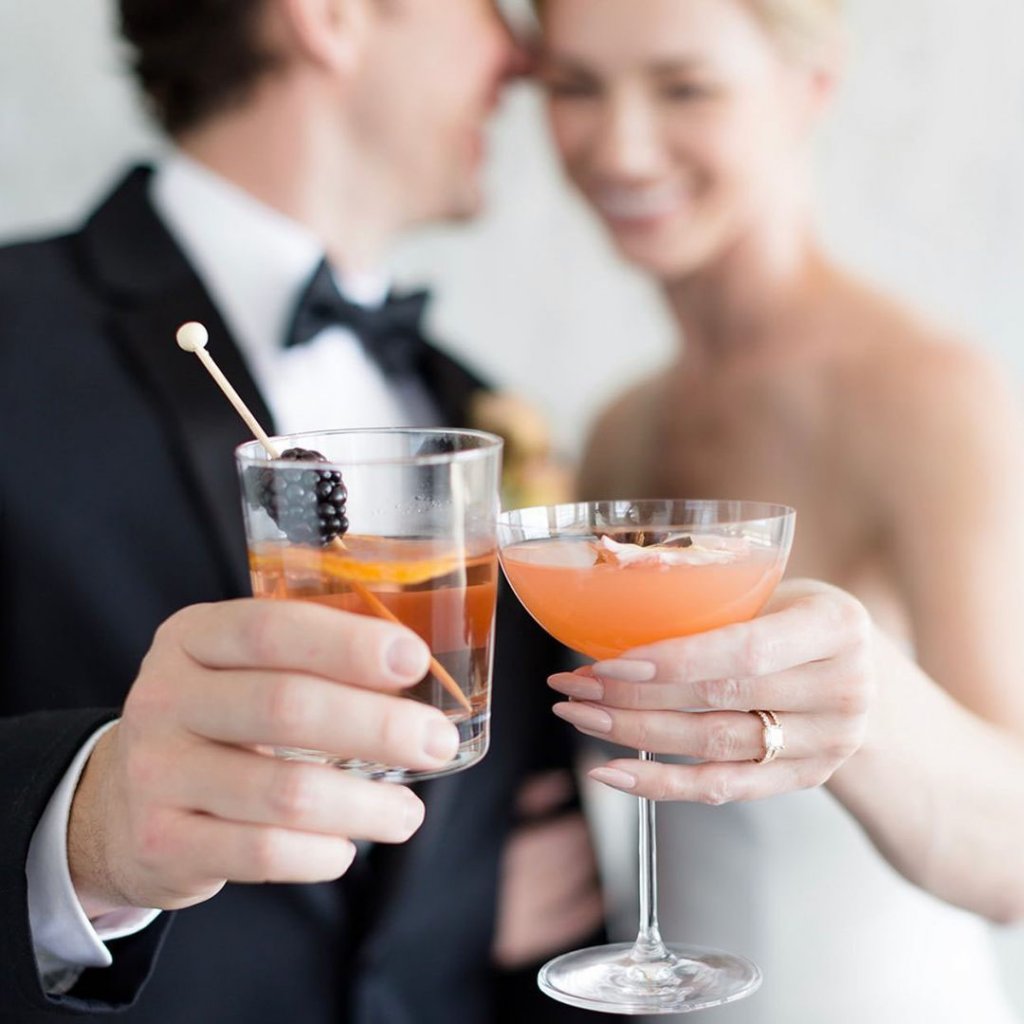 Photo: Lorin Kelly Photography via Colette's Catering and Events
Splurge on your dance floor: "Invest in a great dance floor. This is an area often overlooked, yet it's a huge amount of real estate in the middle of the room. For the first couple of hours when guests enter the room, your dance floor will be empty — invest in having a custom design placed on it to add some interest to the space, and create a big first impression." —Raul Rodriguez, Lavish Event Rentals
Save on favors: "Rather than spending money on smaller favors to provide your guests on the wedding day, instead focus your budget on things like welcome boxes or activity moments, like a cigar bar or an oyster shucking station. Favors tend to be a thoughtful way to thank your guests for choosing to celebrate with you, but with a smaller guest count, you're likely to have more time throughout the day to personally talk to and thank each of your guests yourself!" —AJ Williams, Founder and Creative Director, AJ Events
Splurge on the important details: "Splurge on your food, entertainment, and décor. Guests remember if they dance, have an amazing culinary experience, and visual stimulation. But most importantly, under any circumstance, never sacrifice quality, style, or elegance!" —Michelle's Catering

Photo: Jillian Rose Photography via Colette's Catering and Events

Save on seating displays: "While extravagant and unique seating displays typically serve to provide a focal point and a place of guidance for guests to find their seats, a smaller guest count allows for guests to more easily find their seats among fewer tables, allowing you to use this portion of your budget for other wedding details (perhaps beautiful place cards instead to place at each guest's seat!)." —AJ Williams, Founder and Creative Director, AJ Events
Splurge on memorable and interactive moments: "Create a full wedding experience that includes more intimate interactions with your guests, such as a cocktail party with a mixologist, your favorite chef, your favorite music, and maybe some karaoke or a piano bar for a late-night sing-along. Adding thoughtful touches and embellished details will ensure your guests feel extra special!" —AJ Williams, Founder and Creative Director, AJ Events