When planning a wedding day schedule, there are a lot of obvious things to consider — the ceremony, family formals, cocktail hour, and the reception. But with all the frenzy over these big events, many couples forget to make time for smaller (but important!) events.
We talked to seasoned wedding professionals about the top things they've seen couples forget to schedule time for and how you can keep your wedding day running as smoothly as possible.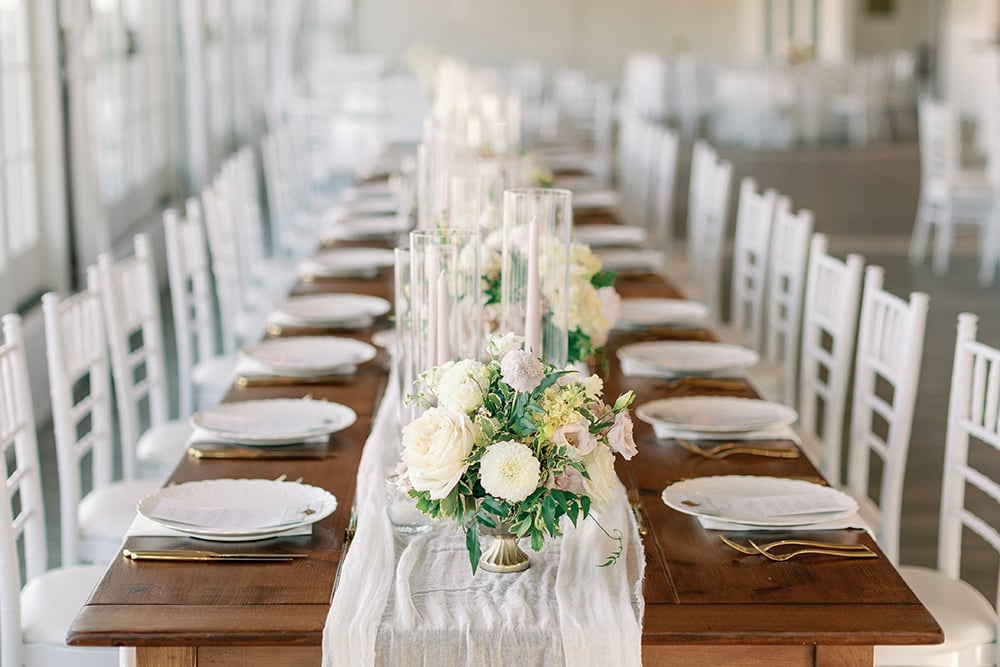 Photo: By Halie
"One of the things I always tell my couples is to stop for a moment and take it all in. Just pause, stand on the side of your wedding reception, and take a look at all your smiling guests, the happy faces, and the fact that this is your wedding and all these people areas here for you. Just take a minute and breathe it all in, appreciate it, and commit it to memory. You spent so long planning for this day, and a couple of hours will fly by so fast. Pause, reflect, and just breathe it all in." —Lilia Shatnaya, Plume and Stone Invitation Studio
"Couples often forget to schedule time to eat breakfast or lunch on the wedding day, which is why we always add this to our skeleton timelines for couples to review. We highly recommend ordering room service or having a catering company drop this off so you and your friends stay hydrated and full." —Sandy Brooks, Timeless Event Planning
"A load-in and load-out schedule for vendors is super important! Some venues are very difficult to maneuver when there is more than one company trying to access the loading dock at the same time. This is absolutely something a planner would do if you're working with one, but if not, make sure you coordinate load-in/load-out with your venues and the pros delivering and picking up items." —Nora Sheils, Rock Paper Coin, Bridal Bliss
"Making sure you meet with everyone can be tough for larger weddings, but it is so important when people have sometimes made a serious travel commitment to participate in your wedding. We often recommend reserving some time for a receiving line so that the guests who want to make sure they get in a picture or a funny story get the chance to do so. It works great during a cocktail hour and can be a good time to keep a VIP server bringing all the yummy hors d'oeuvres as well." —Vijay Goel, Bite Catering Couture
"Schedule time to see the ceremony or reception space in its full glory. Couples spend so much time planning the look of their ceremony and reception space. It's important to see how the décor, like florals and lighting, come together to realize the vision. Scheduling a sneak peek prior to the guests entering the space is so rewarding." - Jeri Solomon, Real Deal Wedding Insiders
"Schedule enough time for photos! If I could highlight, italicize and put 'ENOUGH' into bold letters, I would. You know those swoonworthy photos you've been pinning on Pinterest for months, maybe even years? Yeah, those couples spent precious, stress-free time taking those photos. And the only way to obtain those same precious, stress-free, swoonworthy images is by investing the time. Time is a thief. It goes by extremely fast. Taking a myriad of beautiful portraits takes longer than you think. Investing time in your portraits is like investing in your future because your couples' portraits are the number one photos you are going to be sharing, printing, framing, and displaying in albums. These are the photos that your kids will be putting in frames at their wedding. So take it seriously, be patient, and invest the time." —Sarah Olson, CityLux Studios
"When your transportation contract begins, your guests will not be magically teleported onto your buses or shuttles. I always allot 10 to 15 minutes for guests to load (and 5 to 10 minutes to unload) from a shuttle or bus. Please also keep in mind that buses do not drive fast, they don't run red lights, and therefore it will take them the maximum time to make the trip between your wedding locations." —Janice Carnevale, Bellwether Events
"Couples commonly forget to schedule time for wedding toast overages — where one or more friends or family members don't time out their speech or decide to wing it and go long. If you're not 100% on top of them and/or prepared to cut them off, or they aren't getting help, then be prepared to add some extra cushion in this section." - Brian Franklin, Vows & Speeches
"Couples often forget to add sufficient pockets of buffer time to their wedding timelines. Sometimes hair and makeup will run over schedule, or you'll encounter unexpected traffic on the way to the church. Or, you may simply need a moment to catch your breath if the day feels a little overwhelming. Buffering the timeline throughout the day is essential to creating the feeling that your day is just unfolding naturally in front of you." —Jennifer Ganson, A Fresh Event
""Pajama photo sessions' and 'robe photo sessions' are growing in popularity, but couples sometimes forget to tell the photographer that they want to have them. This can be a challenge because these photo sessions can take up to 15 to 20 minutes." —Kawania Wooten, Howerton+Wooten Events
Planning a wedding timeline requires a great deal of thought and attention to detail. With careful consideration and thoughtful organization, you can create an unforgettable experience for yourself and your loved ones.