He finally popped the question, so it's time to pop bottles with your nearest and dearest!
By: Mary Gillen
Whether you've been together for eight months or like me, eight years *enthusiastically waves rock in the air,* getting engaged is an exciting relationship milestone. Here, find some first-hand advice on how to celebrate in style!
You're Invited
Choosing the guest list for your engagement party can be tough. You want to celebrate your love with everyone, but if you don't draw the line somewhere you'll end up having two wedding-sized celebrations. Consider your budget and set clear boundaries with your significant other. Your immediate family and bridal party are a given, but beyond that do not feel bad about not inviting acquaintances, co-workers, and family friends. Even if you know you want someone at the actual wedding, don't feel like you need them there to celebrate your engagement.
Engagement party invitations do not need to follow the usual rules of wedding reception invites. You can skip the save the dates and additional inserts that are included in an invitation suite and opt for a single card with all of the relevant location and RSVP information. 
The most important thing is to have fun with your invitation design! Choose a fun or romantic photo, vibrant colors or patterns, or a meaningful quote. The options are limitless. Since my fiancé's last name is O'Shea and I'm a sucker for rhymes, we decided to go with a "Hooray" theme for both our party and invites. From our cherry blossom picture to the gold foil, I was able to completely customize these invitations from Minted.
Pro tip: Make sure to include a dress code somewhere on the invite, or be ready to be bombarded with questions about appropriate attire. We did not – and I had to make sure to tell everyone, that although the venue has a pool it is NOT a pool party. I wore a Melissa Sweet by David's Bridal V-neck gown with three-dimensional floral appliqués and my fiancé donned a black suit and tie. If someone had shown up in a bikini or board shorts they would have been slightly underdressed. 
Location
Be careful not to choose a spot that will compete with your wedding venue, but you shouldn't be afraid to make the party as formal or informal as you like. From a casual backyard BBQ to a sit-down dinner at a fancy restaurant, choose somewhere that makes sense for you as a couple. We were lucky enough to have my aunt and uncle offer their new house for the occasion. With stunning bayside views, it was the perfect backdrop for our soirée!
Food & Drinks
When selecting the cuisine and beverages for your party, consider your demographic. What do you typically eat at family events? When you go out to dinner with your significant other, where do you go? You want to choose something that will appeal to everyone. Regardless of the type of food you choose, make sure you have a meat, seafood, and vegetarian option. Our family and friends love Italian food, so we opted for a buffet of Italian favorites like Chicken Parmigiana, Baked Ziti, Shrimp Fra Diavolo, etc. For dessert, we had fruit, engagement ring doughnuts, and a chocolate-covered strawberry cake with a "Finally" topper that I found on Amazon. 
Unless you are having a dry party, when stocking your bar, the same consideration applies. Make sure to have enough beer and wine for all attendees. As far as liquor goes, if you are on a budget, signature drinks are a cost-effective way to offer liquor without having to stock a full bar. We didn't have a signature drink, we offered clear liquor (vodka, rum, and gin) and had a signature wine instead. For me it was a no-brainer, the perfect summertime or anytime beverage (in my opinion) is a cold glass of rosé, and Gérard Bertrand's Côte des Roses is my absolute favorite. This insulated beverage tub from Revo Coolers kept the bottles ice cold all night long.
Décor
You don't want your engagement party decorations to be too over the top, but you still need to dress up your venue a little. Bouqs is a great source for DIY floral arrangements. The farm fresh flowers are delivered straight to your door the day before the event (giving them time to properly fall out) with flower food and care instructions. I decided to purchase tall mason jars and fill them with the light and bright pink roses.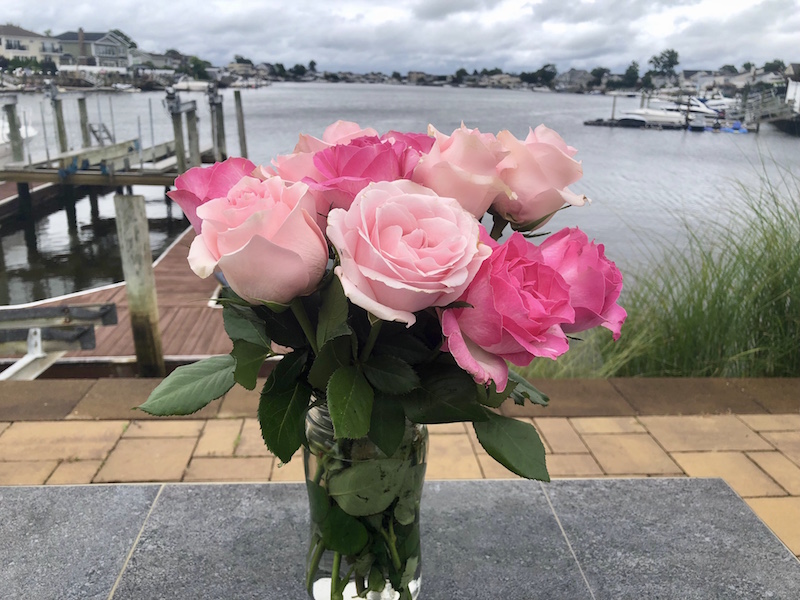 Get creative and design custom cups, napkins, and more with the online party supplier For Your Party (FYP). Crafty brides can upload their own art to the FYP customizer tool or can choose from a library of carefully curated collections. Other décor ideas include balloons, signs with your favorite quotes, and photos from your relationship. You'll also want to set up an area for gifts and cards.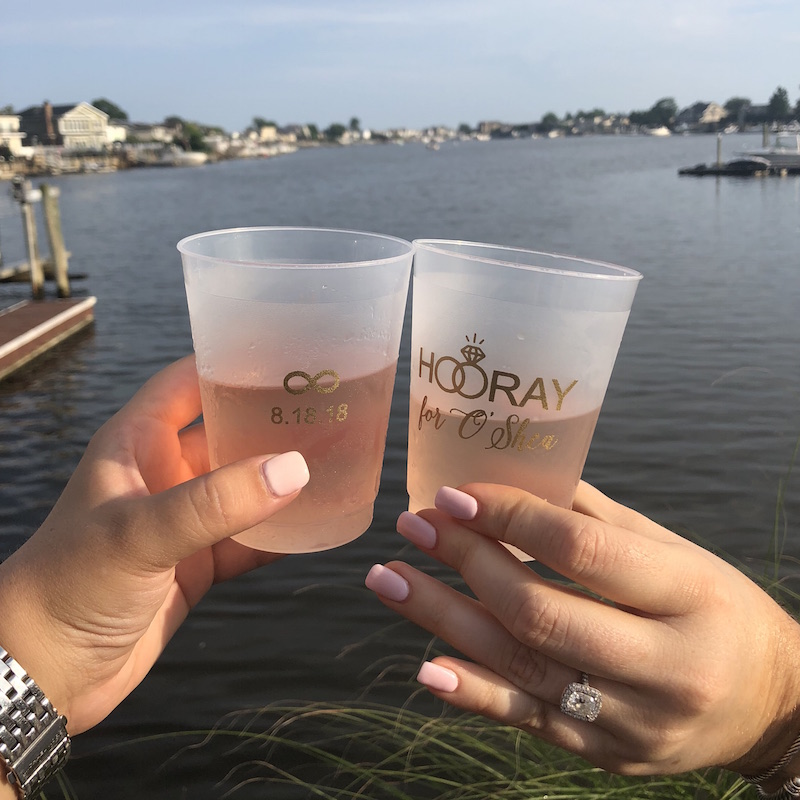 The double-sided option of For Your Party's Frost Flex cups (seen above in 10oz size) gives you plenty of real estate to fit your theme without making the design feel crowded!
Music
Every great party has good music. Whether you hire a DJ or sync a playlist to a DIY sound system, make sure you consider how and what will be played before the big celebration begins. Also, plan for inclement weather when planning an outdoor fiesta. We hired a DJ, but when an unexpected thunderstorm rolled in, we lost a half hour of music relocating him to a sheltered area. It worked out, but had we thought to put him under a tent from the beginning we could have had the music pumping all night without interruption.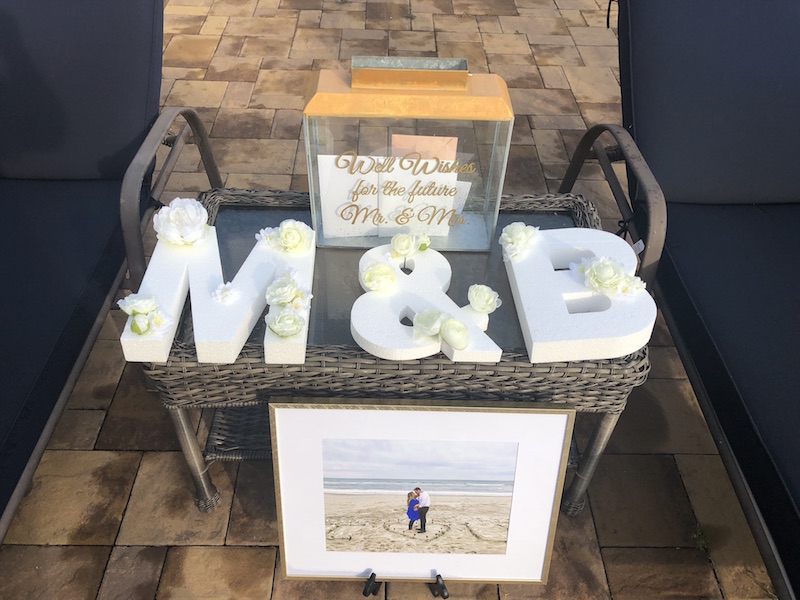 Your engagement party is the perfect time to practice your planning skills and test out different ideas for your big day on a smaller scale. Consider it a dress rehearsal, that will give you the confidence to execute your big day without any regrets. The most important thing is to soak in the moment and have fun with your partner and all the people you love most! 
Happy planning, fellow brides!